Five Simple Ways We Foster Creativity in Our Kids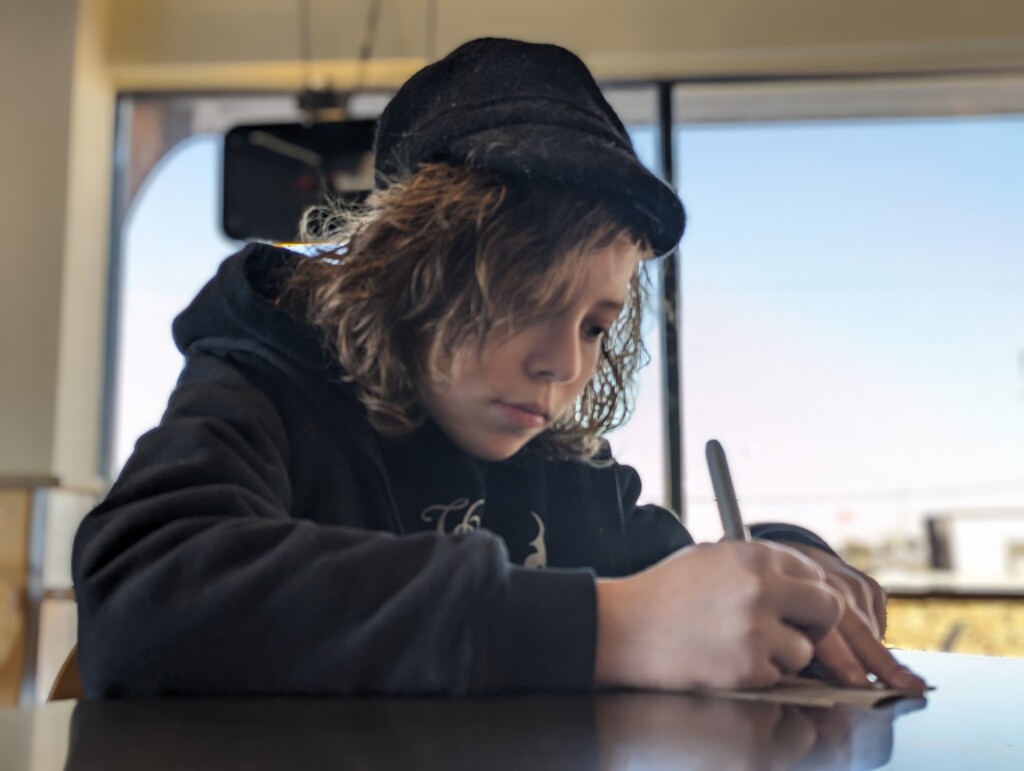 I don't know how many times I've heard friends lament that they really loved to write or draw when they were younger, but they just don't really do it anymore. And although I write thousands of words each day for my job, I'm definitely guilty of living with dozens of great story ideas swimming around in my head at any given time but completely failing to write them down. And it's not just because of procrastination or lack of time – adult responsibilities and constructs like self-doubt or the idea that our time is better spent are so consuming that they tend to suck the energy out of any free time we do have to be creative.
As a kid and a teenager, I loved getting lost in the stories I would write or the weird little crafts I would dream up. I even developed a whole low fantasy world with my high school friend Becca. There have been so many times in my life when I wish I had been able to channel that joy I felt from storytelling and create something amazing while I had the time and passion to do it. Although I can't reach out to kid me and give her the encouragement she needed, I have worked hard to foster my own kids' creativity. Even if they don't end up working in a creative field as adults, the ability to think outside of the box is the key to innovating across most vocations from carpentry to engineering.
As they start looking ahead to their next steps after high school, we can see the impact of encouraging them to engage in free-spirited artistic exploration growing up. In a world where screentime is taking up so much of our headspace, here are some ways we've successfully fostered creativity in our kids:
1. Maintaining an art cart.
Ever since the kids were little, we've kept a fully-stocked cabinet of art supplies for them to use freely whenever they have an idea. When they were little, it started off as a collection of crayons and colored paper on a small Ikea cart. But as they have grown, so has our collection of art supplies.
These days, everything is stocked in a large cabinet filled with all everything they could dream of to be creative – air-dry clay, charcoal, manga art instructional books, felt, stamps, beads, paint, and more. Even as teenagers, they're constantly grabbing a stencil or an art pad to sketch out an idea they've had.
2. Stocking a costume closet.
Even without all of the comic cons and renaissance faires we go to, you'd be surprised at how handy a costume closet can be for kids. They're always ready for school spirit days, costume parties, and photo shoots, for sure. But sometimes, they just love grabbing a silly hat or quirky tie for the fun of it.
We've added to our collection steadily through the years, picking up pieces at garage sales and thrift stores or hanging onto accessories from Halloweens gone by. When we lived in a house with literally no closet space, we kept these things shoved in a couple of storage boxes, but now we're lucky enough to have a large coat closet that's perfect for housing our collection.
3. Letting them dress how they want.
Maybe it stems from the fact that my mom never let me cut my hair, but I have always tried to let the kids follow their bliss or take risks when it comes to personal fashion. We've never imposed any rules about what's acceptable clothing except for teaching them to dress for the occasion while respecting others' expectations and guidelines.
For Arthur, this has always meant wearing his hair long. To him, it's not really a statement of any sort – it's just much more comfortable than having to comb short hair in just the right way or worry about keeping up regular haircuts. For Luci, this means wearing her curly hair in a short shag or bob and avoiding fussy looks like braids.
4. Valuing pop culture and arts education.
As schools are increasingly pressured to focus on passing MAP tests to get funding, the emphasis on arts education continues to erode. But the good news is that Generation Z and Alpha are natural information sharers – anything you teach your kids will likely get shared with others, and so forth. Although we can't always take the kids to museums or concerts, we try to expose them to music and art organically and encourage them to follow their curiosity by learning more online.
This might mean playing Beethoven on YouTube and mentioning a few facts about his life and contributions or pausing a show to explain a little more information about the history behind something on a show we're watching. Even if you only know a few little factoids here and there or introduce them only to your favorite metal band, encouraging kids to be intellectually curious is often all it takes to get them started on a DIY pop culture and arts education.
5. Teaching them to value feedback.
As a writer, one of the most important things I've learned is to understand that feedback generally isn't personal and can be essential to growth. But taking criticism constructively is not something that comes naturally for most folks, especially the sensitive, empathic artsy souls among us. Knowing how hard it was for me to understand the value of real talk about ways I could improve, I wanted my kids to grow up seeing feedback as a positive tool. They've learned that don't have to accept someone else's advice or recommendation, but they should always try to give it fair consideration.
Do you have any tips for encouraging creativity in a digital world? Let me know in the comments below, and have a beautiful week in your nebula!
---