Finding Perspective & Purpose on a Trip to Africa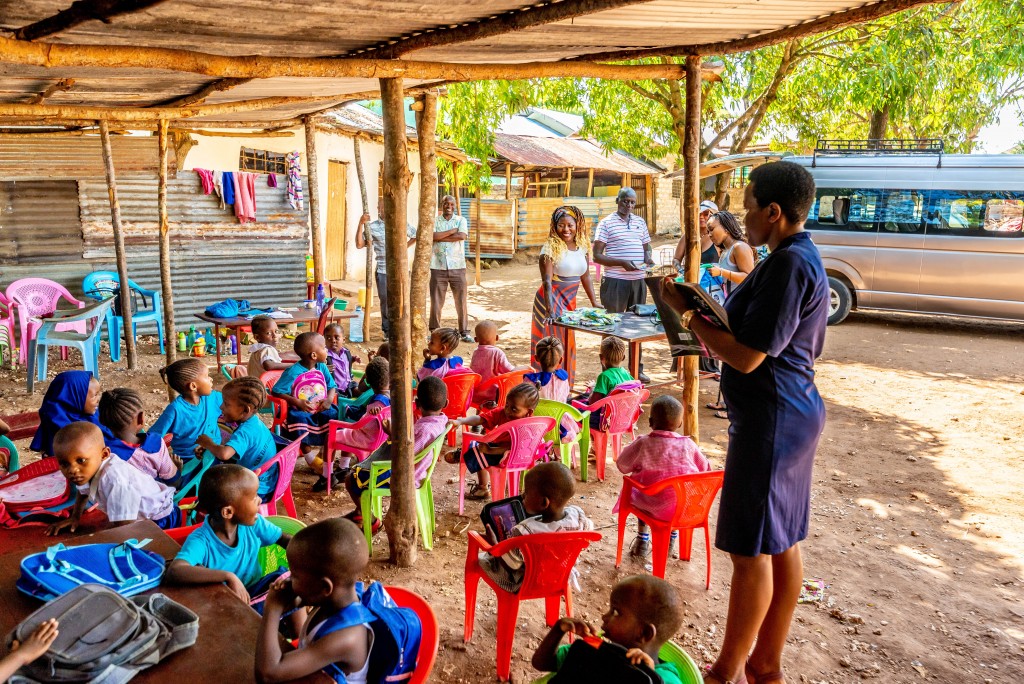 As a mother of three boys, I strongly support hard-working moms taking an occasional break to unwind and spend adult time with their friends. So, when my childhood friend invited me on a girl's trip to Mombasa, Kenya, I couldn't pass up the opportunity. Visiting Africa has always been on my bucket list. However, life kept getting in the way, and I never made it a priority.
The last few years have shown me how fragile life is, and that it should not be taken for granted, so I started saying yes to opportunities. Yes to the fitness class, yes to the shoes, yes to brunch with my friends and yes to the trip to Africa.
Once I decided to travel to Africa in December 2021, I realized I could give back. I decided my son Keith and I would put together bookbags with our published children's books, school supplies and gloves to donate to children in Kenya. When I told Keith about donating school supplies to the children in Africa, he suggested that we add treats to the bookbags "because every kid loves treats, Momma."
Although Keith wasn't too excited my trip without him, he was excited that I would be helping other children. He said, "Momma, we are going to make the kids so happy! We can make a difference." That warmed my heart.
What started as a girl's trip totally changed my life and perspective as we visited classrooms in Kenya. We had little to give, but we were willing to share what we had, and the children were so grateful. The smiles on their faces were so big when I handed them the backpacks with school supplies; they jumped for joy, danced and sang. My heart overflowed with happiness and disbelief.
Why? Some children had no shoes on their feet, yet they still danced. Their classroom floor was dirt and rocks, the roof was tin with significant holes, and one classroom only had two walls, yet the students were attentive, smiling and eager to learn. The teachers had no computers, no smartboard, no whiteboard, no supplies and few books, yet they were dedicated and motivated to teach. The lunchroom had no stoves, refrigerator, utensils, and not much food. But that didn't stop the cooks/custodians from building a fire and cooking a meal for the children. The school had no running water, but that didn't stop the builders from repairing the bathrooms or the school staff from walking a distance to pack water for the children to drink and the cooks to use. The principal had no assistant principal, no administrative assistant, no computer, no Wi-Fi, yet he still led with distinction and grace.
As a mother, I can't imagine my children not having shoes or attending schools with dirt floors and few supplies. As a former teacher, I can't imagine teaching without the bare minimum of supplies. And as a school leader, I can't imagine leading without the resources we are so privileged to have in the United States.
While in Kenya, I discovered that almost half of Kenya's population are children. Mombasa is losing an average of 55 to 60 percent of children each year from their education system, and only 65 percent make it to secondary school. Although primary education up to grade eight is free, children often don't attend due to poverty. Several students drop out of school before eighth grade because their families cannot afford school uniforms, books, pens and notebooks. Moreover, instead of attending school, children often must work or beg to support their families. I saw children panhandling with their families on the street instead of attending school.
I have always talked about living intentionally and with purpose, but everything was so much clearer for me after my trip. My thoughts hit me like a ton of bricks: Why was I not using my God-given purpose? How dare I fail to use the gifts God has given me to help others? My purpose in life is to serve and help people.
On the 11-hour flight from Kenya to our first layover in Germany, my mind refused to let me rest. I kept asking what I could do to help. What would be my first steps? Where would I even start? Was this too big of a calling for me? Then, on the nine-hour flight from Germany back to America, I threw away my self-doubt and told myself, no, this calling is not too big for me. This is my God-given purpose, and I will no longer ignore it. I formulated a plan.
First, I had to clearly define the issues and prioritize them. To create a viable school for the children I visited would require creating a permanent structure with a functional kitchen and dining room, books and supplies, running water, access to computers/Wi-Fi, a playground, garden and fencing.
In order to accomplish this mission, I had to work out my first steps.
My plan is to establish a non-profit organization called Mominate Foundation. Mominate is a play on words: Mom + Dominate = Mominate Its mission would be to build a thriving community by helping financially challenged mothers and their children excel through education, health, financial literacy and self-love. Mominate has two goals for 2022: Assist recovering mothers and their children in Tulsa, OK, and help build a primary school in Mombasa, Kenya.
I plan to meet with school officials to determine the Kenyan school's most feasible design and plan, create an initial budget and then begin writing grants and planning fundraising. I had noticed that our American dollar went a lot further in Kenya. To begin to meet my goals, I plan to raise $350,000.
It's crazy how a girl's trip can totally change your perspective on life. I have found my true purpose and helped my son realize that we are put on this earth to make a difference by helping one another. I suggest you intentionally discover your passion and follow your purpose. Your children are watching, and that passion will rub off on them. I have realized my purpose is not just about me, but what God wants to do through me. Therefore, if I am not living up to my purpose, I am not just betraying myself and my family, but also betraying God.
P.S. Say yes to the girl's trip. You never know what you will discover about yourself.
Dr. Tamecca Rogers is Director of Diversity, Equity and Inclusion at Tulsa Technology Center. She is a writer and mom to three boys who love adventures.
---