Exploring Sapulpa's Route 66 Christmas Chute!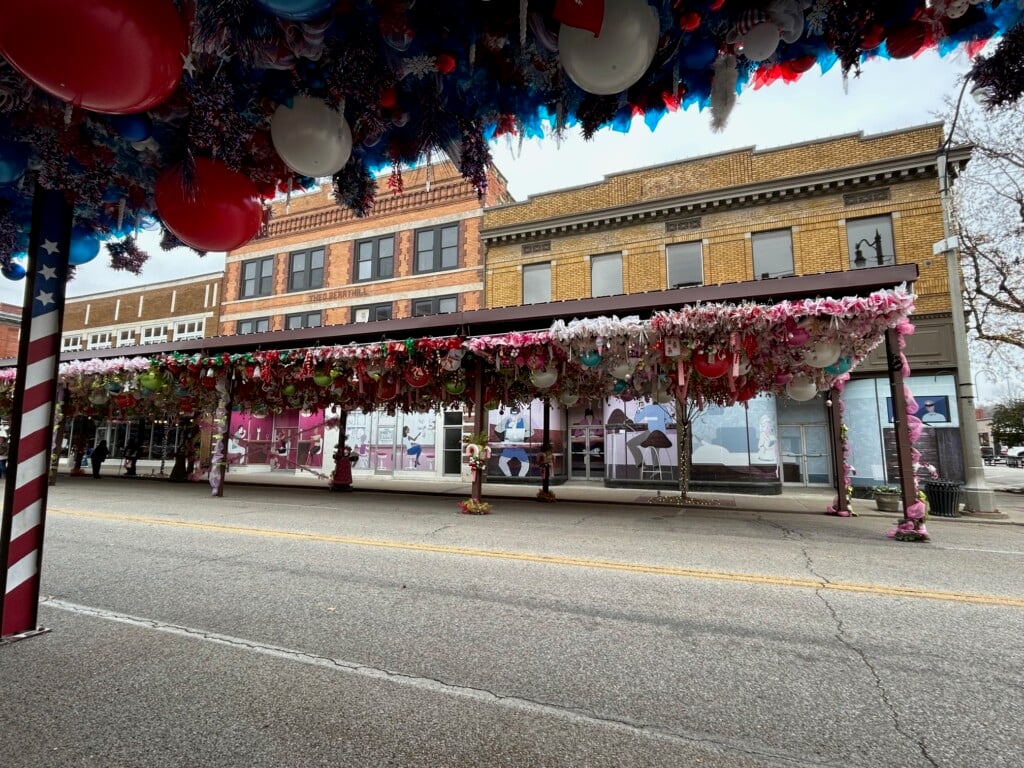 I think we just made it through our busiest weekend of the year – I hope! Saturday morning was spent at the Tulsa Christmas Parade, followed by a couple holiday markets and a birthday party. After a couple hours of break, we headed out to Clark Youth Theatre's production of The Best Christmas Pageant Ever. The performance was so much fun. We laughed out loud throughout, Joss was happy because he got popcorn. But of course, the show started at 7:30 p.m., so we were leaving home when we usually are in the middle of bedtime. Whew! Sunday, however, was fairly free of plans. So of course I decided to take the opportunity to check something else off our holiday bucket list: The Route 66 Christmas Chute in Sapulpa.
Route 66 Christmas Chute
The Route 66 Christmas Chute is an all-new holiday destination. According to info sent by the City of Tulsa, the Chute was completed thanks to the work of 300 volunteers, who have been working on this project for the past two years.
What is it? Basically, two blocks of downtown Sapulpa are blocked to traffic, and the street is lined with 800-f00t-long canopies. The canopies are jam-packed with Christmas decor, in ten themes covering everything from holiday baking to Route 66.
Several canopies are accompanied by special photo opportunities, which just adds to the fun!
In addition to the canopies, you can enjoy shopping at antique stores, gift shops, etc. There are food trucks, pictures with Santa, hot chocolate, etc., available at select times. See a list of upcoming events at route66christmaschute.com/events/
We went Sunday morning, which probably wasn't the best time to go. It was very quiet, which is fine, but a lot of the shops were closed. No antiquing for us! So just keep that in mind – Thursday or Friday evening, or Saturday may be ideal times to go. You can find a list of the neighboring businesses and their hours at route66christmaschute.com/business-hours/
Crossroads Cookery
One business that was open Sunday morning is Crossroads Cookery. What a gorgeous restaurant! I thought you had to have reservations so we just stopped in to visit the coffee bar and maybe get some ice cream. (We ended up sticking with the warm beverages, as Joss had forgotten his coat.) The hostess also told us we could take a table and eat there if we wanted, but we didn't have a ton of time.
Would love to return for a meal sometime. Check out their menu at crossroadscookery.com/menu
Dates and Times
The Route 66 Christmas Chute will be open through New Year's Day. It is open 8 a.m.-11 p.m. A map is available at route66christmaschute.com/map/. There was plenty of free parking surrounding the Chute when we went.
I think it was about a 20-minute drive from our home, and totally worth it. I've seen several posts in Facebook groups from people who have driven over an hour to see it, and they were happy they went.
---