Entertaining Teen Relatives in Tulsa?
No problem.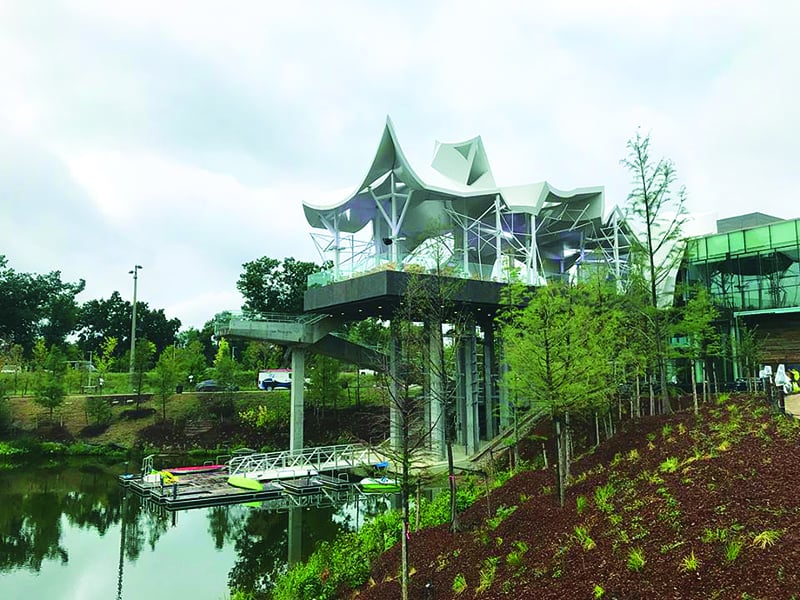 Along with turkey, parades and plenty of football, Thanksgiving often means an influx of relatives and a scramble to entertain them. While adults may be content to help in the kitchen or sprawl in front of the television, entertaining teenagers – our own and those of our guests – can present more of a challenge. Fortunately, Tulsa offers plenty of options, many of which are free, and can appeal to every age.
A $450 million gift from George Kaiser Family Foundation and numerous other donors, this amazing 70-acre park in the heart of Tulsa is open seven days a week from 9 a.m.-10 p.m. Entrance to the park is free. Sports equipment rents for a small fee, and there are food and beverages available for purchase at several locations. On a cold day, take some board games or a book to the beautiful Williams Lodge with its fireplace and huge windows offering a great view of the park. The sports courts at the southern end of the park are the perfect spot for a game of basketball or volleyball, and the nearby Skate Bowl and BMX Pump Tracks are ideal for participants and spectators alike.For more information, visit www.gatheringplace.org. Check out Guthrie Green, a sister park located in the Tulsa Arts District, for other free, family friendly activities. www.guthriegreen.com.
A state-of-the-art indoor climbing gym at 32nd & Yale, Climb Tulsa features two floors of climbing walls and the tallest (and longest!) indoor slack line – think tightrope – in the U.S. This 17,000-square foot facility has close to 20,000-square feet of vertical climbing walls and is one of the largest climbing gyms in the country. You don't have to be an expert to participate. Beginners are welcome, and the climbing routes are color-coded and graded. Climb Tulsa is open seven days a week and offers gear rental, classes, private coaching and day passes. For additional details, visit www.climbtulsa.com.
Shuffles is located in the Archer Building in the Tulsa Arts District. A café with a full service restaurant, Shuffles also features coffee, adult beverages, and a separate milkshake menu. A fee of $6 per person provides unlimited access to over 700 board games – from the classics to contemporary favorites. Prices are higher at "peak" hours on Friday and Saturday evenings. There are even "navigators" on site to guide your game selections. www.shufflestulsa.com
Escape Rooms
With escape rooms like The Escape Tulsa, The Safe House and Eleventh Hour Enigma, participants play detective, using clues to solve puzzles and challenges in order to escape from a "locked" room before time runs out. Each room has a different setting and a different story. It's an immersive, collaborative and interactive experience set against elaborately decorated and themed rooms. Most of the escape rooms allow kids of all ages to participate, as long as there is an adult with the group. Pricing varies from a flat fee for up to a certain number of players per room to a fee for each participant.
Other Options
While there isn't enough space to list all of the local entertainment options, here are a few more notables. Tulsa is an art city. Philbrook offers wonderful exhibits all year (and special holiday events), but also consider places like Living Arts, ahha Tulsa, and 108 Contemporary in the Tulsa Arts District for a change of pace.
The Oklahoma Aquarium and the Tulsa Zoo are always great outings for families and kids, and the Tulsa Botanic Garden and Turkey Mountain should be on everyone's list for an outdoor adventure. Don't think that teens are too old for these spots!
If the weather isn't cooperating, the Dust Bowl in the Blue Dome District is the perfect spot to while away an afternoon eating and bowling. For more teen-friendly activities and events, check out our TulsaKids calendar!
This article was originally published in November 2018 and has been updated as of Fall 2020.
Julie Wenger Watson is a freelance writer who's worked in all aspects of music promotion. She's also Co-Director of "Live From Cain's," a public radio show pilot.
---