Edible Birds' Nests Three Ways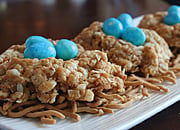 My children and I love to fill the bird feeders in our backyard and watch the local wildlife enjoying our little buffet. We're hoping to encourage a little nest building by our feathered guests. In the meantime, here are a few edible nest ideas we like to enjoy while waiting for the real thing.
Birds Nest Breakfast
Fun little hash brown nests filled with eggs. Add a side of a fresh fruit salad and your breakfast is complete!
For each serving:
• 1 medium potato, peeled and boiled until fork tender
• 1 teaspoon vegetable oil
• pinch kosher or sea salt
• pinch ground white pepper
• 1 egg, soft or hard boiled, shell removed
Directions:
Step 1: Fry Potatoes
Coarsely shred potato. Drizzle oil in a non-stick skillet over medium heat; stir in the potatoes. Cook, stirring occasionally, until golden brown. Remove potatoes to a paper towel lined plate. Sprinkle with salt and pepper.
Step 2: Arrange and Serve
Arrange cooked potato into a nest shape; place eggs in center of nest. Season to taste with salt and pepper. Enjoy!
Cook's Note: If you can't locate quail eggs, a single chicken egg makes a fine substitution.
---
Peanut Butter Birds' Nests with Malted Milk Eggs
These sweet concoctions are reminiscent of marshmallow treats.
Ingredients:
• 1/3 cup corn syrup
• 1 cup miniature marshmallows
• 1/2 cup brown sugar
• 3/4 cup peanut butter
• 1 teaspoon vanilla extract
• 3 cups crispy rice cereal
• 1 cup flaked coconut, toasted
• 1 cup dry chow mein noodles
• 54 malted milk eggs or jelly beans
Directions:
Step 1: Prepare Pan
Cover a baking sheet with parchment paper or foil. Set aside.
Step 2: Heat Coating
Stir together the corn syrup, marshmallows and brown sugar in a stockpot over medium heat; cook until marshmallows are melted, stirring frequently. Stir in the peanut butter and vanilla until peanut butter is completely incorporated. Remove from heat.
Step 3: Form Nests
Stir in the cereal and coconut until well coated. Place a small pile of chow mein noodles onto the prepared pan. Working quickly, use an ice cream scoop to place a mound of the cereal mixture onto the noodles. Press into a nest shape. Place three malted milk eggs or jelly beans in the nest. Continue to form nests. Refrigerate until firm.
---
Birds Nest Salad
What a fun way to encourage the kids to eat their vegetables! And, it couldn't be simpler to make.
Ingredients:
• 4 cups shredded iceberg lettuce
• 2 cups broccoli slaw mix
• 1 cup pretzel sticks
• 1/4 cup salad dressing of your choice
• 20 grape tomatoes
Directions:
Step 1: Toss Salad
Place lettuce, slaw mix, pretzels and salad dressing into a large bowl; toss until dressing is completely distributed.
Step 2: Form Salads
Evenly mound salad mixture onto four serving plates; form into a nest shape. Place 5 tomatoes in each nest. Enjoy!
Cook's Note: This salad begs to be tinkered with. Substitute with any of your favorite veggies. How about shredded cucumber or radishes? Olives or grapes instead of the tomatoes? The possibilities are limitless.
Besides her two favorite jobs of wife and mom, Michelle Ann Anderson homeschools her children, is a freelance writer, enjoys public speaking, writing cookbooks and sharing her love of food with those around her.