Dumpling Night!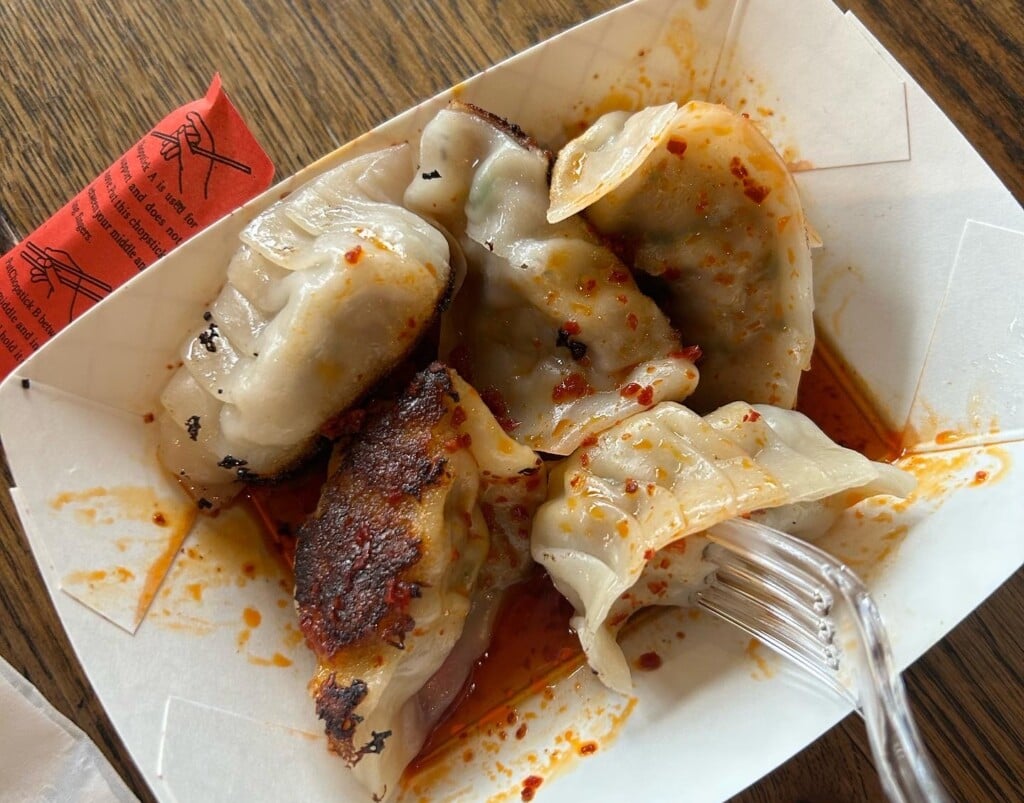 I don't know how I first heard of Et Al. Tulsa, although it was definitely through social media. If you haven't heard of them, "et al. is a collective of chefs working collaboratively to build a more equitable future for the food and beverage industry in Tulsa by providing genuine and delicious food for all people." (etaltulsa.com/about) Some of their initiatives, served currently at Foolish Things Coffee Co., include Japanese Breakfast, Butter Bar and the very popular Dumpling Night. Notably, the James Beard Foundation recently selected them as one of 30 (or so) semi-finalists for Best New Restaurant in the U.S. Pretty impressive!
Dumpling Night
All that to say, I've been eager to try their food for a while, and Dumpling Night seemed the easiest way to do so. Other projects like Yuki: Mizutaki (Japanese hot pot) and their Japanese Breakfast require reservations. But Dumpling Night is a walk-in situation, and you order off a menu rather than pay a set price. So it's a bit more flexible.
Held every Wednesday from 5-10 p.m. at Foolish Things, the secret definitely seems to be out for Dumpling Night. We arrived to a long line of dumpling enthusiasts waiting to order at the counter. Thankfully, we were meeting someone who had arrived earlier, so didn't have to wait too long. And the line did seem to move quickly enough. A man in line in front of us was happy to recommend his favorite dishes. Which was basically the entire menu, ha. Apparently, Dumpling Night is his go-to place to take out-of-town guests.
In addition to the excellent food, Dumpling Night is a good time because Et Al. is so community-focused. Everyone there was incredibly friendly and helpful. They're definitely creating an event and atmosphere that wants people to return week after week. And the tip is already included in the price, so what you see listed on the menu is what you pay. They say, if you want to tip extra, give a good review.
Menu
Here's a sample of the menu, taken from their Instagram page. (It's a older post, but pretty similar to the current menu.)
I ordered the Pork and Nira dumplings. Six was not enough for Joss and I to share, as he ate 4.5 of them! I had to fight for my last half. For myself, I got the Karaage donburi, which was very satisfying. Joss would have enjoyed that, too, and asked me to share some of the fried chicken at least.
I also got Joss the Kitsune udon, which had a very interesting flavor! He did like it, but between eating so many dumplings and chicken, we ended up taking quite a bit home. Don't worry, it got eaten.
I couldn't resist trying the butter mochi, which was more cake-like than you might expect if you've had regular mochi before. It wasn't too sweet, which is great if your sweet tooth isAnd they also have a lot of fun drink options, including sake and cocktails. But for last night, I stuck with the milk tea. Perfect.
If you can get out of the house late and want to save money, they do discounted drinks and certain food items from 9-10 p.m.
Other Recurring Things to do Downtown
So I've checked Dumpling Night off my to-do list. (I mean, we'll be back, but at least I can say I've gone once!) But there are some other weekly/bi-weekly things to do downtown on my current bucket list. These include:
What else should I add? Of course, Pie Night at Antoinette has long been a favorite weekly event. And we were at Chimera a few Sundays ago, when they had their Biscuits & Jam going on. Live jazz music to enjoy while you eat.
---