Downtown Days of Wonder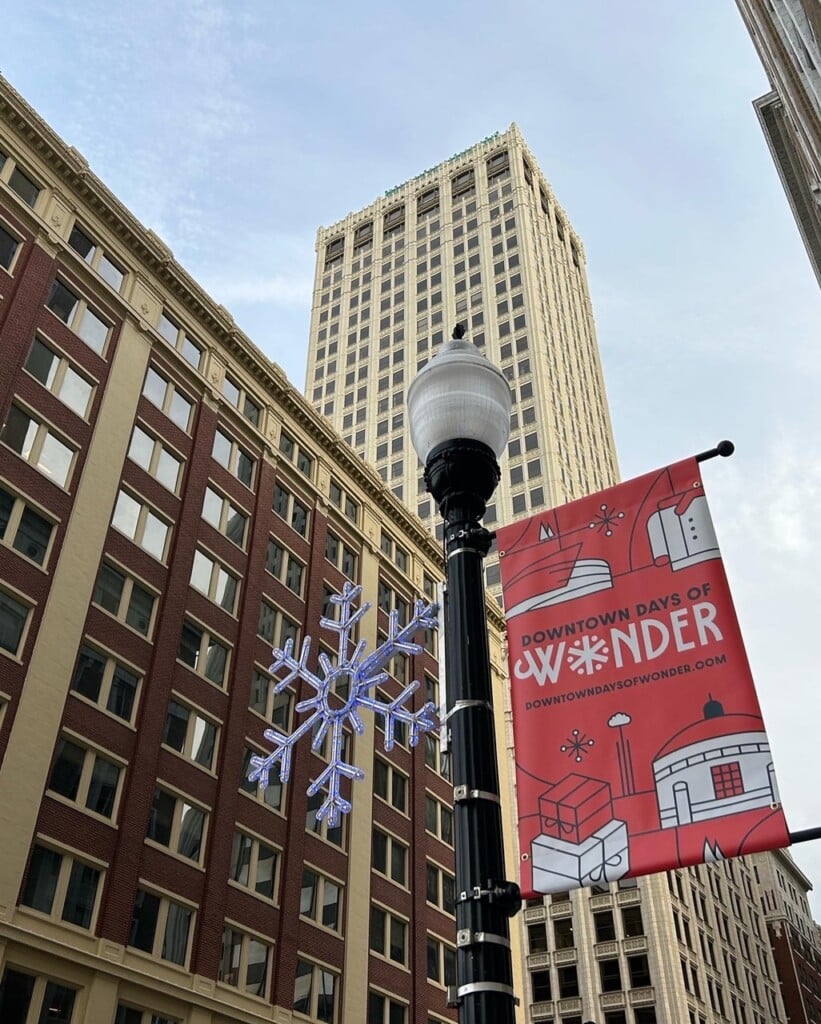 Well, I already wrote a blog post this week – today, even! – but wanted to also write about Downtown Days of Wonder in downtown Tulsa. Morgan Philips with the Downtown Tulsa Partnership invited Joss and I out to view the new AR Holiday Tree at 5th and Main last Friday. We ended up exploring some of the other local festivities, spending about two hours in total downtown! So here is some info about what you can experience at Downtown Days of Wonder.
AR Holiday Tree
The intersection at 5th and Main is home to a roundabout and fountain that is turned off during cold months. Downtown Tulsa Partnership wanted to think about how to utilize this space during the holiday season – in a way that didn't block views/present a traffic hazard. The result is the AR Holiday Tree designed by local digital artist and software developer Chris VanDenhende.
We got to meet Chris "Vanndy" when we went to see the tree. He was so kind and showed Joss exactly how to view the tree.
How does it work? There are three large "presents" located at three corners of the intersection. Scan the QR code on the presents, point your phone at the intersection, and voila! You choose whether you want to view the tree through a Facebook or Instagram account, which makes it easy to create a post-able photo or video and get it up right away. Or, you can save your image/video from there to your device. Use your fingers to move, grow or shrink the tree. Joss loved making it as large as possible.
It's a super unique, technologically advanced way to enjoy some holiday decorations. The AR Holiday Tree will be available through Jan. 15.
Pop-Up Shops
Another important part of Downtown Days of Wonder is the Pop-Up Shops. There are so many reasons these are a great idea. 1) They utilize currently unoccupied storefronts. 2) They support up-and-coming and established local businesses. 3) You can get unique items for people on your holiday gift list!
We stopped by the two pop-up shops located in the old Candy Castle near 6th and Main: Iscents Candles and Onifade's Cookie Company. We were pleasantly surprised to discover that, not only can you purchase candles, salts and oils from Iscents, they also have a DIY Candle Station! So of course we had to do that!
Owner DuEwa was very patient, walking Joss through the process and letting him do pretty much everything except pour the hot wax. He got to choose his scent, mix it into the wax, and then choose some "toppings" as well. It took about an hour for the candle to cool, so keep that in mind.
The candles smell delicious, by the way. I told DuEwa that we'd tried making candles at home, but the cheaper oils we bought from Michael's were pretty smelly, and not in a good way. You can definitely tell that the ones she uses are a much higher quality!
I was also excited to purchase a cookie from Onifade's Cookie Company. I first heard about this company in Kristi Roe Owen's COVID birthday post from 2020, when founder Onifade was just twelve years old. The variety of cookies and other baked goods available was impressive! He's just in high school but has run a successful business for several years now, and must stay pretty busy in between baking and schoolwork, etc. We tried a butter cookie, and it was delicious.
Find a list of pop-up shop businesses, locations and hours at downtowndaysofwonder.com/pop-up-shops
Arvest Winterfest
While waiting for our candle to cool, we walked a few blocks over to Arvest Winterfest. Although we didn't skate, we enjoyed looking at the tree, which plays music to coordinating lights. The only downside was that I didn't have enough quarters for the meter, so I was a little stressed about that the whole time, ha. Although thinking about it now, I probably could have just used a debit card. Whoops.
Winterfest also has holiday shops this year – the last one is Dec. 17 – as well as Breakfast with Santa events for kids AND adults coming up this weekend (Dec. 17-18).
Before heading back to pick up our candle, naturally we had to pay a visit to Joss's favorite, Roppongi. You can't go wrong with their vegan ramen!
All in all, it was a really fun, if unexpected, extended adventure in downtown Tulsa. Learn more about Downtown Days of Wonder at downtowndaysofwonder.com/
---