Downtown Dallas Adventure, Part 1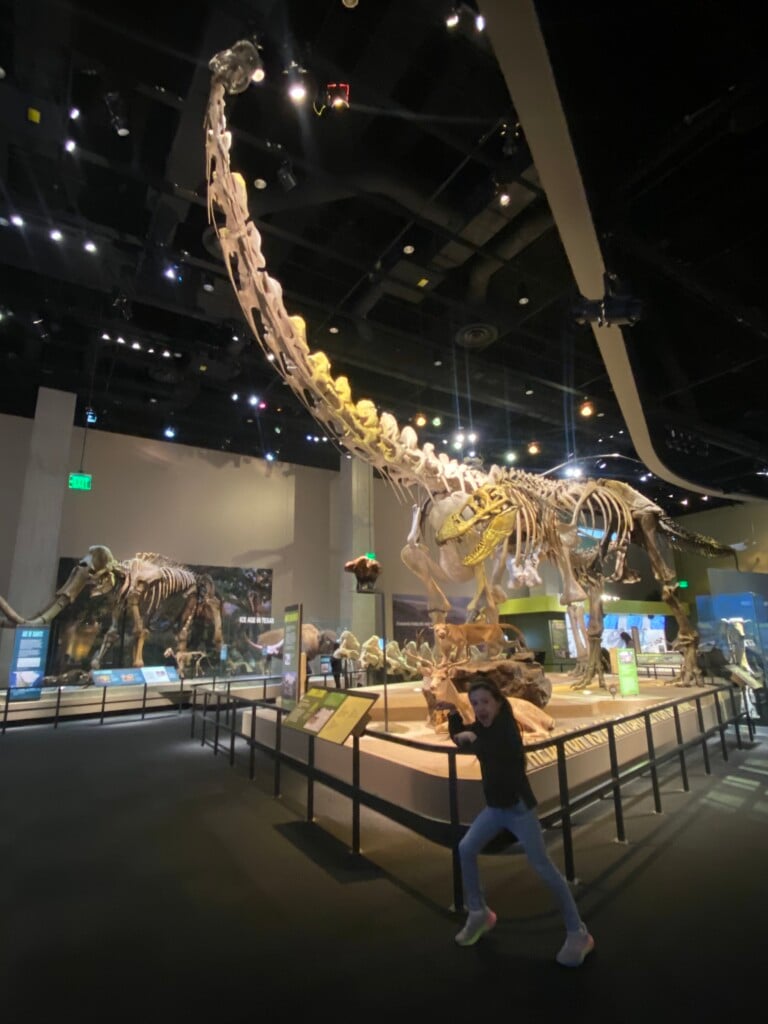 Let's face it, there are so many destinations around the Dallas metropolitan area that I could write about tons of them…and I will at some point! This time, I'll focus on why making the journey to downtown Dallas for the weekend is worth the 4.5 hour drive. In this post, I'll cover three amazing downtown Dallas destinations:
Perot Museum of Science and Nature

Dallas Museum of Art

Klyde Warren Park
Perot Museum
Isabelle recently experienced her second visit to the Perot Museum. One of our reasons for visiting this time was The Science Behind Pixar exhibit, which runs through September 4th. Wow – was it worth it! The exhibit gives kids and kids-at-heart an understanding of how Pixar films are made from concept through creation. The hands-on activities taught all of us so much about computer animation and movie production.
At some stations, kids could use their hands to create characters. In other areas, kids could use computers to better understand the components of 3D modeling. They broke down everything so that it was interesting and understandable for kids, from lighting to the finest details such as character facial expression. I looked around and saw 2-year-olds and 70-year-olds having an equal amount of fun. As always, Pixar delivered.
The permanent exhibits at the Perot Museum are equally impressive. A few of our favorites are the Lyda Hill Gems & Minerals hall, if your kid loves geology, and the T. Boone Pickens Life Then & Now Hall, if your kid loves paleontology! If you're lucky, you might even see a professional sifting through fossils during your visit.
You could truly spend a whole day at the Perot Museum. There are 3D shows offered for an additional fee that many kids enjoy. There are also lunch options at the museum, so there is no need to go off campus and come back. A word to the wise – I highly recommend booking tickets online in advance, especially if you are going on a weekend. The day we went was a Saturday, and they were sold out by 11:30 a.m.!
From its intriguing architecture to its array of exhibits, there is something for everyone at Perot Museum.
Dallas Museum of Art
My husband and I love art, and so do the kids. Going to Dallas Museum of Art was a non-negotiable for Isabelle. This free museum is one of the largest art museums in America. From paintings, sculptures, to contemporary exhibitions, there is a bit of everything on permanent display. There are a few paid exhibits at any given time as well. We chose to try out Movement: The Legacy of Kineticism, which runs through July 16th. This particular exhibit relies on optical effects and manipulable parts to engage the audience. Isabelle highly recommends it!
Fun fact: As there are more than 25,000 works of art at Dallas Museum of Art, so plan to spend between 2-4 hours there. We spent closer to 4 hours. There is a museum cafe, and parking is easily accessible right on site, under the museum. The museum relies on donations, so consider making a donation while there if you are able. Every dollar makes a difference.
Klyde Warren Park
Directly across from Dallas Museum of Art, you'll find Klyde Warren Park. This open, inviting green space is a wonderful opportunity for all ages to congregate and play in the midst of the bustling urban area. You'll see kids throwing the frisbee, food trucks lined up, and, depending on the day, even a festival. Definitely check out the Klyde Warren Park website before you go to see what all is happening! They have a delightful playground and yes, there is a dog park for dog kids.
From eating opportunities, a game cart, and an interactive water feature, this park is a great stop whether you have an afternoon to spend there or only an hour.
Getting to Dallas
Lastly, let's talk about getting to Dallas. Yes, it should be 4.5 hours, but if you do not plan accordingly, you could find yourself in a rush hour traffic snag, which could easily add on an extra 45 minutes to the journey. We prefer going directly down highway 69 (south) to Dallas, but we know some people that prefer taking a bit longer via the Oklahoma City route (west on highway 44) then south.
Either way, there is one thing you cannot avoid…BUC-EE'S.
There are two types of people in this world, those that see Buc-ee's as a roadblock to their destination and those that see Buc-ee's as the destination before the destination. I am the former, Isabelle is the latter. Expect to add an extra 15-45 minutes to your road trip should you, your spouse, or your children become ensnared by the double edged sword that is Buc-ee's. If you don't know what I'm talking about, I highly encourage you to Google it.
---