Dinner in an Instant (Pot): Five recipes to help you get the most out of your Instapot
White Chicken Chili, Simple Vegetable Soup, Mac and Cheese, Chicken and Dumplings and Drop Biscuits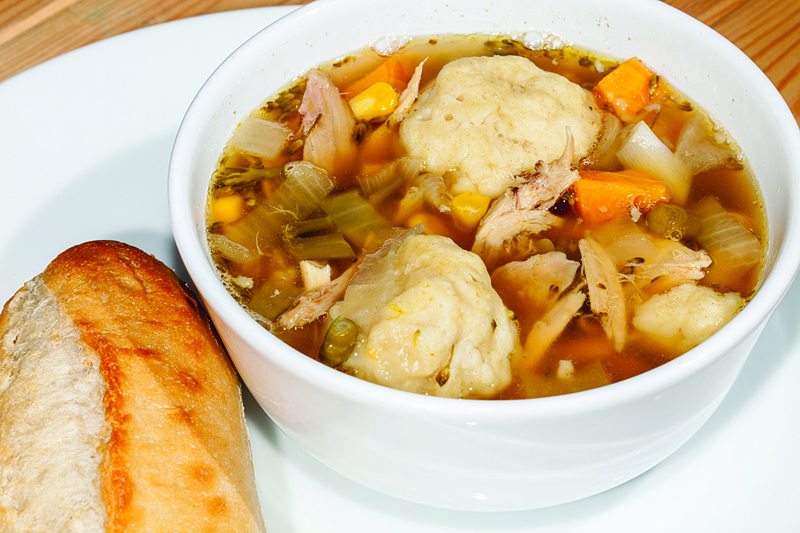 It's time to tighten up our schedules and meal plans. After a loose summer, September is the time to reel it back in, to remember the family traditions and family meals we loved over the last year, and to dump those that didn't work.
I have collections of five-ingredient meals, crockpot meals and tried-and-true dinners I can make without consulting a recipe. But it's in September that I lean a little heavier on the crockpot or make-ahead meals.
Many of my fall nights are spent at soccer practices or in the car, driving back and forth to ballet and other lessons. When we all finally make it home, everyone is hungry and ready to eat asap. I'm always so thankful on those nights if I have remembered to toss dinner into the slow cooker earlier in the day. I know it's the same feeling for those who swoon for the Instant Pot.
The Instant Pot recipes we're sharing aren't made in advance, but they come together super quick. You can have dinner ready in the time it takes the kids to take their showers or your spouse to give the baby a bath.
---
Throw it all in the crockpot, and it will be ready right after school or work.
White Chicken Chili
2 pounds boneless skinless chicken breasts
4 cans cannellini beans, drained
2 cans corn, drained
2 cups chicken broth
2 teaspoons cumin
1/2 teaspoon chili powder
1/2 teaspoon ground oregano
1/4 teaspoon cayenne pepper
1/2 teaspoon kosher salt
1/2 teaspoon ground black pepper
1 (4-ounce) can chopped green chiles
Toppings: sour cream, shredded cheddar cheese, cilantro
Add all ingredients (except toppings) to slow cooker. Stir to combine. Cover and cook on low for 6 hours.
Remove chicken, shred with a fork, return to slow cooker and stir. Pour into bowls, and serve with toppings.
---
Here's one of those recipes that's easy to adapt with you own favorite ingredients. Keep it as is for a vegetarian dinner, or add one-half-pound browned and crumbled ground beef to add a little extra flavor.
Simple Vegetable Soup
1 (32-ounce) package frozen vegetables
1 (32-ounce) carton vegetable broth
1 (28-ounce) can crushed tomatoes
2 pounds red potatoes, cubed
1 tablespoon chopped fresh parsley
1 teaspoon kosher salt
1/2 teaspoon ground black pepper
Add all ingredients to a slow cooker, and stir to combine. Cover and cook on high for 6 hours.
---
No need for an extra pot to boil the pasta with this recipe. It's a kid-pleaser that can be made in minutes.
Easy Instant Pot Mac and Cheese
1 pound uncooked whole wheat pasta
4 cups water
3 tablespoons butter, cut into small pieces
1 teaspoon salt
2 1/2 cups shredded sharp cheddar cheese
1 cup whole milk
Add pasta, water, butter and salt to Instant Pot. Cook 4 minutes. Vent using the natural steam release (this takes about 10 minutes).
Stir in the cheese and milk. Add salt and pepper to taste. Stir until creamy, then serve.
---
A favorite with everyone from toddlers to teens, this chicken and dumpling recipe is really easy when made with canned biscuits. If you'd rather make your own, try the recipe for homemade drop biscuit dough.
Instant Pot Chicken and Dumplings
1 teaspoon olive oil
1 1/2 pounds chicken breast, cubed
1 teaspoon oregano
3/4 teaspoon onion powder
1 teaspoon garlic powder
1/2 teaspoon salt
1/2 teaspoon pepper
2 cups chicken broth
1 cup water
1 (16-ounce) tube refrigerated biscuits
1 cup chopped carrots
1 cup frozen peas
1 teaspoon oregano
3/4 teaspoon onion powder
1 teaspoon garlic powder
1/2 teaspoon salt
1/2 teaspoon pepper
Flatten biscuit dough, and cut into strips or rounds, depending on what kind of dumplings you prefer.
Add olive oil, chicken, oregano, onion powder, garlic powder, salt and pepper into the instant pot, and stir to combine.
Turn instant pot to the saute setting, open the lid and cook chicken until browned on all sides. Turn off instant pot.
Add chicken broth, water, carrots and peas, stirring to combine. Stir in biscuit dough. Seal lid of instant pot, and cook for 5 minutes.
Drop Biscuits
2 cups all-purpose flour
1 tablespoon baking powder
1 tablespoon sugar
1/4 teaspoon salt
1/2 cup melted butter
1 cup whole milk
Heat oven to 450 degrees. Mix together flour, baking powder, sugar and salt. Add melted butter and milk. Stir just until moistened.
If using for dumplings, flour a wooden board, and then cut into strips or round pieces.
If baking, drop by heaping tablespoons onto a parchment-lined baking sheet. Cook for 10 minutes or until edges are golden brown
---