Dancing with the Tulsa Stars 2022
Supporting San Miguel Middle School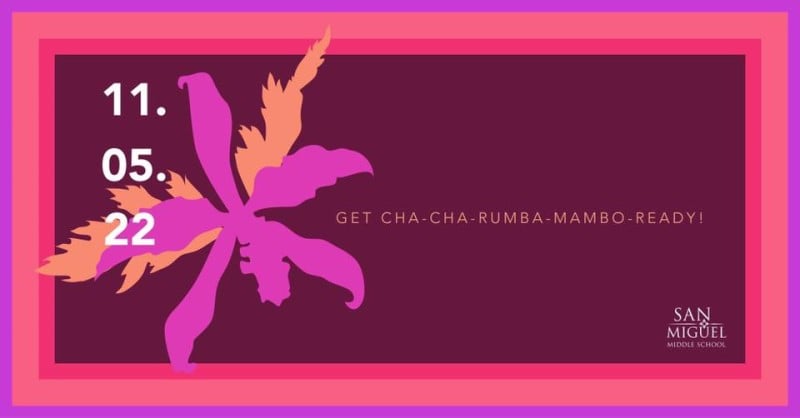 Several weeks ago, Juan Miret, Director of Advancement at San Miguel Middle School, reached out on Facebook asking if I wanted to be a judge at San Miguel's annual Dancing with the Tulsa Stars fundraiser. It was an honor to be asked, so of course I said yes! – after being reassured that I didn't have to know anything about dance. They've got a pro judge for that! Anyway, the event is coming up this weekend – November 5. Even if you can't attend in person, you can vote online for your favorite dancer through Saturday, Nov. 5 at 9:30 p.m. I'll share more on that in a bit!
San Miguel Middle School
I had the privilege of getting to tour San Miguel and meet several of the students there. They were all incredibly polite, making a point to come up and introduce themselves. I got to learn about their volleyball team and watch a group of English students writing letters, talking to one about going to college, etc.
San Miguel is a low-tuition school primarily funded by grants, donations and fundraising. Enrollment is limited so that class sizes stay small, although they have a lengthy waiting list each year. According to their website, "Admission to San Miguel is based on economic and educational need." The small class sizes, curriculum and other unique features of San Miguel allow students who arrive behind academically to catch up and pursue high school opportunities at schools like Cascia Hall, Holland Hall, etc. They also learn leadership, many serving on student council – which includes planning the San Miguel float for the Tulsa Christmas Parade! It will be fun to see what they come up with this year!
Students are also encouraged to give back to their community. There is a little free library and free pantry on the fence outside the school, where students can add donations as possible. And there are other opportunities as well.
If you'd like to support San Miguel directly, go to sanmigueltulsa.org/#enroll
Dancing with the Tulsa Stars
Dancing with the Tulsa Stars is, as you may guess, based on the popular show Dancing with the Stars. I've never really watched it so have been trying to catch up some with the latest season on Disney+!
The evening, located at Cox Business Center, will start with a dinner, including dance performances by San Miguel students who are members of the school's dance club. Following dinner, six pairs of dancers will compete on stage. The pairs consist of Tulsa locals and professional dancers/dance instructors. This year's dancers are:
I look forward to learning more about these different styles of dance. I'm it will be very difficult to judge – all the dancers have put in a lot of work! Learn more about the professional dancers at dancingwiththetulsastars.com/professional-dancers
The event raises funds through ticket sales and voting. One vote costs $10, and you can vote as many times as you want. Again, the voting will end as the event closes, at 9:30 p.m. on November 5, so the winner can be announced. Vote online at dancingwiththetulsastars.com/votenow
Let me know in the comments if I'll see you there!
Post-Event Update
Dancing with the Tulsa Stars was a blast! Everyone looked like they were having a great time. The dancers did amazingly well – we judges didn't give any team lower than a "9," with two teams scoring a perfect 30! And the best news of all is that the event raised $500,000+ for San Miguel! Thank you to everyone who attended the event and voted online!
---