City, Community Partners Announce Opening of Bales Park Trails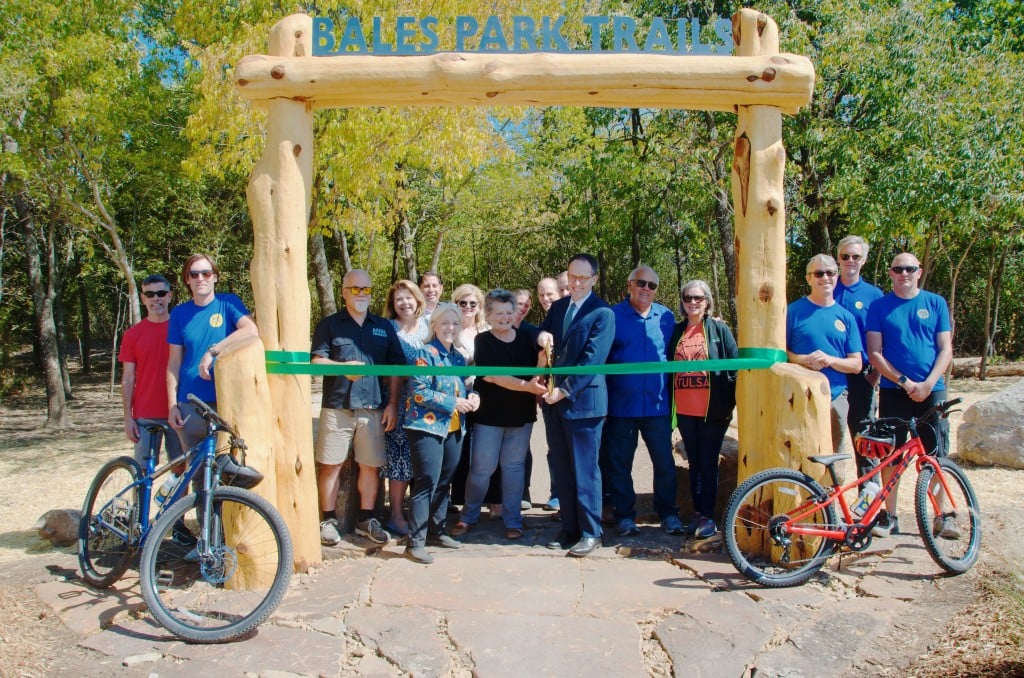 Mayor G.T. Bynum, District 2 Councilor Jeannie Cue, Tulsa Parks officials, and community partners held a ribbon-cutting event Friday, September 30, to celebrate the opening of a new trail system in southwest Tulsa at Bales Park.
A generous $190,000 donation from community partners funded the construction of 3.4 miles of trails at the park, which is located at 5801 S. Union Ave.
The trail system is within walking distance of the nearby Parkview Terrace apartments and is part of a grassroots effort to improve the quality of life in this part of Tulsa.
"This trail is extremely important for the physical wellness of the kids who live nearby and will serve as a catalyst for the future expansion of our trail system in this area," Mayor G.T. Bynum said. "I want to thank Anna America and our talented team at Tulsa Parks, as well as our other incredible partners for making this project a reality."
The project took approximately four months to complete and was completed by Rogue Trails, a trail design, development, and sustainability group from Northwest Arkansas who are also responsible for developing new trails at Lubell Park.
"We are so excited to provide another exciting park to the residents of West Tulsa," Councilor Cue said. "This park will help the neighbors take advantage of more of the beautiful and ever-growing natural adventure areas that has defined West Tulsa. We are thankful for all of the partners that have worked diligently to provide this bike trail system."
Project details include contour flow trails for beginner cyclists and a downhill bike-only section for intermediate levels.
"This is the result of yet another great collaboration with Bike Club and the Burnstein Foundation," said Anna America, the City's Chief of Culture and Recreation and Parks Director. "It's a gorgeous trail, in a beautiful setting, and we love that not only are we adding something that will serve people in the surrounding neighborhoods, but we are building on other trails in this area – River Parks, Turkey Mountain, Lubell Park – and creating a vibrant, connected  trails system that will attract people from the entire region and beyond."
This new regional trail system is made possible because of the generous contributions from following Tulsa Parks partner organizations – Humble Sons Bike Company, Sanford & Irene Burnstein Foundation, William S. Smith Charitable Trust, Ed Darby Foundation, Tulsa Housing Authority, INCOG, M&M Lumber, Rogue Trails and Bike Club staff and volunteers.
The Burnstein Foundation released a statement regarding the opening of the trials at Bales Park. It reads, "An investment in Bales Park by the Burnstein Foundation in partnership with the City of Tulsa, adjacent neighborhoods, and Bike Club is an example of the importance of preserving open spaces in urban centers while creating opportunities for multi-use recreation through adaptive trails and community inclusion. The Burnstein Foundation is thrilled to be a partner in the Bales Park trail development."
Bike Club Tulsa and the Tulsa Housing Authority plan to co-host future events like bike safety lessons and bike tune-up events.
More information about Tulsa's regional trail system can be found online.