Child Abuse Network Gives Wrap-around Care for Children Traumatized by Abuse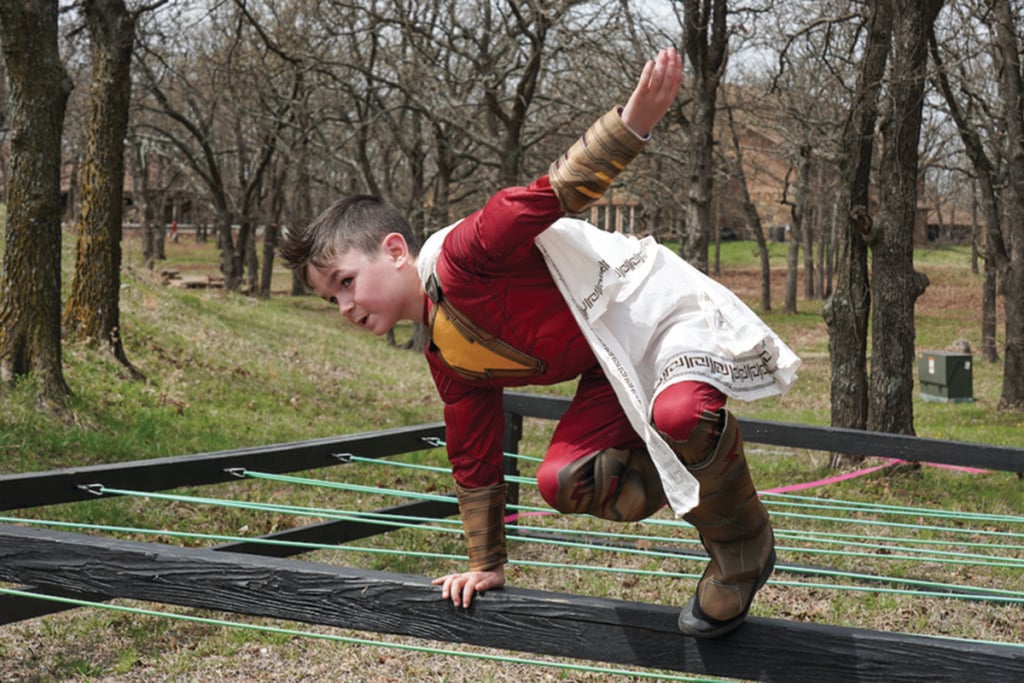 For more than 30 years, the Child Abuse Network (CAN) in Tulsa has been helping children impacted by abuse. This month will be the 10th anniversary of the Superhero Challenge, a fun, family event that benefits CAN. TulsaKids spoke with Bob Beard, chief development officer at CAN, about what the organization does and what makes it unique.
Q: What is the Child Abuse Network, and what does it do?
A: Child Abuse Network is a comprehensive intervention service. We have a central facility that houses the Children's Advocacy Center here in Tulsa, and that's where we really perform our duties for Child Abuse Network. It's a multi-disciplinary approach. We provide services that wrap around the child so when they come to the campus, they can feel safe. They can feel love and caring from our staff.
When a child must report what's happened, in really one of the most traumatizing events of their lives, they can now just tell it one time to a forensic interviewer. What they used to have to do was tell that story over and over to each entity.
From there, the surrounding services — such as the medical forensics, the legal aspect, the law enforcement, DHS — can surround that interview and help the child the best that they can.
We have our police officers on site that work as part of our team. We have our professionally certified doctors for forensic medical exams. There are only a handful across the nation — maybe 370 of them – and we have two of them on site here in Tulsa.
Q: Why is CAN unique?
A: It is unique because of the model. We're only one of 13 such facilities in the entire world that provide a model like this that surrounds the child with the multiple safety measures that we take when providing the services for the child. It really lessens the trauma.
Children impacted by trauma may experience effects such as impaired brain development, chronic health concerns, psychological problems, poor academic outcomes or juvenile crime. So, when we're able to seize that trauma early on with the child, we're really able to lessen these other effects. We are the initial point of contact to immediately bring protection and safety to the child during the trauma.
Q: Why is it important?
A: We found through major statistics and research that CAN's approach absolutely lessens the trauma, which lessens the trauma in children's lives, and they can continue on and have hope. The child's healing starts a lot faster.
A: What does it cost?
Q: We provide these types of intervention services free of charge. We would never charge a family for what they need. They're able to come in and really meet the challenge of what's taken place with their child.
A: How is it funded?
Q: We receive our funding from generous donors in the community, grants from foundations here in the community, government grants, the National Children's Alliance. It's a private nonprofit. We have to raise all the funding for staff services and for all the programs and services that we provide.
Q: What other services do you provide?
A: We have a family advocate. Once everything is done with the actual interviewing process, children are then assigned to a family case manager. That case manager then sits with them and lets them know of all the many services within our community that are available to them to provide support.
We provide a blanket, a stuffed animal, a backpack. If they need diapers or clothes, anything that would be of urgent care, we immediately provide all that through the family advocate. That family advocate then follows up with them to see how they're healing, how they're doing, and to make sure that they're getting the services they need once they leave our location.
Q: Do you serve outside of Tulsa as well?
A: We serve 28 counties in Oklahoma. Because of the model we have, families come from surrounding states as well. A child is a child. The only thing that is different is that the law enforcement must take place within [their state], but our law enforcement connects with theirs to be able to provide the information.
Q: What is the Superhero Challenge?
A: We're celebrating our 10th anniversary for Superhero Challenge. It's during Child Abuse Awareness month, which is in April. We run a half-mile course for children 5 years old and under. If you're 6 years old [and older], we provide a mile course, which has 10 obstacles throughout.
Different superheroes are running around. We have a Superhero Village as well. We have inflatables and entertainment and food trucks.
It really raises awareness for child abuse in our community.
CAN Superhero Challenge
Sunday, April 16, 2023
11 a.m. – 3 p.m.
POSTOAK Lodge
Tickets & Information: cansuperherochallenge.org
To Report Abuse
Oklahoma Hotline: 800.522.3511
National Hotline: 800.4ACHILD (800.422.4453)
State law requires every person who has reason to believe that a child under 18 is a victim of abuse to report the suspicion of abuse immediately to the Oklahoma Department of Human Services (DHS). If you have questions, call CAN. A specialist can help you through the reporting process. Call a child specialist at 918.624.0200.
---