Cherokee Nation Museums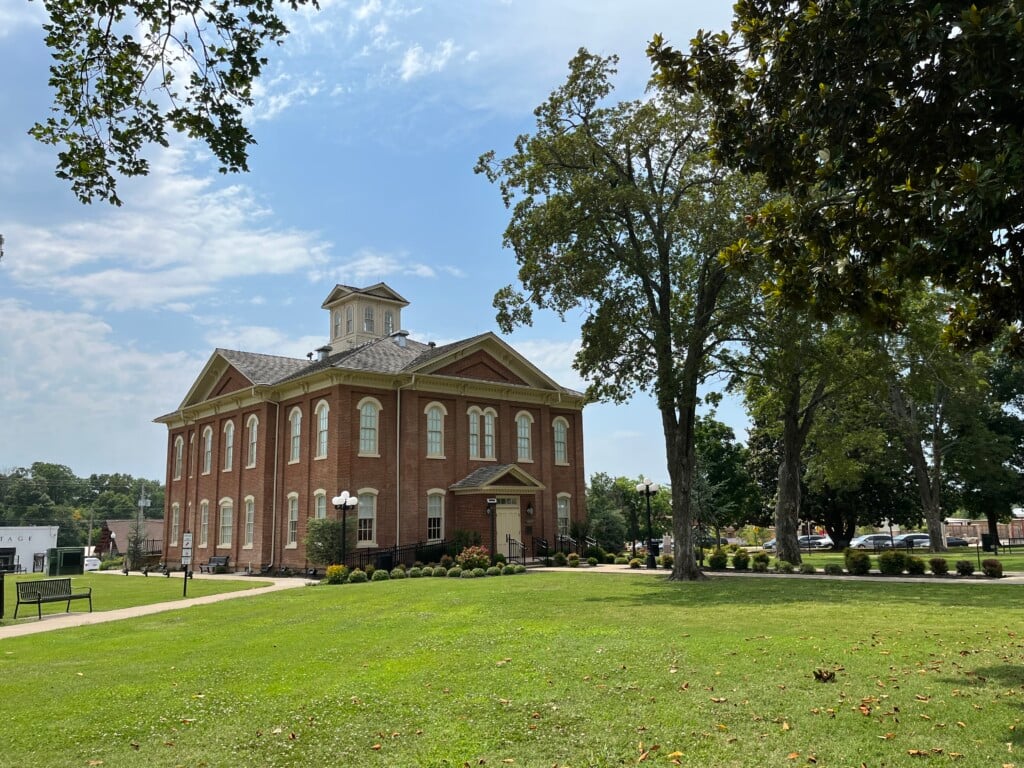 An hour east from Tulsa is Tahlequah, the capital of Cherokee Nation. Tahlequah has grown leaps and bounds over the past decade and is worth a visit. Among places to explore are Cherokee Nation museums. These attractions are free and interesting for all ages. They provide a great introduction to Cherokee history and culture which has profoundly shaped Oklahoma history.
Our family recently visited three Cherokee Nation museums. All are within walking distance of one another and situated in the vibrant Main Street district.
Cherokee National History Museum
The Cherokee National History Museum is in the original Cherokee National Capitol building. It opened in 2019 after an impressive restoration process. This two-story building features the Cherokee story from the past to present.
The first floor has an exhibit dedicated to Cherokee Freedman. This was new since my visit last summer. Freedmen were African-American men and women who were formerly slaves of Cherokees. The story is one that needs to be told and I was glad to see it front and center. Upstairs offers opportunities to learn about clothing, food, and facts from the past. The Trail of Tears is explained in detail, but so are all of the triumphs leading to the strength of Cherokee Nation today.
Aside from pride in Cherokee Nation, one thing I appreciated about the Cherokee National History Museum is that it gave me the opportunity to talk with Isabelle about bad parts of history that have shaped our society. As a second grader, these are things she is wrapping her growing young mind around. It is hard for her to understand how things such as slavery and forced removal and relocation could have happened. If we don't want history to repeat itself, I believe we should teach our children about history — even the tragic parts.
Cherokee National Supreme Court Museum
The Cherokee National Supreme Court was built in 1844. In fact, it is Oklahoma's oldest government building. Visitors learn about the Cherokee judicial system as well as the Cherokee language. There are fascinating artifacts in each room including a few interactive areas.
This museum also houses one of the original printing presses for the Cherokee Advocate. If you press a button, you can hear how it would have sounded during operation. We explained what a printing press was to Isabelle and we spent quite a bit of time in that space before moving on to our last stop.
Cherokee National Prison Museum
In the Cherokee National Prison Museum, visitors learn the history of Cherokee law and order, outlaws, and prison life in a highly engaging way. The prison was built in 1875, and it feels like you are stepping back in time. This was Isabelle's favorite museum!
After you learn about prison history in the first building, you pass a reproduction gallows on the way into the second building. The second building contains prison cells and gives a realistic glimpse of life behind bars for the most hardened criminals in Indian Territory long ago.
Other things to do
If you want to fully explore Cherokee Nation attractions beyond Tahlequah, places such as Sequoyah's Cabin Museum in Sallisaw and John Ross Museum In Park Hill, next to Tahlequah should be on your list. For information on all the places, check out this website.
Last but certainly not least, for a great time learning about and experiencing Cherokee culture and traditions, mark your calendar for Labor Day weekend and head to Tahlequah for the Cherokee National Holiday.
---