Building a Teen's Resume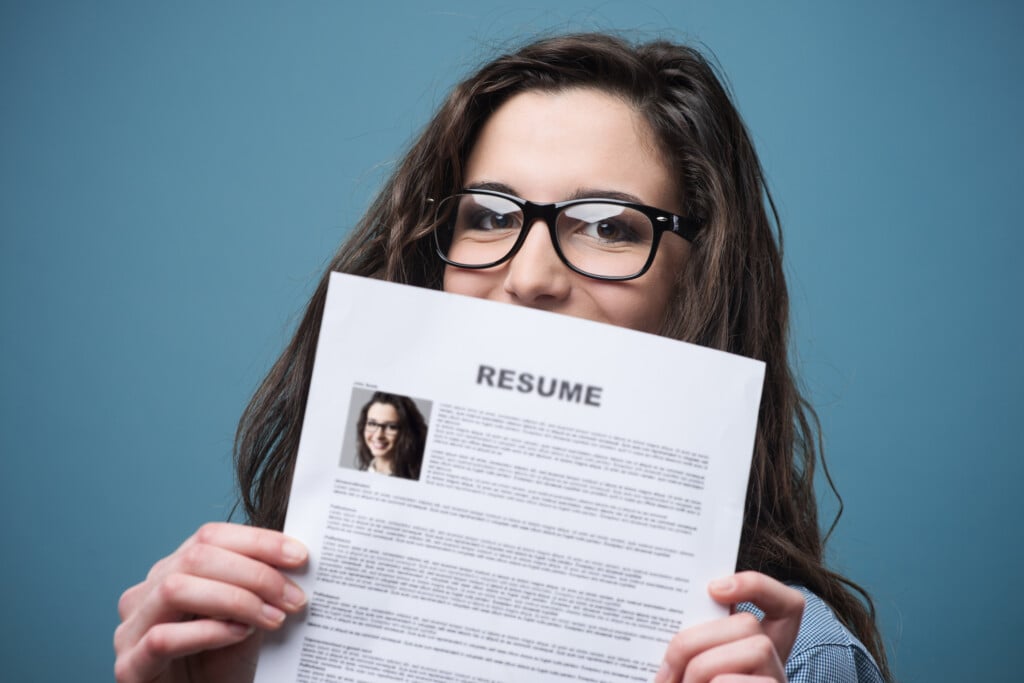 This week, my 15-year-old sons had the chance to attend a career fair at TulsaTech – yet another reminder they're on the track to adulthood. As East Central High School ninth-graders, they had the chance to enroll in TulsaTech at the beginning of the school year and started taking their first class through the school. As part of their tech class, they even had the opportunity to build a robot and compete in a robot battle.
Their TulsaTech career week field trip gave them the opportunity to learn about the school's programs on their own rather than simply being told about it from a teacher or parent, and both of my sons came home with an idea about classes they wanted to take or programs they want to enroll in. They're both especially interested in the school's Visual Graphics and Creative Arts program, which offers courses in photography, film, music production, and illustration and design. Noah also came home with a clearer idea about the type of college program he wants to pursue after high school. With all of this focus on moving forward vocationally, I realized it's time to start gathering up their own list of accomplishments to impress future employers, colleges, and volunteer programs.
One of the ways I've always helped our income is by creating resumes, cover letters, and business writing for friends and word-of-mouth clients, some of whom are high school and college students building a resume for the first time. And one thing I've learned through that process is that there are many high school and college experiences people don't realize they can use on their resumes.
Even if a teenager hasn't had many work-related opportunities, you'd be surprised at what they can add to their resume or CV and just how impressive some of those things can look to potential employers. Even if they don't plan to start working anytime soon, keeping track of this information can help them understand their own assets and market themselves when they're looking for opportunities in the future. It's also a great way to connect with the experience of moving forward toward a career.
If you're a teen who hasn't yet put together a resume or the parent of one, here's a handy-dandy guide to get things started.
Pre-building a Resume
Starting a new resume can be a daunting process, especially when you're staring at that mockingly blinking cursor and a blank page. To help you get started, here's a handy-dandy survey to help you collect – and reflect on – all of the many ways you rock. You're not building the resume yet – this is just a place for gathering data you may or may not use once you start putting together your actual resume. Your goal is to create a complete list of brainstorming to give you plenty of options to choose from when you're finally putting together your resume.
1. List all relevant websites.
Depending on what you plan to do, you may want to include some sites or exclude others. But a word of caution: if your name is attached to it or it's online and related to you, there's a good chance it could reflect on your future employment, so take this as an opportunity to make certain content private and clean up your socials.
If you've done any kind of influencer or creator work, you'll want to include those sites. Are you going into gaming and you've got a following on Discord or Twitch? Add those sites, too. Instagram, YouTube, Facebook, Twitter, any portfolios or other relevant content should be listed. Additionally, you should consider creating a LinkedIn page.
2. List any workshops, special courses, seminars, and other professional development.
High school students are now required to complete a Financial Literacy course – a fact that reflects your understanding of finances to potential employers. Have you taken a defensive driving course? Babysitting? CPR? Stop the Bleed? Did you attend a Neil Degrasse Tyson lecture or take a month-long photography course through the library? Complete 3 years of Mandarin in school?
3. List all of your work experience.
"But I've never had a job – I'm only 14!" I hear some of you saying. No worries! If you haven't got anything to put here, believe me when I say we'll have plenty of other things to talk about on this resume. But before you skip this section, take a minute to consider a few things with me since chances are pretty good you've done something at some point for pay.
Have you ever babysat for your neighbor? And yes, even once or twice counts. Have you mowed someone else's lawn, even if you didn't get paid for it? Have you participated in any fundraisers? Helped a parent with their business – again, even if you didn't get paid for it? It doesn't matter if it was taking out the trash or filing papers. Have you ever bought candy or made jewelry and sold it to your friends to raise money?
4. List all clubs, extracurricular activities, and volunteerism.
Again, we're just brainstorming here, so go crazy listing everything you can think of here. No matter how young you were, if you gained something from it, list it. Did you compete in debate club for a few years? Take chess club? Play varsity football? Played Dungeons and Dragons with your friends? Participated in your community Buy Nothing sale? Posted a news item on a website? Been in a play or choir?
Next, consider any type of community or volunteer work you've done. My sons sat in on an Amplify Tulsa panel last year. They participated in GISH for several years running, and they are currently participating in the City of Tulsa Youth City Council. Whether you spent a weekend last year helping hand out groceries at a food pantry or championed a grassroots campaign to change the school dress code by writing a letter to the school principal that all your friends signed, these are all good things to include.
Anytime you can, try to list relevant numbers. How many families did you serve? How many students did you lead as captain of the debate club? How many tournaments did you win?
5. List all of your hard skills and soft skills.
Hard skills are actual technical skills you've learned and perform – skills like giving a great presentation or using audiovisual equipment. Writing, communication, social media marketing, languages you can speak, handling cash, and any kind of technology use all fall under the umbrella of hard skills.
Once again, you'd be surprised at how many you have that you don't realize you have. Have you ever created and maintained a blog using WordPress? You have content management experience. Have you ever learned to take quality photos for your Instagram? You've got digital photography experience and social media experience. Have you ever tried to grow your audience or worked with a sponsor for your social media account? That's audience-building and marketing experience.
Soft skills, on the other hand, are things like teamwork, organization skills, and ability to work on a tight deadline. These are just as important, and you've probably got more than you realize. Here's a cheat sheet of soft skills to get you started.
6. List all of your certifications, awards, and other achievements.
Did you win an academic achievement at some point? Have you been awarded for your contributions to a school team or church group? Did you get a certificate for completing a computer course in school or win an art award?
7. List all of the software and apps you can use.
Did you know that as a high school student, you may already have a software advantage over many adults? That's because you've very likely been using applications like Canvas, Blackboard, or Talking Points to communicate with your instructors and interface with online learning. Any type of design or professional application that you use through your work day may be a valuable asset to some employers. Have you ever used content management systems to write blog content – e.g. WordPress or Blogger? Work management systems like Trello or Slack for a school project? What about design programs like Canva? Adobe Photoshop? Ibispaint?
You can even list Google Suite (Google docs) and MS Suite – you'd be surprised at the number of people who are not proficient in these apps. It's easy to take some things for granted that other folks have to train on, so try to be thorough.
Creating Your Resume
Now that you've brainstormed, you should have plenty to work with. It's time to compile that resume! Start by creating an overall professional statement that sums up what you have to offer – for example, "Aspiring artist looking for work in a local art store." Next, find a template you like and start filling in your details! Here are a few things to keep in mind:
1. Keep it simple.
We've also seen those super snazzy, colorful resumes created in apps like Canva. Back in the day, you would manually hand your resume to the hiring manager, but anymore it gets scanned by a program looking for specific keywords before getting passed on to a human, and they tend to care a lot more about meeting job requirements than cool, eye-popping layouts. The truth is that you don't need any fancy resume program or design software – Google docs or MS Word is actually perfect for getting past most resume-scanning bots.
You also want to avoid using a bunch of wild fonts. Arial, Calibri, or some other pleasant sans serif font is your best bet. Make sure your resume is laid out neatly with professional-looking margins, and you're good to go.
2. Keep it relevant and professional.
One of the biggest mistakes I see with less experienced resume writers is a lack of focus. Because they don't have as much overall work experience, younger workers tend to include everything and the kitchen sink. But it's important to try to use only details that are necessary to prove your case and if possible, tie them into the job posting or professional goal you're looking at.
There's no need to add details about a favorite hobby or a soccer tournament win unless they help support your professional goals. On the other hand, if you're trying to demonstrate leadership abilities, you might include information about how you captained a team one summer or taught Vacation Bible School. But just because you don't use some of the great information from your brainstorming sesh today doesn't mean you won't need it for a future gig, so keep it handy. Every job is going to have different qualifications, and you want everything you can get your hands on in your future resume arsenal.
3. Proofread and edit.
No matter how confident you are in your writing skills, you need to go over your writing and make sure it's picture perfect before submitting anything to a potential employer. There's a kind of cognitive bias that takes place in our minds where we see what we meant to write rather than what we actually wrote, and this can lead to glaring errors getting through.
Even with my years of writing experience, I go through a several-step editing and proofreading process on all of my important documents. First, I send everything through Grammarly, a free program that's super easy to use. Grammarly works on algorithms, so it isn't always right, but if you take its suggestions with a grain of salt, it's a fantastic tool. Next, I read everything out loud so I can hear anything that looks right but maybe sounds a little off. Finally, I get someone I trust to give it a once-over before I hit submit.
Good luck creating your resume, and have a productive week in your little nebula!
---