Botanic Garden of Lights 2021:
"More Nights, More Lights!"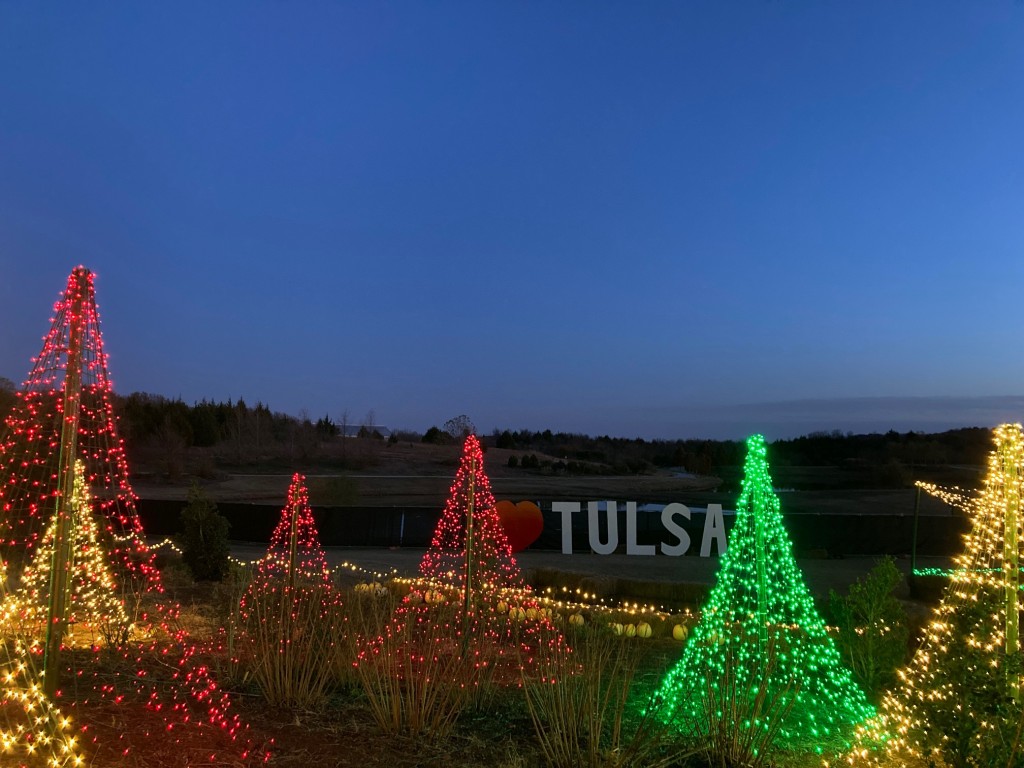 Tulsa Botanic Garden invited us to their Botanic Garden of Lights preview night, which is something we look forward to every year! According to CEO Chuck Landon, the unofficial motto of this year's event is "More Nights, More Lights!' There are 27 Garden of Lights evenings to choose from, between November 26 and January 2. And an impressive 1,000,000+ lights on display! Botanic Garden of Lights is truly one of the stand-out holiday events of the season. Purchase your ticket in advance at tulsabotanic.org/?q=gardenoflights.
Fun on the Lawn
Our first stop, once we entered the main portion of the Garden, was the "I Heart Tulsa" photo op. We arrived just around 5 p.m. so wanted to make sure we got a good photo before the sun went down! This is located on the lawn just south of the visitor's center.
Each Garden of Lights event is 5-9 p.m. I recommend getting there as early as possible so you can enjoy the beautiful sunset.
Also in this area, you'll find the Christmas Tree maze and snowball pit! Joss really enjoyed running through the maze (don't worry, you won't get lost!). The snowballs weren't out yet. But in previous years, they were soft, stuffed felt snowballs. So whether the weather is below freezing or well above, you'll be able to have an epic snowball fight.
A.R. & Marylouise Tandy Floral Terraces
After enjoying the lawn, we headed over to the Floral Terrace gardens. It was still light, so we didn't get the best view of the lights. I was tempted to go back later, but it was getting chilly, so we headed to the car instead. But either way, this is a gorgeous section of Garden of Lights, with art deco details, and a giant Christmas tree at the top of the hill.
Make sure to pick up a map in the gift shop!
From the top of the hill, you can take a shortcut to Mabee Grange for more fun. The world's largest caterpillar" will light your way.
Mabee Grange
At Mabee Grange, you'll find fire pits, s'mores kits and beverages. This is a wonderful place to warm up if you're visiting on a cold night! In addition to hot chocolate, they offer adult beverages like beer and wine.
Plus, on select nights, Botanical St. Nick will be there for photos (Nov. 26-27, Dec. 2-4, 22 and 23). From December 2-5, guests will be able to marvel at the Holiday Model Railroad, provided by the Tulsa Garden Railroad Club. Find details about other special attractions here.
Photo credit: Botanical St. Nick. My hands were too full, but Joss wanted a selfie!
Near the main entrance to Mabee Grange, take advantage of some festive photo booth props!
Each night except for Sundays, kids (and adults!) can enjoy train rides near the entrance of Mabee Grange. This was an improvement over past years, according to a TBG staff member, because the train runs over gravel and concrete instead of through the grass! One year, Daniel had to get out and help push the train out of some mud. Plus, it went pretty fast, so it was a great ride!
Children's Discovery Garden
From Mabee Grange, we headed back to the Visitor's Center through the Children's Discovery Garden. Of course, we made time to visit the Spring Giant and search for Frost Giants and Bison!
There is another photo booth opportunity in the tree fort. Plus, the tree is COVERED in lights, so definitely head on over there! It offers a magnificent view, as well.
We would have had a little more time to enjoy everything, except while Daniel was inside Mabee Grange grabbing food, I realized I'd left my purse back at the I Heart Tulsa photo op. So I grabbed Joss and raced back. Thankfully, it was on the ground behind the sign where I'd left it. But when I opened it up, my wallet was missing! So I notified some TBG staff members, blocked my debit card and generally panicked. Once back at Mabee Grange, I realized there was a chance it had fallen out in the car, so I left Joss with Daniel and ran back to the car. It was there!! Anyway, that was a lot of unexpected running around, so I got my exercise if nothing else. And felt pretty foolish altogether.
Plan Your Visit to Botanic Garden of Lights
Tulsa Botanic Garden is located just a few minutes northwest of downtown Tulsa, at 3900 Tulsa Botanic Dr.
Garden of Lights will be open:
Thursdays – Sundays, Nov. 26,-Dec. 12, 5-9 p.m.
Open nightly: Dec. 16-Jan. 2, 5-9 p.m.
(closed Dec. 24 & 25)
Tickets should be purchased in advance, as nightly entry is limited and liable to sell out. Buy your tickets at tulsabotanic.org/?q=gardenoflights.
And congratulations to Tulsa Botanic Garden on their new, paved driveway!
---