BOO-tanical Bands and Blooms at Tulsa Botanic Garden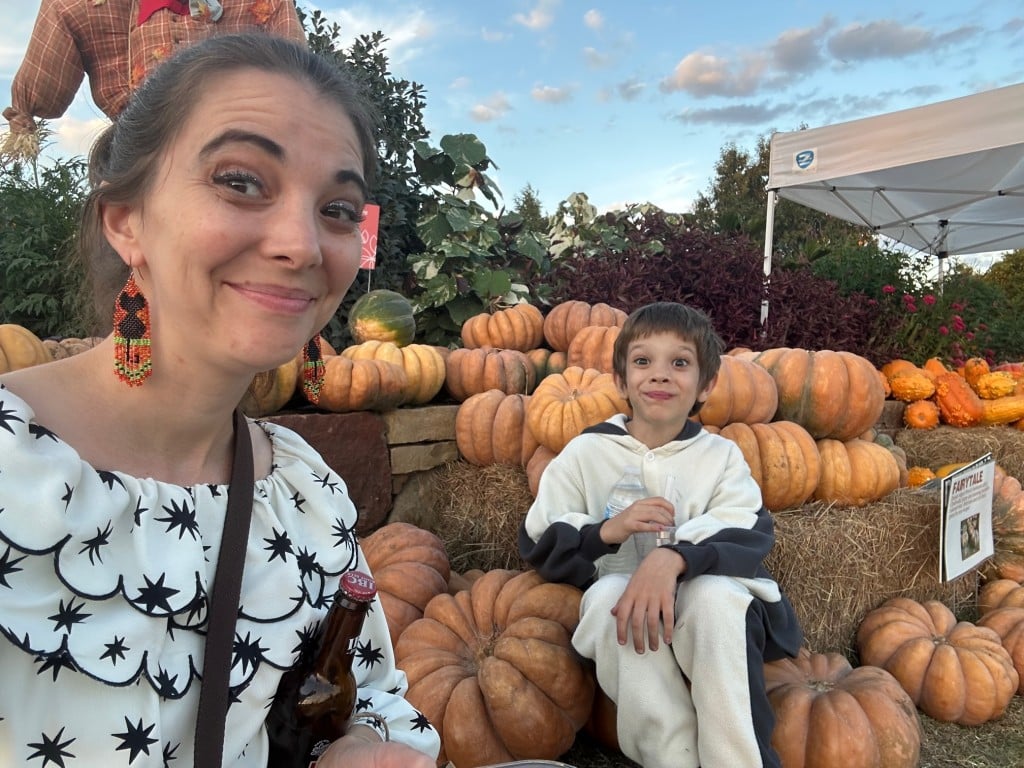 We're a week into October, and Joss and I just attended our first trick or treat event of the month! Woot! I am very grateful to Tulsa Botanic Garden for inviting us out to BOO-tanical Bands and Blooms. We always love their Autumn in the Garden celebration but I don't believe had participated in one of their trick or treat events before. And since Halloween is my favorite holiday, we were happy to participate!
Also, before I get much further: If you LOVE Tulsa Botanic Garden as much as we do, and if you visit a pumpkin patch this month, enter TulsaKids' Pumpkin Patch Photo Contest! One lucky winner will receive a household membership to TBG and four guest passes. The contest is open through October 31: tulsakids.com/pumpkin-patch-photo-contest/
What to expect at BOO-tanical Bands and Blooms
BOO-tanical Bands and Blooms runs Thursday evenings in October. As part of Autumn in the Garden, Tulsa Botanic Garden hosts live music Thursday evenings from late September through October. And then in October, they add a fun trick or treat trail on top of all their other Autumn in the Garden attractions.
Trick or Treat Trail
The Trick or Treat Trail is unique. Located in the amazing Children's Discovery Garden, your young trick or treater will follow the pathways through about 9 stations. While a couple of these do hand out candy, in general, they're more education- and nature-focused. So you won't end up with gobs of candy, which is great if (like us) you typically attend several trick or treat events a year. They're just so fun!
You don't need to bring a bag. Tulsa Botanic Garden will hand your child a small brown paper bag (with handles) at the check-in desk. The first station is decorating your bag.
From there, we got a plastic jumping frog, our choice of rubber bugs and reptiles, a nature card, candy and veggie seeds.
The most interesting station was the maggot painting! The OSU Entomology Department is partnering with TBG on the trick or treat stations, and they brought their maggots! They squirt some paint onto a piece of paper, let you add about ten maggots, and then the maggots create a work of art as they crawl across the paper, dragging paint with them. Afterwards, the maggots are washed off in a shallow cup of water. They will later be released, unharmed.
Trick or treating is $10 per child in advance, or $12 at the door. This is in addition to regular admission. There is also a costume contest at 7 p.m., although somehow we missed that. I'd ask for details at the door if you want to participate to make sure you're in the right place at the right time.
Autumn in the Garden/Bands and Blooms
After trick or treating, we headed toward the main Autumn in the Garden set-up. This includes the pumpkin and scarecrow displays, plus a stage for live music and food options. Really, Tulsa Botanic Garden is worth a visit any day in the fall because this display is always incredible. And the scarecrows and impressive variety of pumpkins makes it really fun for kids, too. There's even a hay bale maze!
Of course, we had to say hello to TulsaKids' scarecrows. It was a relief to see them still standing and smiling! 🙂
Joss loved all the scarecrows so much – and there are a LOT! – that he couldn't vote for a favorite. But if you want to vote for a favorite, pick up a ballot at the ticket desk.
Music
The live music last night was jazz brought by the Booker Gillespie Trio. They were wonderful! It was so relaxing listening to jazz as the sun set. Next week, October 13, the performer is Hot Toast Music Co., so that would be an especially fun night to bring your kids. The music for October 20 is TBA. And the final Thursday of Bands & Blooms, October 27, will feature a performance by Autumn Shade and youth members of Oklahoma Performing Arts.
Food
Tulsa Botanic Garden has its own food set-up, the Garden of Eatin', for this special event, as well as a bar. Garden of Eatin' primarily sold hot dogs, including vegan options and some fun toppings. Joss stuck with nachos and cheese.
Manila Ice Food Truck was also set up. Their food looked delicious, but we stuck with an Ube-Bae boba. Joss LOVES boba so was very happy to see them. Manila Ice won't be at every Bands & Blooms event. Usually, Cherry & Bark ice cream will be there, and then other food trucks may pop in as well. Find more information at tulsabotanic.org/event/autumn-in-the-botanic-garden-2/2022-10-09/
There were benches around the stage as well as picnic tables. We just ended up eating on the grass, which was fine. But if you want something sturdier, there are options.
Hours and Admission
Bands and Blooms and all the Autumn in the Garden displays are included in general admission. It's just the trick or treat trail that's an additional cost. Visit their calendar for other special events happening this month: tulsabotanic.org/botanic-events/calendar/
General admission is $8 for ages 16+, $4 for ages 3-15. Tickets at the door are slightly higher, $10 and $5 respectively. TBG highly recommends purchasing tickets in advance, as they are limited and may sell out. Learn more and purchase tickets at tulsabotanic.org/
Tulsa Botanic Garden is open Tuesday through Sunday, 10 a.m.-5 p.m. On Thursdays, they are open till 8 p.m. for BOO-tanical Bands & Blooms. Although they are usually closed on Mondays, they will be open Monday, October 10, for Indigenous People's Day. All tribal members will receive half-price admission on that day.
---