Boating at Gathering Place!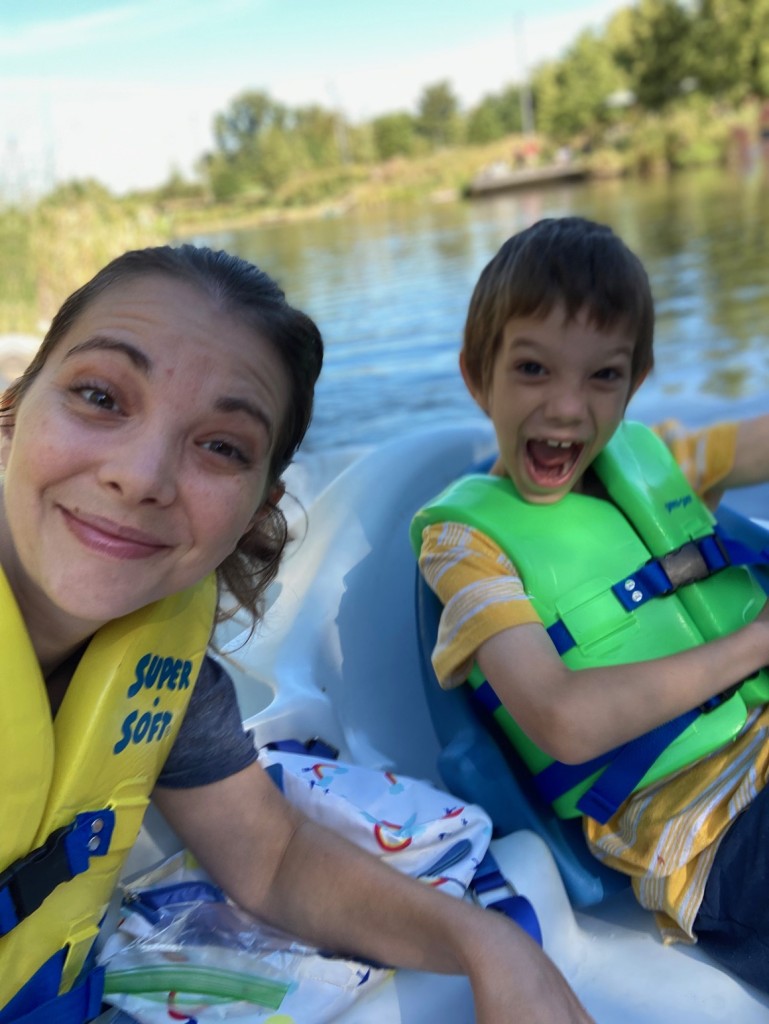 Over the past few weekends, I've kept remembering that I want to try boating at Gathering Place. Only to realize that they close at 2 p.m., and I'm too late. So this past weekend, I planned ahead, got up plenty early, and did it! Joss was an enthusiastic companion. He's been wanting to do this for years, and I'm so glad we finally did! It was a very relaxing way to spend a Saturday morning. But if this post convinces you to try the boat operations at Gathering Place, don't wait! This is the last month of the season to do so.
How it Works
Gathering Place offers two types of boats: pedal boats and kayaks. Pedal boats fit up to four people, and kayaks fit up to two. You must be at least five years old to ride.
Boat operations are located, of course, below the Boathouse. We descended the stairs toward the dock, and where an employee gave us a few simple instructions. They reminded us that they're not responsible for lost or damaged items, and made sure Joss was old enough to ride. You do have to take your belongings with you on the boat; they don't offer lockers or anything. I planned ahead and brought a Ziploc for my phone, but naturally had to bring it out for some pictures!
Once we received the initial instructions, the employee directed us to the life jacket room. There were various sizes of life jackets for both kids and adults. Yes, you have to wear one! After we both found one that fit (with some help from the staff members), we headed to the dock!
There were several staff members working the dock. Boat operations open at 9 a.m., and I think we got there around 9:30. There were a few other people on the water, but there wasn't a line or any wait time. They just asked us if we wanted to pedal boat or kayak, and told us where to go. It was easy to get into the boat – again, they told us exactly what we needed to do. Then, they explained how to operate the pedal boat, and we were off!
One thing to know is that there's always a staff member on the water in a green kayak. We were reminded a couple times that if we ever needed something, to raise our paddles and shout. Help would be moments away! One thing to note, is that the employees were super helpful the entire time. From our arrival, to getting life jackets, explaining how to paddle the kayak and disembarking.
On the Water
I was a little nervous about pedal boating with Joss. But he was really helpful and did a great job! Of course, he enjoyed steering. When he took a break a couple times, I could notice a difference in how difficult it was to pedal. So thankfully he kept his feet moving most of the time!
It was very relaxing. The weather was perfect, there were lots of butterflies flying across the water, beautiful willow trees along the banks. Several other people were boating as well, but it never felt crowded. Although we did have to speed up once or twice to get out of someone's way. But it never felt stressful.
When we finished pedal boating and returned to the dock, we took out a kayak. This was less stable than the pedal boat, and I admonished Joss several times, "Whatever you do, don't rock the boat!" He did pretty good. I preferred the pedal boat for its stability, but with the kayak, we saw a lot more wildlife. Turtles swimming and sunning in the water, and koi fish moving beneath the surface. So if you want to get closer to nature, try the kayak!
Hours
Boat Operations at Gathering Place are open Friday through Monday, 9 a.m.-2 p.m. The 2022 season will end October 24. And guess what?! All this is free! You just have to show up, no reservations needed. Learn more at gatheringplace.org/boats
All in all, we give this experience a big thumb's up!
---