Being Aladdin's BFF: An Interview with Jake Letts
Letts plays Aladdin's friend Babkak in the Broadway National Tour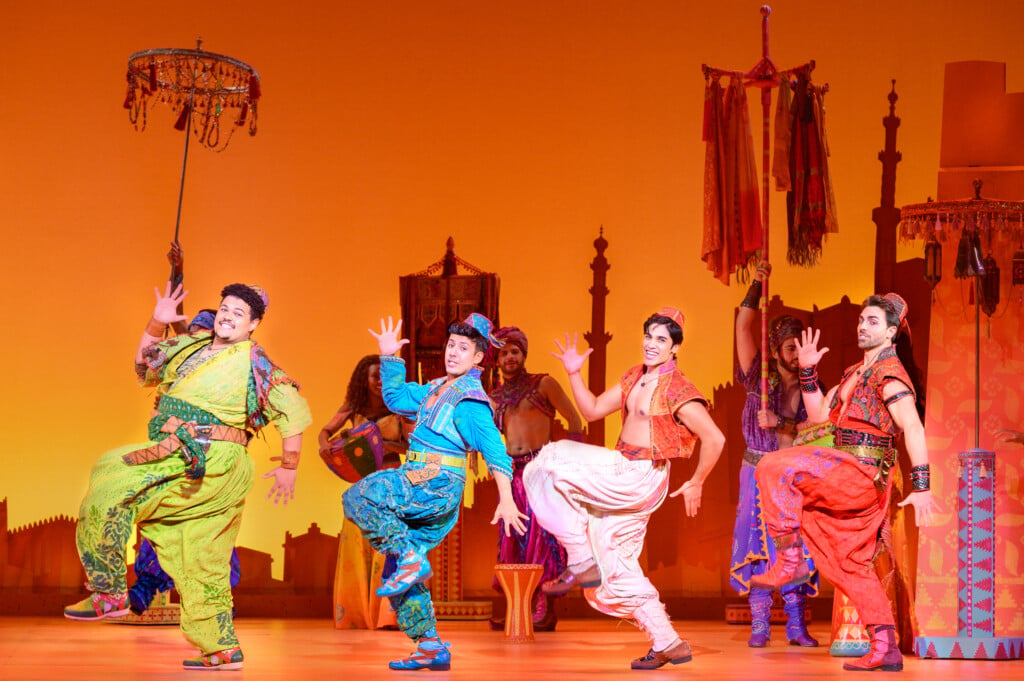 Disney's "Aladdin" is coming to the Tulsa PAC Sept. 26-Oct. 1, as part of Celebrity Attractions' 2023-2024 season. I had the wonderful opportunity to interview Jake Letts, who plays Aladdin's friend Babka in the National Tour. This role marks Letts' national tour debut, so he spoke about his background as well as what makes the show a fantastic experience for all ages.
Before "Aladdin"
As a high school student, musical theater wasn't immediately on Letts' radar. However, he says, "I'm not too surprised that I'm doing this, I definitely had a knack for the theatrics as a child." His first role was in a community theater production of Footloose. He'd just transferred high schools to attend a school known for their music program, with a goal of auditioning for show choir. The choir teacher suggested he audition for Footloose and -"by the end of the process, I was in love," says Letts.
"I knew that I just had to keep doing it, there was something about being on stage that just felt so natural and so right and important, he continues. "And I loved the fact that we were just having fun and telling these stories, but by doing that, it was giving so much to the audience. I thought that was such a beautiful exchange."
Interestingly, as part of a high school theater class, Letts was able to take a trip to New York City, where he saw one of his first Broadway shows: Aladdin. "I remember seeing the three guys [Aladdin's friends], Babkak, Omar and Kassim, and we all loved them," Letts recalls. Babkak, Omar and Kassim really made an impression, with Letts and his friends choosing which character they'd most like to play after the show.
"Interestingly enough," says Letts, "I wanted to be Omar, but I wanted to be Omar because I thought Omar sang the highest part. But actually Babkak sings the highest part. I'm just happy to be part of the production, truly. I would have taken anything from Babkak to like a plant, honestly. I would have gladly been a fern if they needed a fern. Just to be on the stage with these people in this production and to work with Tony Award winner Casey Nicholaw , was an awesome way to start my first step in my professional career"
Following high school, Letts studied musical theater at Ball State University in Muncie, Indiana, receiving a bachelor's in fine arts. Following a student showcase, he was able to sign with talent agency Stewart Talent, and found the Aladdin audition notice not long after. "It's really been such a beautiful, full circle fulfilling thing, and a beautiful production," says Letts.
Who is Babkak?
If you're familiar with the Disney movie versions of Aladdin, this is a great question! Babkak, Omar and Kassim replace Abu in the Broadway production as Aladdin's friends. Likewise, Jasmine's tiger Rajah is replaced with three attendants. I learned from Letts that these characters were originally planned to be part of the movies. However, once The Lion King came out, and producers saw how much children loved the animals in that movie, they made the decision to develop Abu and Rajah instead.
"For the broadway version, there were songs that were already written for Aladdin's three friends and for Jasmine's attendents," says Letts, "So they were like, 'Let's bring back this incredible material that the writers had previously worked on.' It's honestly an honor to be able to perform this material that was in the Disney vault for awhile."
Relating to Aladdin
I asked Letts if/how having three close friends changes the character of Aladdin, since in the films he's pretty much on his own other than Abu. "We three love Al. He's our buddy, our best friend. But at the same time, we know that it's tough out here. We're all kind of alone in our own way, and we're all street rats. We take care of each other and watch out for each other. And we try to make sure we can survive," says Letts. He continues, "I would say he is definitely changed by these relationships because there's conversation where we challenge each other as well. That's what family and friends do. We try to bring out the best parts of each other and sometimes have to push each other into areas that maybe aren't the most comfortable. But it's all out of love."
In speaking with him, it is evident that Letts' care for the character of Aladdin goes beyond just the time spent on stage. I brought up the fact that Aladdin is pretty dishonest in the film, and his response reminded me to have more compassion on the character. After all, he is an orphan, alone and living on the streets. "[Our characters] all have a common goal at the end of the day," says Letts. "We would all love a place to live. So going along with the idea of, 'It could work and it couldn't,' but the high risk and chance of that reward of living a life of comfort after living so long on the street is hard for us to pass up."
Aladdin's background is explored a little more in the Broadway version as well. In particular, the loss of his parents. This leads to him wondering, "Where does he belong in the world now that he doesn't have those two people he loves so much?" says Letts. "It's one of those things that we give him grace, and that's something that we try to do as much as we can – but also make sure he keeps his head on straight."
A Show for Everyone
With its vibrant costuming, outstanding choreography and familiar, beloved songs, Aladdin is going to be engaging for just about all ages. The Celebrity Attractions website recommends it for ages 6+. It is, after all, a lengthy Broadway show. But Letts emphasizes that it would be equally great for a date night – or for any occasion.
"I can't think of any situation where I'd be like, 'Nope, Aladdin's not the one,' says Letts. "If you want to see a show, it's the one. It really is an amazing show."
Tickets
Aladdin is playing at the Tulsa PAC Sept. 26-Oct. 1. You can purchase tickets at celebrityattractions.com/shows/10087/Disney39s-ALADDIN/Tulsa/2023.
---