Back to School With the Delta Blues for Kids Under 12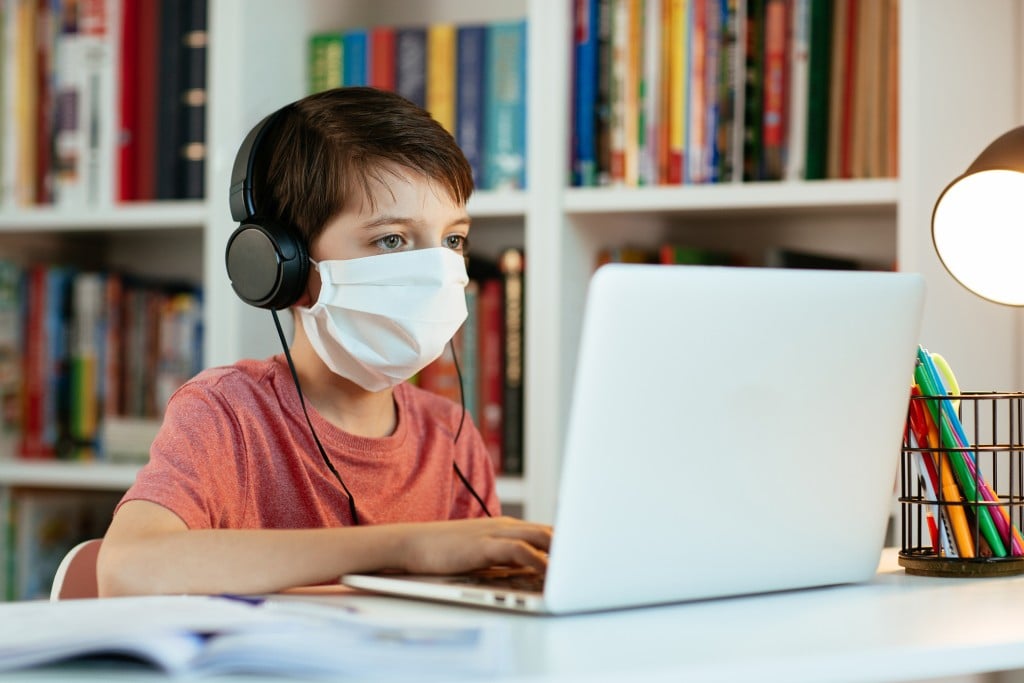 It seems summertime moves fast even in the timelessness of the pandemic, especially when we're coming up on 18 months since the U.S. first declared a health emergency. Frustrations like mask-wearing, virtual learning, and general holing up at home were softened by the knowledge that a vaccine was in the works and once it arrived, life would return to normal, or at least settle on the much-bandied-about "new normal."
And then it happened! My once needle-phobic heart was practically aflutter as I stood in line at the Expo center waiting for my jab, and before long, the teens were cleared for theirs. Albeit masked, the kids were even able to return to school for a couple of months last year with the pandemic seemingly on the decline.
Pretty soon, we were out celebrating our 20-year wedding anniversary all over town, taking a family vacay, spending whole days just wantonly thrift store shopping without masks on. For our mostly-vaxxed family, the past few months have felt like cloudbusting.
Although our youngest is still too young for the jab, all of these changes had been hope-instilling enough that surrounding her in a protective bubble seemed a minor inconvenience, especially after the journey so far.
While pandemic realities like supply chain crises and apocalypsecore aesthetic were gradually replaced once more with deliciously mundane normalities like choosing which wine to pick up for the in-laws' party, the nagging feeling that something was amiss at the periphery was easy to overlook…until it wasn't.
Boomerang Vibes
The first sense that we were gearing up for Pandemic II: The Even Crappier Sequel hit us last month while we were in St. Louis. Back in Tulsa, you can almost forget that Covid happened if you're in the right part of town at the right time of day. But in Missouri, more shops were enforcing strict mask rules than weren't, with prominent signage on the doors to emphasize the point. At one point, as the kids and I stepped onto an elevator, the young women inside, appearing alarmed at our masklessness, asked us to please wait for the next car.
And shortly after returning home, we soon learned from a friend that her extended family was dangerously sick with the virus, and tales of the Delta variant were filtering through from unvaccinated friends of friends.
It was about that time that I realized Lucy wasn't going to get the vaccine in time for school or even likely in time for Christmas 2021. I hadn't been concerned about her safety at the end of last year because infection rates were so low in our area and because we trusted her to wear a mask the correct way all day long. But our family had been some of the longest holdouts to send our kids back to school while infection rates were still high because my experience working in schools had taught me kids aren't very good at following hygiene rules and respecting personal space.
The Risk-Benefit Crisis
No person is an island, and in the world of epidemiology, we're all part of a wider ecosystem. Evolutionary science teaches us that as the more vulnerable populations die out or become vaccinated, the viral strains that survive in healthier, younger populations will evolve and reproduce. If a person who never catches so much as a throat tickle passes the bug on, they're still serving as a real-world incubator for whatever that virus is destined to evolve into x number of infections down the road.
In a way, it's the same evolutionary principle at work when doctors urge against overprescribing antibiotics.
But even if contributing to the neverending pandemic wasn't a concern, I've seen enough of my friends' kids get super sick with Covid to want to do everything I can to keep that from happening to my child. Covid has a way of moving the dial and reconfiguring our concept of "mildly sick." With Covid, a mild infection can mean days of high fever, body aches, breathing trouble, and a host of other unpleasantries.
Like all parents, we've spent the last 18 months weighing a cost-benefit analysis to mitigate a lose-lose situation.
From the time we were about middle school age and up, the kids' dad and I were forming friendships that would prove lifelong connections. Yet here were our kids at the same age mostly living life from behind screens in a Bradburian vision, and it's hard not to worry what the long-term effects of that will be.
Seeing them back in school finally was restorative, energizing. From this juxtaposition, having to decide whether to keep the vaccine-ineligible kid at home again is a double gut punch.
TPS School Board, Let's Talk
I don't want to think it, and I am sure y'all don't want to think it either. But as the Covid map turns redder by the day, the possibility of another serious public health crisis is looming. It would behoove the school system to plan accordingly.
After all we've been through, I want all my kids in school as much for the socialization as for the academics. Heck, I've even shuffled my teen sons off to TPS summer "school" where they're spending their days playing Dungeons and Dragons, crafting, and the like.
But I wouldn't have sent them to school during the height of the pandemic, and while I hope I'm wrong, it's starting to look like there's a good chance we're going to be pretty darn close to the same place we were 18 months ago by mid-August.
Part of the reason everything was such a cuss-show last year is because a whole lot of folks were hanging onto magical thinking that things would be peachy in time for school to start or that the virtual school situation would be short-lived. Things were not, it was not, everyone was unprepared, and a whole lot of the last school year in general was basically an absolute dumpster fire.
I think I can speak for most parents and teachers when I say that virtual school last year calls to mind the following vocabulary:
Tears

Chaos theory

Why

Day drinking and/or emotional eating

???????

What even is life

Literally just cuss symbols
So this year, instead of planning for the best and then scrambling to accommodate the worst after the fact, I ask TPS to plan based on the latest public health information rather than on wishful thinking.
This should include:
Directions on the option to opt out of in-classroom learning

Information on contingencies if we have to switch to remote learning school-wide

Updated

mask policies

that aren't based on basically just trusting people to do the right thing

Not forcing parents to purchase uniforms during the economic downturn and uncertainty about whether kids will even remain in school
It's Not a Normal School Year…At Least Not Yet
It wasn't the distance learning in and of itself that sucked. It was the continuing to plan for in-person and then shifting back at the last minute, the constant not knowing where we would be that threw a wrench into the whole system.
Look. I'm not eager to have my 10-year-old at home for another however many months. She needs to be in school with her peers. But if it ends up that she's safer at home and there's an option for her to go back to school at any time, she's going to perform better and adapt better, and the same is true for many other students. And as I've said before, kids whose parents don't have the option to keep them at home will be safer when there are fewer classmates in class.
And look. Plenty of parents will be livid if school moves to distance learning without an in-person option. But if we plan ahead for a hybrid model or some other contingency besides Everything is Fine™, we might be able to avoid the nightmare of Sudden Shutdown Surprise.
No matter what, if the Delta variant, which may be as much as 60% more transmissible than the original Alpha strain, keeps on trucking, there is no way that planning for in-person learning sans mask like everything is just Normie Normaltown is going to end in anything but angry parents, overworked teachers, and kids we've let down yet again for going on two years now.
And since the economy is a hecking mess right now, maybe we should not force parents to shell out hundreds of dollars on school uniforms, especially since we got through the last few months of the 2020-2021 school year with nary a khaki in sight. Parents don't need the extra financial burden or the burden of having to get keep their kids in uniforms, and teachers don't need the burden of having to police kids' pleats, for pete's sake.
Bring Back School Mask Requirements
Today, the TPS landing page has no posted information about Covid contingencies. If you click around a bit, there's a banner about how to get vaccinated and informing TPS families that masks are no longer required for kids and teachers who are vaccinated. But you and I both know people are sneaky as heck, and there's no way to tell if folks not wearing masks have had the jab. And enforcing any kind of policy on that would be a nightmare if it were even remotely feasible in a classroom setting.
And while the CDC does recommend mask-wearing for individuals who are not fully vaccinated, this recommendation changes in relation to vaccine ineligible populations:
Based on the needs of the community, school administrators may opt to make mask use universally required (i.e., required regardless of vaccination status) in the school. Reasons for this can include:
Having a student population that is not yet eligible for vaccination (e.g., schools with grades prekindergarten-6).

Increasing or substantial or high COVID-19 transmission within the school or their surrounding community.

Lacking a system to monitor the vaccine status of students and/or teachers and staff.

Difficulty monitoring or enforcing mask policies that are not universal.

Awareness of low vaccination uptake within the student, family, or teacher/staff population or within the community.
-Excerpted from the CDC Guidance for Covid-19 Prevention K-12 web page
Where Does This Leave Us?
I think it's safe to say we're all a little bit desensitized to Covid news these days. But it's pretty clear we're not going to see a higher vaccination rate at this point, and all signs are pointing to serious patchwork-like surges in areas where vaccinations are low. Until emergency vaccine approval is given for kids under 12, sending those kids back to school means putting them at risk. With only a month left until school starts, I hope TPS gives us enough time to decide just how much of a risk that is so we can make the best decisions for our families.
Thanks for reading, and stay safe out there in your little nebula!
---