Tulsa Music Month Encore: An Interview with Brian Kirk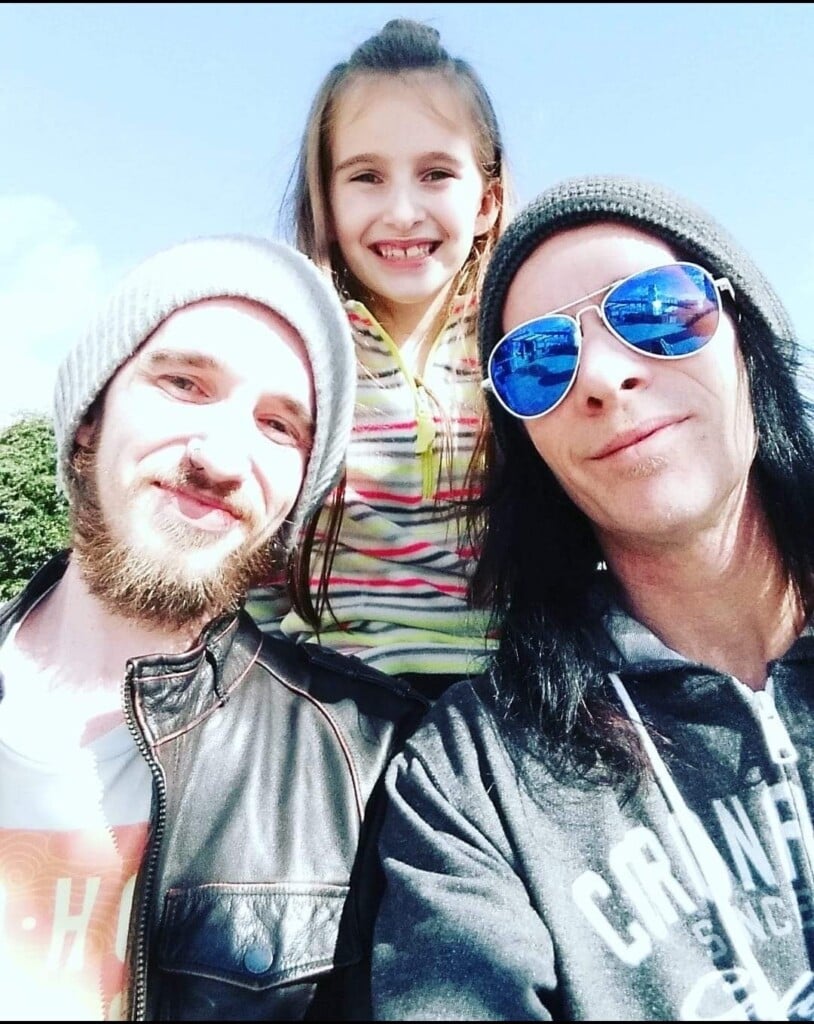 Every July, I honor Tulsa Music Month by pointing the spotlight on local dads in the music business. They have unique challenges to raising children.
I'm aware we are now in August, so consider this a July encore blog article!
Here is another rockstar dad in Tulsa that has been playing in bands for many years. As a single dad, the usual challenges of child-rearing are compounded.
His name is Brian Kirk, and he is currently on tour plying bass for a well established rockstar named Josey Scott of the '90s hard rock band Saliva.
---
Brian, first please tell us about your family situation.
I am a divorced dad of one son, Ryan, who is now married. He has a 13-year-old daughter, Elizabeth, and both are really talented. Ryan plays guitar and has actually jammed onstage with me, and Elizabeth plays piano and dances. I'm so proud of both of them. I can't wait to see what the future holds for Elizabeth.
Now, tell us about becoming a musician. I know you're a huge KISS fan (like me, KISS Army, 1978!). Is that "the band" that inspired you to learn how to play an instrument?
When I was young, I was always a fan of a good song and a good melody, and one day, my older brother brought home Kiss cards, like old baseball cards. I remember looking at those and thinking, "That's what I want to do." I still remember that very day. It was always the goal.
And the rest is history. The journey has never stopped.
As you got older and started a family, how did you manage your time between rehearsals, gigs, and diaper changes?
Actually, I started a family at 18 years old. At that point, I just tried to handle all of my responsibilities at home, while maintaining the dream of playing music at the same time.
I thought I was mature, but I was just a kid. My ex-wife was the brains of the operation, and she allowed me to chase my dreams because she knew it was important to me.
What were some of the tallest hurdles to overcome when you decided music is what you wanted to do for a living?
I guess the biggest hurdle at that time was location. My family moved to Tulsa from California in the '80s and at that time, most of the big-time acts and musicians were all from the bigger cities on the coasts, and nobody was really looking for bands in the Midwest. But, that changed several years later. Lots of big-time musicians once lived in Tulsa.
Any advice to parents on how to handle their kids that want to be rock stars and start loading in giant amps and drums into the garage?
Yes! Support your kids' artistic expression. Don't discourage them from wanting to live their dream.
My father was a Master Chief in the United States Navy for 31 years. He didn't really understand it all, but he never discouraged me from doing what I wanted, and my mom has always been really supportive of my music career. I was never held back from it.
July is Tulsa Music Month. Take us back in time…What was the music scene like in Tulsa when you started playing in bands? Where did you play?
It was the '80s and '90s, which was an exciting time. There were a lot of bands following the trends of the time, meaning big hair, make up, and suggestive lyrics, and then, grunge.
There were a bunch of clubs to play at, but they're mostly gone now. Clubs like The Rock Theater, Iggys, The Windjammer, Roadkill Heaven, and The Beat Club. I have good memories from all them.
What is the Tulsa Music scene like now?
The Tulsa music scene has always had amazing talent in it. New generations come along, and it's always great to see guys younger than you carrying on the tradition of rock and roll.
I think the Tulsa music community is generally very supportive of each other, and I'm proud to be part of the family.
I know you're on tour now with accomplished musician, and new Tulsa resident, Josey Scott of the rock band Saliva. Josey has several kids and sadly lost one due to COVID. One is with him on tour, correct? Talk about what it's like for a dad and son to tour and play on stage together.
Yes, Dylan is Josey's stepson and also the rhythm guitarist in the band. I can see how special it is for both of them to be up there together playing music. It shows.
As I said above, I've had the honor of having my son get up and play with one of my bands, and it's a very proud feeling to look over and see your offspring caught in the moment with you.
My granddaughter's first concert was our show, and that was really special to me.
Have your kids expressed an interest in being a musician like you? If so, what did you tell them?
My son was exposed to all of my music at a young age and started playing guitar in his teens. Fortunately, he was smarter than me and went to college to further himself.
He still plays, but he has another career, and he's excelling in it. Elizabeth loves music, especially Taylor Swift. She's a very talented dancer and has won several awards.
I keep asking her when we are going to start the family band. No luck yet.
Last question: Your stage name is "9." Why did you decide on that? I know you're a huge Beatles fan – is that a nod to John Lennon's song "Revolution 9"?
Honestly, I've always thought bigger than being a local musician. In my eyes, I was competing with guys named Nikki Sixx and C.C Deville, and I needed a cool stage name that people would remember. My birthday is September 9. My ex-wife's birthday is April 9. Our anniversary was on March 9. Two siblings also have birthdays on the 9th, so, it was a predominant number in my life.
In the year 2000, I adopted the moniker "9," and I still get asked, "Did your parents name you that?"
Thanks for including me, Lynn, and thank you for all that you do in the music community.
---