A Unique Pumpkin Patch at Tulsa Glassblowing School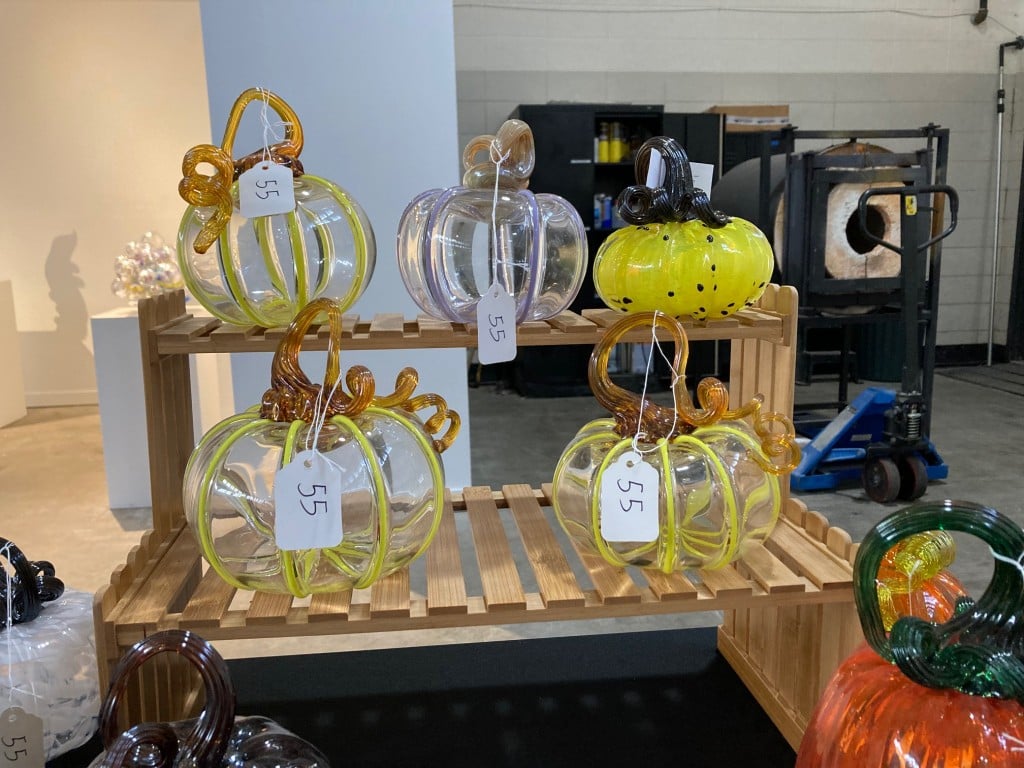 Everything I know about glassblowing, I learned from watching "Blown Away," a glassblowing competition show on Netflix. It was fascinating to watch the process of turning cylinders and pieces of colored glass into elaborate sculptures. I don't know how they visualize anything because the end result is so far removed from the starting materials! "Blown Away" is an apt name. And it's a real nail-biter because the materials they're working with are so breakable! Anyway, I invited myself to Tulsa Glassblowing School this morning to get a sneak peek of their Pumpkin Patch. Hundreds of glass pumpkins in every color imaginable are on sale now through October 9. I'll provide additional details below.
About Tulsa Glassblowing School
Tulsa Glassblowing School was founded in 2007. It moved to its current location in McClure Park (7440 E. 7th St.) from the Tulsa Arts District a couple years ago. They are a nonprofit offering free classes for veterans (more information below), and work with youth organizations as well. According to their website, "Working with area youth and veterans drives our mission, offering a chance for people of all ages to explore an age old art form. "
VETri
Tulsa Glassblowing School's Pumpkin Patch is one of three major sales throughout the year. These sales raise funds for the nonprofit, which provides free glassblowing classes to veterans. The VETri program is "a 24 week intensive glassblowing program designed specifically for veterans." Throughout the course, participants will create cups, bowls, vases and wavy bowls. Apply online or call 918.582.4527 if you are interested in this program.
The other sales are a holiday sale and spring garden decor sale. Follow @tulsaglassblowingschool on Instagram so you don't miss them!
Classes for Kids and Adults
While Tulsa Glassblowing School offers classes for kids, through partnerships with various youth organizations and schools, Covid has put a lot of these on hold. However, a TGS representative said that you can always call (918.582.4527) about setting up a special session. One I think Joss would be interested in is a mosaic class. Kids can lay out glass tiles, and then TGS will fire them to create a mosaic. I think he'd love this.
Older kids and adults can sign up for single-day, "Hot Glass Experiences," private lessons or a 6-week session. Sign up for a Hot Glass Experience if you're just interested in learning what glass work is like. By the end of the class, you will have made a flower, paperweight, ornament, bird, pumpkin, etc. Depending on what you want to learn to make, classes cost anywhere from $35 (flower and paperweight) to $125 (vase). There is also an Introduction to Glassblowing class for $95, where you can learn to create a flower, paperweight AND ornament.
Go to tulsaglassblowing.org/community-classes to learn more about what you can learn at Tulsa Glassblowing School!
Shop the Patch
The Pumpkin Patch is open from October 1-9, 2021, and located inside Tulsa Glassblowing School. You do need to reserve a 30-minute time slot ahead of time. Call 918-582-4527 to reserve your shopping time. Prices range from about $15 for mini pumpkins to over $200, for some very large, absolutely gorgeous pumpkins!
Tulsa Glassblowing School staff works year-round to create all these pumpkins. It's so fun to see the variety, and to know that each one was made by hand.
This sweet little pumpkin was on the "On Sale" table. So it may have an imperfection, but is perfect to me!
---