A Teen Tour Through Tulsa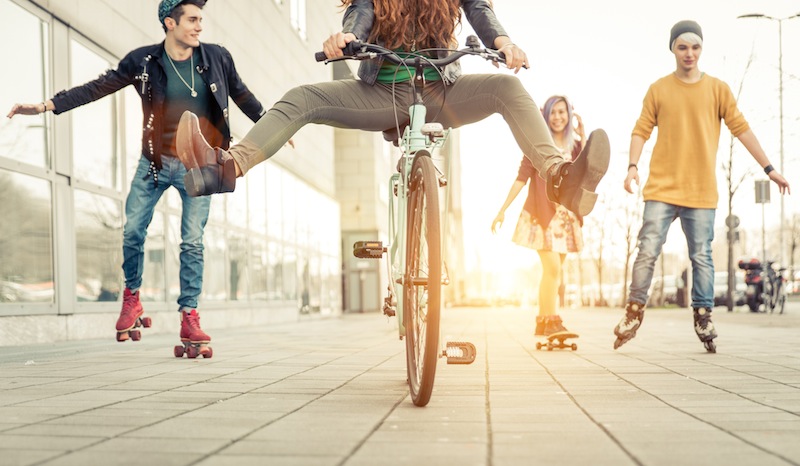 Looking for things to keep tweens or teens entertained in Tulsa this month? Check out these suggestions below.
Take it to the Streets
While you're downtown, it's always fun to stop by the "Center of the Universe," an acoustic anomaly located on the Boston Street pedestrian bridge over the railroad tracks between First and Archer streets. Follow the brick path that leads to a brick circle. Stand in the middle and make some noise. You'll hear your voice echo, but others standing around you won't.
After that magical event, stop for lunch at Chimera. This hipster café offers a variety of healthy and delicious food options, including vegetarian choices (chimeratulsa.com). Antoinette Baking Company, just across Main Street, is another great place to grab a snack downtown.
Schedule your own private "Underground Tulsa" tour through Tours of Tulsa for your gang. Travel through some of downtown's gorgeous art deco and gothic design buildings and then go underground through the Tulsa tunnels that connect many of the city's skyscrapers. It definitely provides a different perspective on the town, while adding enough creep factor to keep teens interested.
Java
Tulsa has its fair share of coffeehouses, each with its own style and clientele. Gypsy Coffeehouse near 3rd & MLK, Jr. Blvd. downtown is urban cool, offering plenty of music, including open mic nights, along with a variety of beverages in a restored brick building at the edge of the Brady District.
In midtown, Shades of Brown in Brookside has local art on the wall, as well as handcrafted jewelry and pottery for sale. Browse the latest CD releases by some of Tulsa's best musicians. The baked goods are excellent.
The Coffee House on Cherry Street, or "CHoCS," as the regulars call it, is another midtown favorite that serves a nice breakfast and lunch menu in addition to the usual coffeehouse brews. Open until midnight on the weekends, it's a good place to caffienate day or night.
Get Physical
Bundle up and go outdoors for some urban hiking. Turkey Mountain, near 71st & Elwood, has miles of color-coded, marked trails for biking, hiking, horseback riding (provide your own horse) and running. Information and downloadable maps can be found at riverparks.org/experience/turkey-mountain.
Redbud Valley Nature Preserve off N. 161st E. Ave., about three-and-a-half miles north of Highway 44, has a rugged loop of trails that lead from the bottom of a hill up to the top of a bluff. Limestone cliffs, small caves, springs and a creek all add to the adventure.
Oxley Nature Center, on the grounds of Mohawk Park north of the Tulsa Zoo, features a trail system with a number of individual loops and stretches of trail that link together. Most of the nine miles of trails are flat and fairly smooth, running through forested areas, around a lake and near a prairie. Information on both Redbud Valley and Oxley can be found on this website: oxleynaturecenter.org.
A winter hike at Tulsa Botanic Garden might be just the thing to get teens in touch with their inner Henry David Thoreau. The trails will lead them through the diverse vegetation that makes its natural home in Oklahoma.
Foul Weather Fun
Oklahoma's unpredictable weather may necessitate some backup indoor plans. The Oklahoma Aquarium in Jenks on the Arkansas River has over 100 exhibits and thousands of creatures. The walk-through shark tunnel is always a thrill, as these impressive animals, some very large, swim alongside and overhead. .
Climb Tulsa (4923 E. 32nd St.) challenges beginner and advance climbers alike with options for roped climbing, which requires two people – one to climb and one to manage the rope – and bouldering, negotiating a rock wall without a rope, but with a nice, padded floor to soften any fall. The gym has about 20,000 square feet of climbing walls, a bouldering area, yoga room and more. First time climbers are welcome.
Retail Review
The legendary Guitar House of Tulsa is another must see for any young musician. In business since 1964, this shop specializes in both new and vintage guitars and amps and is a favorite of locals and touring professional musicians alike. Ida Red in Brookside is loaded with clothes, jewelry, art, Tulsa tchotchkes, and much more. It's the perfect spot to shop for souvenirs or gifts.
A Spot of Culture
Of course, our city is filled with plenty of opportunities to culture up. From museums to galleries, Tulsa has it covered. Gorgeous grounds and a beautiful building are reasons enough to visit Philbrook Museum, but the art is also spectacular.
Gilcrease Museum has one of the most extensive permanent collections of Native American and Western art to be found, although it is closed for construction as of 2022.
The Woody Guthrie Center in the Tulsa Arts District houses the archives of Oklahoma's iconic folk troubadour, and it's also brimming with interactive exhibits that tell the story of Guthrie and his legacy.
Neighboring 108 Contemporary showcases the work of Oklahoma artists who use glass, fiber, metals and mixed media or wood as their primary medium. With frequent new exhibits, this is a great spot to find inspiring and unique works of craft art.
Julie Wenger Watson is a freelance writer who's worked in all aspects of music promotion. She's also Co-Director of "Live From Cain's," a public radio show pilot.