A Relaxing Weekend at Meadow Lake Ranch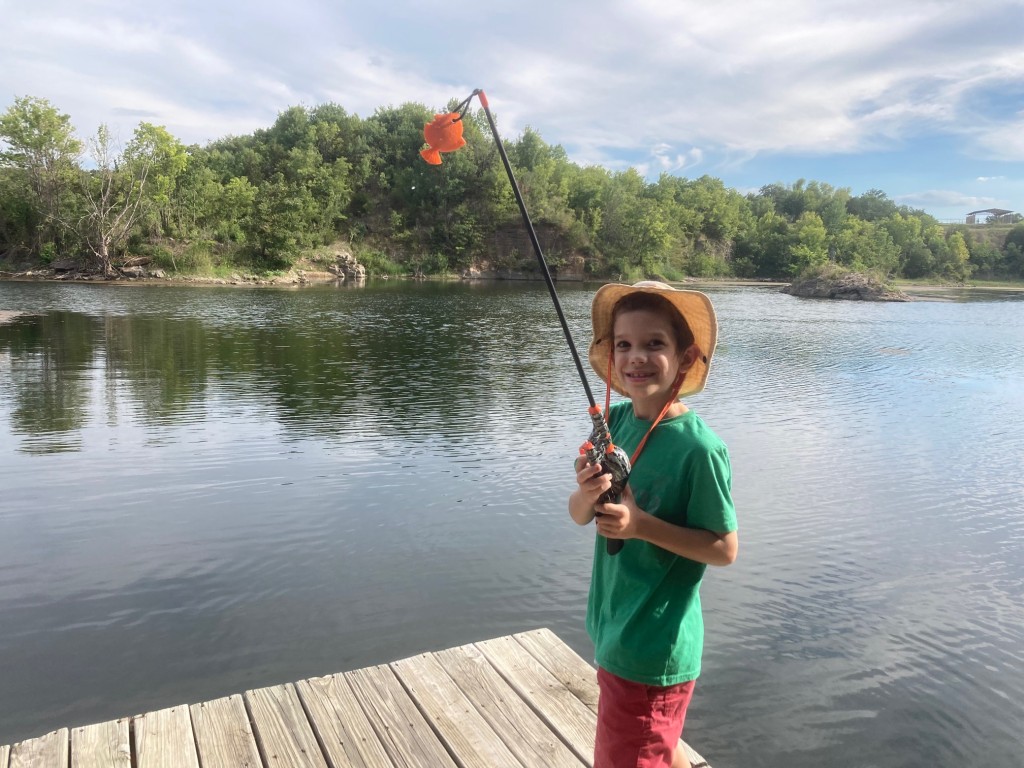 This past weekend, my mom, step-dad, Joss and I had the pleasure of spending the night at Meadow Lake Ranch! Located in Sand Springs, Meadow Lake Ranch is a combination dude ranch, relaxing getaway and events venue. We absolutely loved our visit and made a lot of wonderful memories in just a short amount of time.
Meadow Lake Ranch Cabins
Meadow Lake Ranch offers four cabins, three of which sit next to a lovely lake. The fourth, the Clark Cabin, is located on the bluff and promises stellar views. Each cabin sleeps up to four people, with a king-sized bed and queen-sized fold-out couch. The bed and couch are all in a single room. Which I thought would be just fine for us, but Joss kept us awake most of the night due to growing pains! Poor guy. I really regretted not packing some Ibuprofen!
In addition to the sleeping areas, our cabin provided a TV – plus DVDs and games! The kitchen area included a refrigerator, stove, microwave and table. And – very important – a Keurig coffee maker plus mugs, pods and creamer. We found a good stock of clean towels in the bathroom, in addition to a jacuzzi tub and shower. And I checked, the shower has soap and hair products, so if you forget yours, don't worry about it!
Outside of the cabin is another table and chairs, as well as a chiminea. There were plenty of small sticks around the cabin, plus some larger pieces of firewood. So when it came time for dinner, we were able to light a fire (bringing lighter fluid might be a good idea!) and roast hot dogs and s'mores. They did provide some marshmallow roasting sticks, which was nice.
All in all, the cabins were clean, comfortable, and you couldn't beat the views!
Breakfast
Breakfast used to be served in the Lodge. But due to COVID, it is now delivered to your cabin. You just have to make sure to let them know by 6 p.m. the night before that you'll be needing breakfast. Dinner is on your own. We ate breakfast outside the cabin, which was a beautiful way to start the day. It included pancakes, sausage, eggs, fruit and Sunny D. Nice and filling!
Booking
Check availability and book your stay at meadowlakeranch.com/bed-and-breakfast/ The base price currently listed on the website of $178/night (Sunday-Thursday) and $198/night (Friday-Saturday) covers two people. Additional occupants are $15 each. The cabins, due to their size, are fine for smaller families but especially nice for romantic getaways.
By the way, the cabins each have their own name. We stayed at Beaver Lake Cabin, but if you book Paul's Cabin, that's the very cabin Paul McCartney and his wife stayed in when traveling Route 66! Pretty cool!
Dude Ranch Activities
When booking your stay, you have the option of adding Dude Ranch activities to your package. Or, you can visit Meadow Lake Ranch just for the activities, with their various Dude Ranch packages that are fun for the whole family! We were pleasantly surprised to learn that the Dude Ranch activities were included in our weekend, as we hadn't discussed that previously. But it definitely added an extra-fun dimension to our stay!
Supervised Activities
Supervised Dude Ranch activities include tomahawk throwing, hay bale roping, archery, BB gun shooting and sling-shot throwing. We tried everything! Tomahawk throwing and Archery were probably the most fun, as you could really see if you hit the target or not. Although the tomahawk throwing was very challenging! If you've done axe throwing, I imagine it's pretty similar. They even had a special small one that Joss could use.
Tom Warren, the owner, gave us safety lessons as needed, especially before the BB gun shooting. Joss didn't do that, but I appreciated that he took the time to give a general safety lesson on what to do if you're at a friend's house and they try to show you their parent's gun. (Basically, don't touch it, leave the room, and tell an adult immediately.)
Joss had been looking forward to archery the most, which was the last activity we did. By that time, he was getting a little tired (it was very hot!), and he was also nervous about hurting himself. But gradually I was able to ease him into it, and he was very proud by the time he was able to shoot the arrows by himself!
Unsupervised Activities
Unsupervised Activities include hiking, horseshoes, bank and boat fishing. Mom and Jim brought Joss his very first fishing rod, and he had a lot of fun trying to use that! They didn't catch anything, but also didn't have a long time to try, as it was nearing dinner time. But that was one of Joss's favorite activities. You can fish off the dock next to your cabin, or at the larger lake. Boat rental is also available.
For hiking, everything is nice and close together. It was a quick walk from the cabins up to the Lodge. And from the Lodge, you can take a short walk up a hill to the Meadow. Suzy Warren stopped by our cabin Friday evening and recommended visiting the Meadow around sunset. We were not disappointed! It was lovely.
Mid-way up the hill is an area where a donkey – Silas – and a couple of goat friends eat. They can roam down to a peninsula on the lake as well, but we were happy to get to meet them on our way back to the cabin!
Packages
There are several Dude Ranch packages to choose from, ranging from two nights to six nights. Plus, the "Dude for a Day" and "Cowboy Skills" packages are great for guests who want the dude ranch experience but aren't choosing to stay overnight. A newer package is the "Ranch Hand for a Day" package, where you can really experience what it's like to work on a ranch!
Additionally, Meadow Lake Ranch has a larger shooting range, which you can book for $150 for one hour (includes 2 guests). Or, for just $100/two people, you can come out to the ranch for four hours of hiking, horse shoes and bank fishing. For all these packages, adding additional people comes with a nice discount.
You can no longer ride horses at the ranch, due to liability issues. But we did get to meet some lovely horses – and a baby calf named Tex! And you can take wagon tours or RTV tours of the ranch.
Learn more about all these options at meadowlakeranch.com/dude-ranch/. Meadow Lake Ranch is in the process of updating their website, so at the time I'm writing this, the current website may show different pricing options. And I haven't included pricing for add-on activities like boat fishing and some of the other more specific options. Basically, there are plenty of options to choose from!
The Lodge and Events Booking
If you book Meadow Lake Ranch for a wedding or other venue, you'll be spending time at the Lodge. It's a very nice, small-ish building with a kitchen. Outside it is nicely landscaped and overlooks the main lakes. Tom explained that they have big plans for the area around the Lodge and the lakes as well. These include additional landscaping, building islands, planting trees, etc. So it's a work in progress but already beautiful.
According to the website, there is also a larger Event Center, but we didn't explore this facility.
Learn more about booking weddings at meadowlakeranch.com/weddings/, and other events at meadowlakeranch.com/events/. Free tours are available.
Fun Facts About Meadow Lake Ranch
Meadow Lake Ranch got its name because, before purchasing the property, Tom wanted the lake portion, while Suzy insisted on purchasing the meadow. So they got both, and named it accordingly!
Meadow Lake Ranch has been featured in – I believe – 17 film projects. This includes Minari and scenes from Reservation Dogs. I'm pretty sure Season 2, episode 8 of Reservation Dogs includes Meadow Lake Ranch scenery. It's the episode with the giant owl. I still need to catch up on season 2!
As mentioned earlier, Sir Paul McCartney stayed here with his wife while traveling Route 66. Apparently, Paul was a very determined tomahawk thrower!
The cabins were built with the help of local Boy Scouts. The logs arrived from Arkansas with the bark in-tact, so they really had to work hard to get everything constructed!
Address + Contact Info
3450 S. 137th West Ave.
Sand Springs, OK 74063
918.494.6000
meadowlakeranch.com
facebook.com/meadowlakeranchok
instagram.com/meadowlakeranchok
---