7 Ways to Celebrate Easter with Kids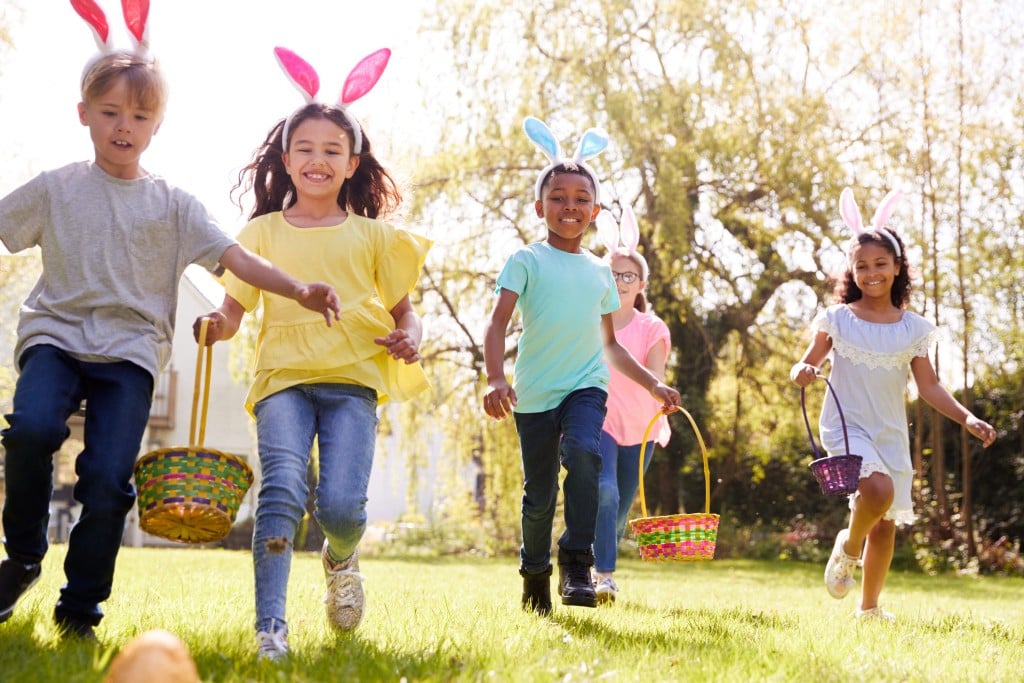 Make some egg-stra special Easter memories this year! Here are festive activities you can do at home:
Host Your Own Easter Egg Hunt!
You know the drill: Hide a variety of stickers, candies, etc. in plastic Easter Eggs, and hide them around your home or yard!
Here's a way to step it up: Fill the eggs with slips of paper containing activity suggestions. For example, "Do Your Best Bunny Impression." "Come Up with Five Fabulous Bunny Names in 10 Seconds or Less." This way, your Easter Egg Hunt will provide entertainment beyond the seeking portion!
Add a Bunny to Your Breakfast
Here are some "Cheep + Easy" Breakfast Ideas!
Decorate Easter Eggs
Yes, you can purchase the traditional PAAS egg-dying kits, but you can also get creative with your Easter Egg decorating.
One idea is to press flowers ahead of time, and then adhere them to the surface of your hard-boiled eggs using modge podge.
Or, turn your eggs into rabbit-tempting veggies! Start by dying eggs orange. Then, using a permanent market, draw horizontal lines across the eggs so they start to look like little carrots. Finally, gather some leaves and glue them to the top to resemble carrot stems.
You can also make some adorable chicks if you first dye one side of your eggs yellow, then use a permanent market to add chicken features: beak, eyes, wings and legs!
Mix Up Some Easter Bunny Chow!
Ingredients:
9 c. Chex™ Cereal
1 c. White Chocolate Chips
½ c. Peanut Butter
¼ c. Butter
1 tsp. Vanilla Extract
1 ½ c. Powdered Sugar
Your Favorite Easter Candy!
Put the cereal into a large bowl.
Put the peanut butter, butter and white chocolate chips in a microwavable bowl or Pyrex pitcher. Microwave and stir until smooth, starting at about 30 seconds. Add vanilla.
Pour the peanut butter mixture over the cereal, and stir.
Put ¾ c. powdered sugar into a 1-gallon Ziploc. Add cereal mixture on top of that, then add the rest of the powdered sugar. Seal the bag and shake until evenly coated.
Dump the mixture back into the large bowl and stir in your Easter candy. Make sure it is cool first, especially if you are using chocolate.
Want to take this a step further? Decorate some clear bags to look like bunnies, and put a cup of Easter Bunny Chow in each!
Go On a Nature Scavenger Hunt
Use the graphic below to inspire a Nature Scavenger Hunt. Or, come up with your own categories! Research and talk about what you find afterwards.
Make an Easter Bunny Garland
Cut out several simple bunny shapes and decorate them with markers, crayons or colored pencils. Think about the colors and patterns you want to use. What are going to look the best when put together? Use a hole punch to punch holes in each of the bunny ears. Make sure the ears are wide enough to accommodate this! Thread a ribbon through each hole. Find a place to hang your garland!
Write "Hoppy Easter" Cards
Everyone loves receiving snail mail. If you have friends or family you haven't seen in awhile, make them an Easter card to let them know you are thinking of them!
---