Local talent among the 1,700 athletes competing in the 2023 USA Gymnastics Championship in Tulsa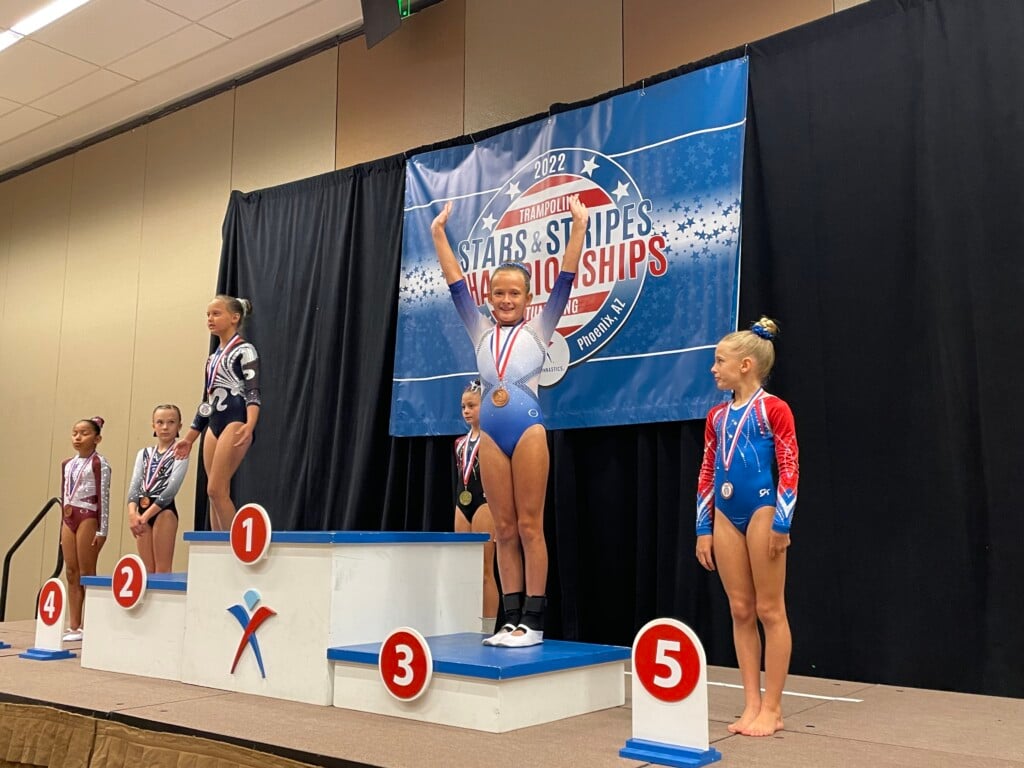 When 10-year-old Reese Rodriquez of Broken Arrow learned that Tulsa would host the 2023 USA Gymnastics Championship at the BOK Center and Cox Business Center in June, she — like many local gymnastics athletes — was excited.
"I knew that my family and everybody would get to come and watch me compete," she said. "It's pretty important since I want to become a youth elite."
There are two levels of competition at the Championships – the development program, or Junior National Team, for up-and-coming youth like Rodriguez, and the elite program, or the Senior National Team.
Ember Hamman of Tulsa, 13, will be competing in the elite program.
"It's really exciting that I get to compete in front of a hometown crowd," Hamman said.Both athletes have competed nationally before.
Rodriguez placed 3rd in both trampoline and double mini (described as a cross between vault and trampoline) and 5th in tumbling in the 2022 USA Gymnastics Championship.
This will be Hamman's 3rd USA Gymnastics Championship. She is the reigning national champion on the trampoline and double mini disciplines, and she won the silver in tumbling last year.
Rodriguez is the state champion on double mini in the junior program, and she placed 2nd on tumbling and 4th on trampoline, but she qualified for the national championship on all three events.
Events to Watch
Rodriguez and Hamman will be among the roughly 1,700 of the nation's top athletes in three lesser-known disciplines in gymnastics: trampoline and tumbling, acrobatic gymnastics and rhythmic gymnastics.
While lesser known, Stefanie Korepin, chief programs officer for USA Gymnastics, says they're no less exciting.
Trampoline and Tumbling
Within the trampoline and tumbling discipline, there are three separate events.
"They jump 30 feet in the air and do three or four flips with rotations and are doing amazing things. They do 10 skills in a row," Korepin says. "That is an Olympic sport."
The other two events are tumbling and double mini.
"Tumbling is sort of a long pass and then double mini is two small trampolines together and they flip — almost like a vault for trampoline," she said.
Acrobatic Gymnastics
Acrobatic gymnastics is the second discipline in the national championship.
"Think of what you would see in Cirque du Soleil but in a sport format," Korepin says. "They have balance routines, where they stack on top of each other and do incredible things — dynamic routines where they're throwing the athletes in the air and catching them."Jill Geer is the chief communications and marketing officer at USA Gymnastics.
"We've had former acrobatic athletes [appear] on America's Got Talent. It's like human pyramids," Geer says. "A guy will put one hand on another guy's head and do a one-handed handstand on top of his head and bend himself half-way over."
Rhythmic Gymnastics
The third discipline in the USA Gymnastics Championship is rhythmic gymnastics, which is a combination of dance and gymnastics.
Jennifer Bjornberg owns Aim High Academy in Tulsa, which teaches tumbling, acrobatic gymnastics and rhythmic gymnastics.
"These girls train in dance, flexibility and gymnastics," Bjornberg says. "One routine is with ribbons, and they perform an acrobatic move. The idea is to keep the rhythm flowing. It's very beautiful and very graceful to watch."
The athletes perform with hoops, balls and ribbons, similar to baton twirling but with different equipment.
"[They] might throw a hoop in the air and do three somersaults and catch the hoop with [their] feet," Korepin said.
Preparing for the Competition
Both Rodriguez and Hamman train at Aim High Academy in artistic (traditional) gymnastics and at Oklahoma Extreme Tumbling & Trampoline in Bixby for trampoline and tumbling.
"Any time gymnastics is coming to Tulsa, it's definitely exciting," Bjornberg said. "They're excited Tulsa gets picked. For the girls watching, it will reinforce their dreams and hopes, and it will inspire them to come back to the gym and work hard."
Chavez Haydon is the operations manager at the Oklahoma Extreme Tumbling & Trampoline.
"For some of our athletes, it will be their last time on the national stage," Haydon said. "For other athletes, it will be their very first time. We prepare our athletes the best we can, and I am very excited to see what all of them can do. Win or lose, the journey to go against the best in the nation at home will be an amazing experience."
Korepin says it will be the first time Tulsa will host the USA Gymnastics Championships. Both the BOK Center and the Sports Commission were instrumental in drawing the competition to the city.
"This particular event has a lot of specific venue needs because it's such a large event and we have almost four events going on at once, so there aren't a lot of cities that have the infrastructure that we need," she said, "[It's] the facility and the group of people around Tulsa who are helping bring us to the city."
A Variety of Benefits
Bjornberg says that while the competition is in lesser-known gymnastics disciplines, the 2023 USA Gymnastics Championship coming to Tulsa has the same benefits as if it were the more well-known artistic gymnastics.
"It's still good for the city," Bjornberg says. "It's still going to bring athletes from all over the country to Tulsa. It's still people trying to make the Olympics in this form of the sport. It is the top talent."
Those among the top talent serve as an inspiration for all the athletes competing.
"I think that will be pretty cool that I get to see people who are at the level that I want to end up getting to," Rodriguez says.
The Right Mindset
Both Rodriguez and Hamman say they want their teammates to succeed, even though they're competing against them.
"You want to see them at their best and then beat them at their best," Hamman says.
She says she wants to try to trampoline in the Olympics.
"It's not all about winning," Rodriguez says. "It's about trying your best and trying your hardest. It's fun to win, and it's not always fun to lose, but even if you lose, that just gives you an extra push to work harder."
Both athletes train five to six nights a week between their different gymnastics disciplines for competitions leading up to the national championship.
"It's just working your hardest and getting your routines down and perfecting them," Rodriguez says. "And then, mentally, it's just walking your mind through it and telling yourself you can do it. You [have] got it."
"You [have] got to think through it clearly, but then you can't overthink it too much," Hamman says. "Think through it skill by skill. I just think through it, and I ask God to help me."
World Championship Qualifiers
USA Gymnastics will name the U.S. Junior and Senior National Teams for each discipline at the conclusion of competition.
"The national team are the athletes who are eligible to represent the United States in international competition," Korepin says. "For rhythmic gymnastics and trampoline, this will be a qualifier for world championships late in 2023. And it's the year before the Olympics, so [there is] a lot of the excitement building up toward next year. [At this] event next year, we name our Olympians."
The USA Gymnastics Championship will be held at the BOK Center June 20-24. It is open to the public and tickets are on sale at: usagymchamps.com.
---