2022 Summer Reading Programs in Tulsa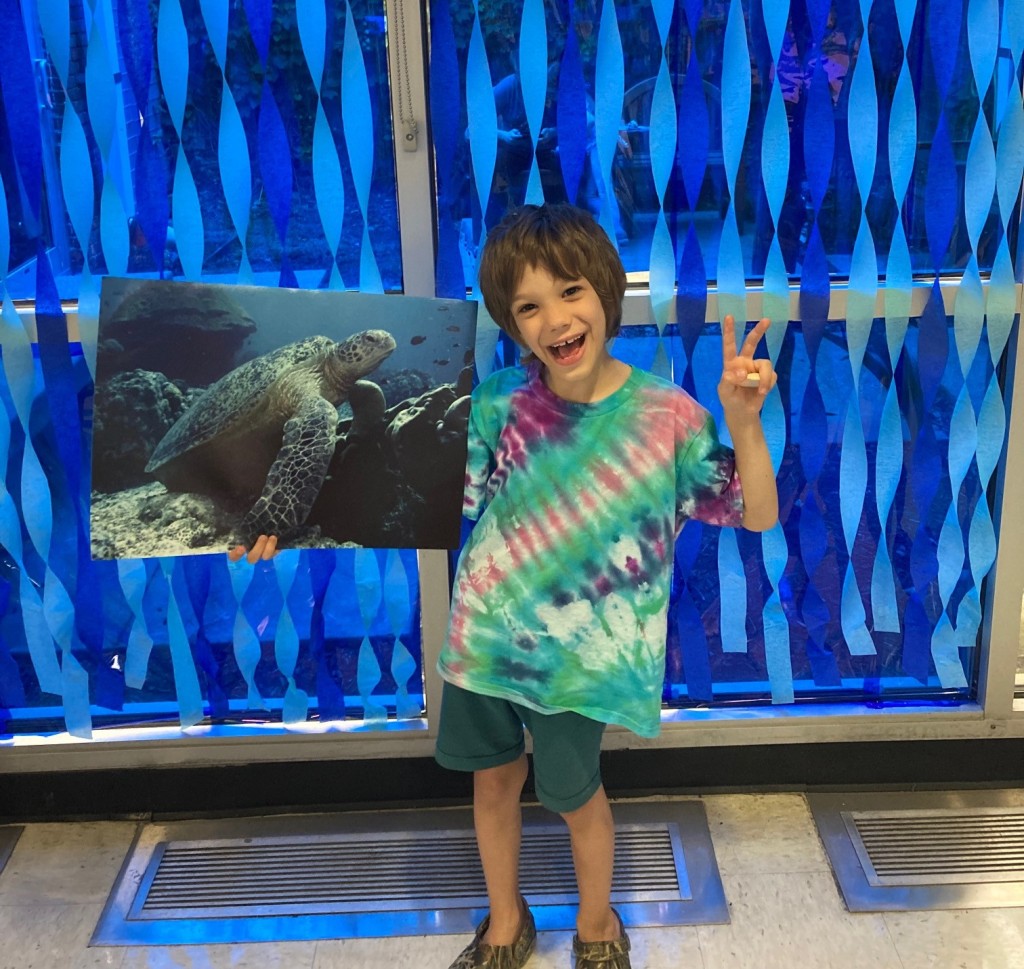 This has been A. Week. Joss isn't in summer camp until next week, so I've been trying to work from home while he occupies himself. Emphasis on *trying*. He isn't signed up for summer camp yet in August, but I may have to explore some options. Last night, we went to Summer's Fifth Night in Utica Square, and he was way less interested in the music than in making friends. I realized part of why things have been so difficult this week is probably because he was missing social time! We've gone out and done fun activities, but I'll just have to admit that I'm not enough, companionship-wise. He needs to run around with other kids!
One thing we did this week was sign up for the Summer Reading Program! We visited Nathan Hale Library branch for the first time. I was so impressed by this small library's collection, we ended up checking out two bags of books! I'll share more information about that below, as well as info about other Summer Reading challenges.
Dates: June 1-July 31
Loving the ocean theme this year! As always, Tulsa City-County Library has planned an exciting summer of activities. This includes free concerts and movies, slime-making, DND for teens, songwriting workshops, storytimes etc. etc. Sign up for the library's Summer Reading Program at tulsalibrary.org/summer. There are options for little ones, tweens/teens AND adults!
Also, you can register for the program online through Beanstack. I wanted to register in-person, but was encouraged to do it online. Once you register online, you can track your books and activities right there, so you don't have to keep track of a paper book log. I still like the paper, but harnessing the power of technology to simplify things is nice, too. You can sign up the whole family through a single log-in, which is also nice.
This year's completion prizes for kids include a Buddy Bookworm slap bracelet, and a coupon book with State Fair admission, free food, etc. And of course, the collectible Summer Reading Program Buddy Bookworm medal! Tweens and Teens get a drawstring book bag and coupon booklet. And adults can look forward to receiving a literary-themed tote bag and coupons! Children and Tweens/Teens who do extra reading are also entered to win some pretty cool prizes – like an iPad and Nintendo Switch! Learn more at tulsakids.com/tccls-2022-summer-reading-program-returns-with-live-programs-and-prizes.
In addition to the Summer Reading Program, I also picked up a Library Bingo sheet for adults at Nathan Hale. Complete and return your bingo sheet by July 31, and you could win an individual membership to Oklahoma Aquarium!
Dates: May 25-August 20
I figure – if we're doing one reading program, why not do two? Or more? Eleanor's Bookshop has a fun reading challenge for kids 9 and under, and another for ages 10 and up.
Kids 9 and under are challenged to read 12 books on a variety of themes. These include "Read a book about or that takes place in Oklahoma," "Read a book about an animal," etc. Some of the prompts are location-based, such as "Read a book by a pool or some water." And "Join us for Story Time at Eleanor's Bookshop."
Kids ages 10+ are challenged to read 20 hours (or 20 minutes/day from June 1-July 31).
Completed challenges can be returned to Eleanor's August 2-20. The first 20 completed challenges receive a Reader's Swag Bag, and everyone who turns in a completed challenge wins a prize. Plus, there's another grand prize on offer, which will be selected via a drawing.
Download the Kids Reading Challenge at eleanorsbookshop.com/_files/ugd/463322_808c54f459b34df8839163a43d92710e.pdf, and the 10+ Reading Challenge at eleanorsbookshop.com/_files/ugd/463322_16d1e3d528f44c1f8ba41e2a6bb777b5.pdf. You can also pick them up in-store!
Dates: Return completed challenge between July 1 and August 31
We visited Barnes & Noble the other day, and lo and behold, they also have a summer reading program! The sheet we picked up is a Summer Reading Journal for kids in grades 1-6. All they have to do is read eight books and record them on the sheet. Then, return the completed sheet to receive a free book! There are different free book selections for Grades 1&2, Grades 3&4 and Grades 5&6. Download your free reading journal in either English or Spanish at barnesandnobleinc.com/our-stores-communities/summer-reading-program.
Magic City Books – Summer Reading Passport
Dates: Summer 2022
Magic City Books is doing a Summer Reading Passport. Stop by Magic City (221 E. Archer St.) to get your passport. When complete, I believe you'll get a free book (while supplies last! See more info in this Facebook post.
What Are You Reading?
So, what are you looking forward to reading this summer? I can tell you one book I'm NOT looking forward to reading is "Get the Scoop on Animal Puke"! Joss found this at Nathan Hale Library immediately after I'd grabbed, "Does it Fart?" Which at least is a cartoon, and you can't see farts! Honestly don't know if I can get through the puke book, haha. Maybe Joss will be inspired to read it on his own. Hopefully you have more pleasant books in your TBR pile! 😉
---