2021 Reading Challenges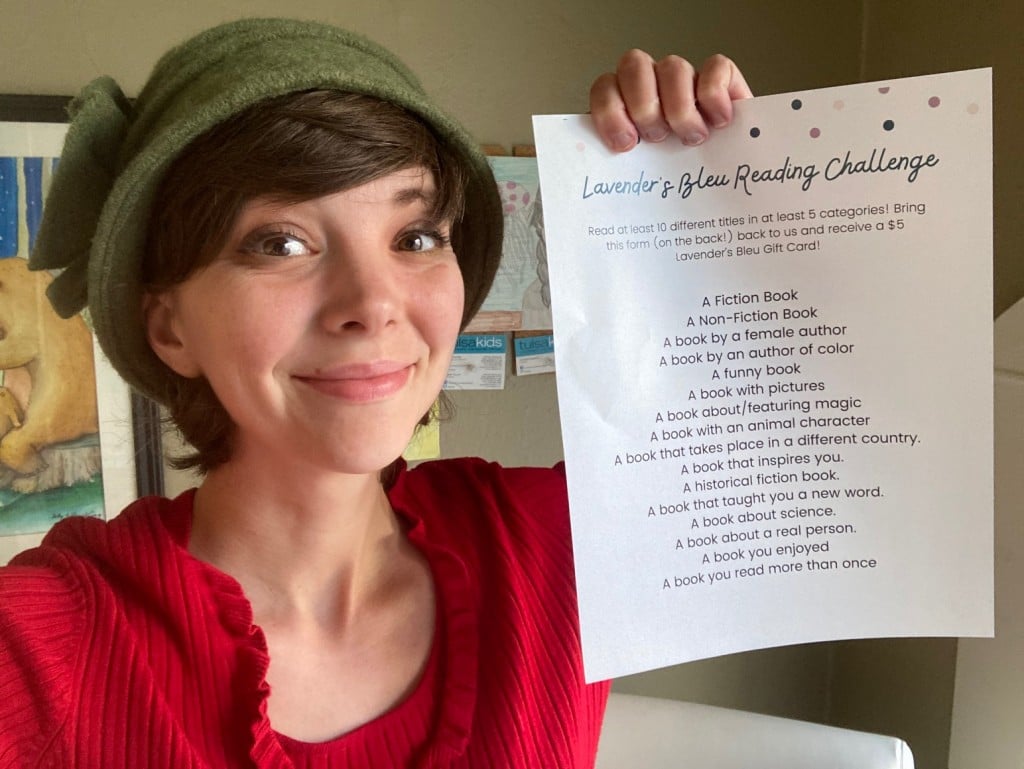 I didn't set myself a specific reading goal last year, after having overwhelmed myself the year before with a goal to read 70 books. According to GoodReads, I managed to read well over 60 books in 2020. And while that sounds like an accomplishment, I'm not going to lie: Many of those were vampire mysteries…Nothing I'd brag to my college English professors about. Pretty fun, though, and a nice escape during a difficult year.
But since one of my themes for 2021 is to stay alert, I don't want this year's reading list to look like one big escape from thinking about weightier issues. I want to recommit to reading more works by BIPOC, and to working through some of the books that have been sitting in my TBR pile for a long time.
2020 Books
Before I get into some local and national Reading Challenge options, I wanted to share three books that stood out to me from my 2020 reading list.
1. The Body Keeps Score: Brain, Mind, and Body in the Healing of Trauma by Bessel van der Kolk
This book was fascinating. It's an in-depth look at how trauma affects people, along with different recovery options by leading trauma expert Dr. van der Kolk.
An excerpt: "Nobody wants to remember trauma. In that regard society is no different from the victims themselves. We all want to live in a world that is safe, manageable, and predictable, and victims remind us that this is not always the case. In order to understand trauma, we have to overcome our natural reluctance to confront that reality and cultivate the courage to listen to the testimonies of survivors." (p. 196-197)
2. Red, White and Royal Blue by Casey McQuiston
This one was a lot of fun. After reading Jill VanTrease's article, "The Hip Mom Searches for Romance," in which she recommended the romance-themed podcast Learning the Tropes, I started reading romance novels for the first time this year. What?! This was probably my favorite. Not only because of the romance, but because it provided a refreshing, alternative/escapist view of American politics. The protagonist is Alex Claremont-Diaz, son of America's first female President. And it was just so wonderful to read about an America that, while still flawed, had elected an intelligent, professional mother-of-two to the White House. I think I wrote a poem about it afterwards.
The plot involves the relationship between Alex and Henry, the Prince of Wales. At first they loathe each other, but…obviously…that changes. Definitely steamy in places, so be aware if that's not for you!! (I also like this book because back in the spring, Maxwell Park Library was doing a monthly book bracket, in which you could vote for your favorite book for a chance to win a gift card. "Red, White and Royal Blue" was on their bracket for Best LGBTQIA+ Book, and I voted consistently enough to end up with a $25 Reasor's gift card, woot!)
3. The Boy in the Black Suit by Jason Reynolds
I'd been meaning to read a book by Jason Reynolds for awhile, and finally purchased "The Boy in the Black Suit" at Eleanor's Bookshop. It's about a boy in high school grieving the recent loss of his mother – and his father is not coping well. He ends up getting a job at the local funeral parlor, and finds himself drawn to the funerals themselves, always looking for the person who'd been closest to the deceased. Here's a much better description of the book:
"Matt wears a black suit every day. No, not because his mom died—although she did, and it sucks. But he wears the suit for his gig at the local funeral home, which pays way better than the Cluck Bucket, and he needs the income since his dad can't handle the bills (or anything, really) on his own. So while Dad's snagging bottles of whiskey, Matt's snagging fifteen bucks an hour. Not bad. But everything else? Not good. Then Matt meets Lovey. Crazy name, and she's been through more crazy stuff than he can imagine. Yet Lovey never cries. She's tough. Really tough. Tough in the way Matt wishes he could be. Which is maybe why he's drawn to her, and definitely why he can't seem to shake her. Because there's nothing more hopeful than finding a person who understands your loneliness—and who can maybe even help take it away."
According to Amazon, it's for grade level 7-9, but I thoroughly enjoyed it as well. Jason Reynolds is also the 2021 recipient of Tulsa City-County Library's Anne V. Zarrow Award for Young Readers' Literature, "which gives formal recognition, on behalf of the Tulsa County community, to a nationally acclaimed author who has made a significant contribution to the field of literature for young adults." (quote from a TCCL Instagram post.) Reynolds will be recognized on May 6, 2021 at 7 p.m., so save the date – and start reading more of his books, if you haven't already!
Local Reading Challenges
1. Tulsa City-County Library
Last year, TCCL put together a wonderful Kid's Reading Challenge for TulsaKids Magazine. Some of the items are outdated, but it would be a good place to start. This year, they have a Winter Library Bingo card for adults that you can print out here. Complete a Bingo by March 1 for a chance to win 1 of 3 "cozy gift sets."
Items on the Bingo card include "Read a graphic novel," "Read a book with a LGBTQIA+ protagonist," "Read a book about the Tulsa Race Massacre" and "Cook a dish inspired by a book."
2. Magic City Books
Magic City Books also has a Book Bingo card, which you can pick up in-store. Their Bingo challenges lasts throughout the year. According to their Facebook post, if you complete a Bingo, you get a prize!
Squares include, "Visit another Tulsa bookstore," "Title begins with B," "Published in 2021," "Re-read a favorite," etc.
3. Lavender's Bleu Literacy Market
Lavender's Bleu has a special reading challenge that kids can enjoy as well! If you read at least ten titles in at least five different categories, you can return the completed Reading Challenge and receive a $5 Lavender's Bleu gift card! Categories include: "A book by a female author," "A book with an animal character" and "A book that inspires you. Click here for a downloadable PDF of LBLM's 2021 Reading Challenge.
4. Whitty Books
I loved Whitty Books' 2020 Reading Challenge. Sadly, I think I threw away my Reading Challenge during a cleaning fit halfway through quarantine. I'll have to do better with their 2021 Reading Challenge. Whitty Books' Challenge is perfect if you're wanting to prioritize reading literature by a more diverse group of authors, or covering a diverse array of subject matter. For example: "A play or screenplay." "A book published the year you were born." "A book by a neurodivergent author." "A book by a trans BIPOC author." etc. There are 52 spaces on the Whitty Books reading challenge, so it's also a good option if you have a goal of reading 1 book each week.
Local Subscription Boxes for Kids
Fulton St. Books & Coffee: Little & Lit
To help facilitate your family's reading in 2021, several local bookstores offer subscriptions for children and adults. Fulton St. Books and Coffee offers a
"Little & Lit" Monthly Subscription Box
: "Little & Lit delivers a curated selection of diverse children's books straight to your door. Each month, you get two high-quality children's books perfect for reading aloud and reading along. While our books are great for the whole family, the sweet spot for these books will be little ones in pre-k – third grade."
Lavender's Bleu Book Club
Lavender's Bleu Literacy Market offers both the Lit(erary Ladies Book Club) and the Lavender's Bleu Book Club, a monthly subscription box for kids. Here's info about the Lavender's Blue Book Club:
"Give the gift of reading all year round!
With our monthly book club subscription, we provide your child (ages baby through teen) with three awesome new books each month that are specially selected by our owner to match the child's interest, favorite genre or types of books and reading level if applicable. You choose the best club and duration for your child. You can cancel at any time. The books are carefully packaged and delivered straight to your door!
Don't miss out on all the fun – sign-ups for our February book club ends January 15, 2021!
Magic City Mailbox Junior
Diane Morrow-Kondos mentioned the Magic City Mailbox in a recent blog post. Learn more here.
Local Bookstores
Of course, as you head into your 2021 reading, don't forget to shop local! Here are a list of local indie bookstores, most of which should have online shopping and can probably special order exactly what you want. If I missed any, please let me know in the comments!
Mocha Books (5525 E. 51st St. Ste. 205)
Finally, let me know what's on the top of your TBR pile for 2021! And happy reading!
---