20 Things to do in Tulsa in 2023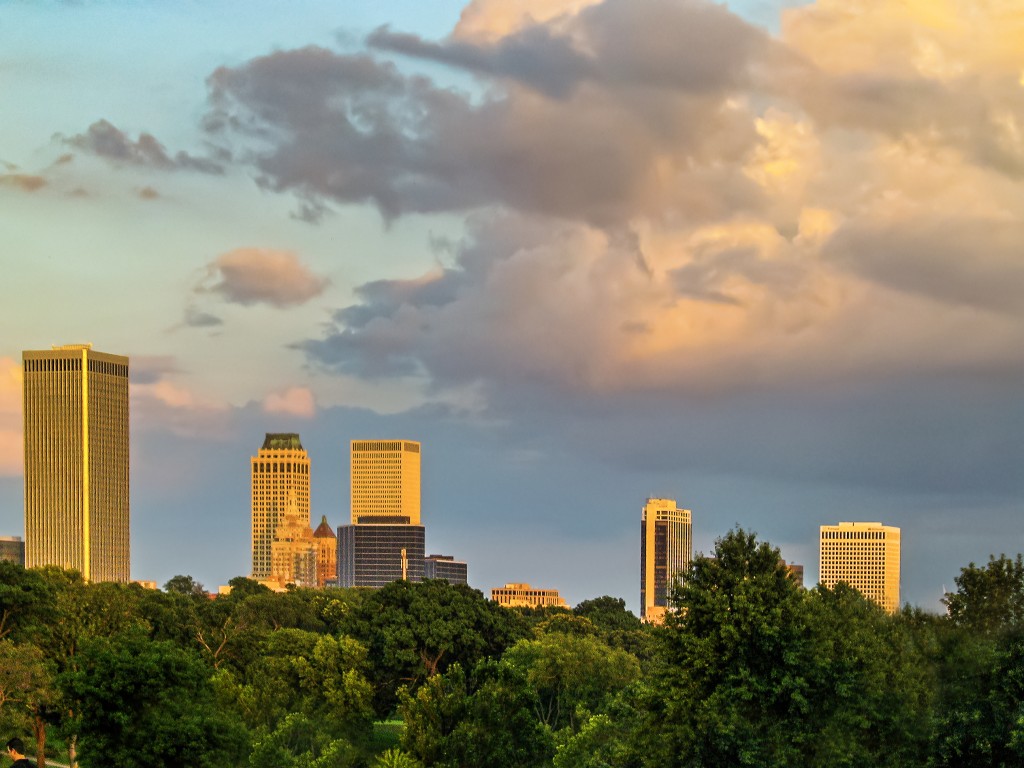 The New Year is the perfect time to both reflect on what was great about the past year – and to look forward to the coming year! Last year was very exciting for Tulsa, with the opening of the new Discovery Lab, Bob Dylan Center, etc. And 2023 promises to be a big year for the city as well! Here are 20 things to do in Tulsa in 2023:
1. OKPOP Museum
This one's been on the list for two or three years now. And although the construction for OKPOP Museum is completed, they are working on securing additional funding to build out the exhibits, etc. Here's hoping this incredible new addition to Tulsa, celebrating our history of pop culture contributions, will be completed in 2023!
2. Pedestrian Bridge
It was sad to see the iconic pedestrian bridge across the Arkansas River torn down. River Parks even held a special photo day where people could come and get some last-chance, professional photos taken at the former bridge. But we are looking forward to seeing the completed new bridge, Williams Crossing. According to the City of Tulsa's website, this long-anticipated project should be completed in 2023.
3. Inclusive Playground
Our social media followers were thrilled when we shared the news that the City of Tulsa is building a new, inclusive playground at Whiteside Park. Construction should begin in early 2023, and we cannot wait to visit!
4. Broadway in Tulsa
Celebrity Attractions' 2022-2023 season is full of returning favorites and exciting new productions! In 2023, Tulsans can attend:
5. Big Names at the BOK Center
BOK Center will, as always, be hosting some big names this year! Some eye-catching concerts include:
6. Tulsa Oilers Rink at Promenade Mall
Tulsa World announced in October that the Tulsa Oilers began demolition/construction on a new training facility in Promenade Mall. The facility will be located in the former Macy's, and will also include public ice skating possibilities. Construction is scheduled to be completed in October 2023.
7. Oklahoma Aquarium Jellyfish Touch Tank
Oklahoma Aquarium is celebrating its 20th anniversary in 2023! And the year is starting off with the opening of their Jellyfish Touch Tank. Also, if you haven't had a chance to ride the new aquatic-themed carousel, which opened in late 2022, add it to your list of things to do in 2023. It's beautiful!
8. Tulsa Botanic Garden: Bumgarner Lotus Pool and Stanford Family Liberty Garden
If you've visited Tulsa Botanic Garden in the past several months, you've seen the giant crane and impressive construction projects happening in the pond! The Bumgarner Lotus Pool will feature an Art Deco bridge. The Stanford Family Liberty Garden is a unique space that "will be a place to celebrate and share the qualities and concepts unifying individuals into the diverse citizenry of the United States through interpreting patriotism as a forward thinking and living concept." Both projects should be completed in 2023.
9. Philbrook Museum: Rembrandt to Monet
Philbrook Museum will be following up on the success of their fabulous Frida Kahlo exhibit with another incredible opportunity for art-lovers. "Rembrandt to Monet: 500 Years of Painting from Joslyn Art Museum" will be on display February 19-May 28.
10. Gilcrease in Your Neighborhood
Speaking of art, Gilcrease Museum may be closed, but will be continuing the Gilcrease in Your Neighborhood project through 2023. Through Gilcrease in Your Neighborhood, Gilcrease will display a work of art from their collection at 31 locations around town. The art will change every three months. There will also be special programming complementing the works.
11. Summer Reading Program
The theme of Tulsa City-County Library's 2023 Summer Reading Program is "All Together Now : Todos Juntos Ahora – Kindness / Friendship / Unity." TCCL always does an amazing job of providing top-notch programming for the whole family as part of the Summer Reading Program. We can't wait to see what they have planned this year!
12. Tulsa Drillers' 2023 Season
Baseball season may truly be one of the most wonderful times of the year! A night at the ballpark is fun for all, and the Tulsa Drillers always have an impressive lineup of special promotions and giveaways, making it extra special.
13. Tulsa Zoo: Oxley Family Elephant Experience and Elephant Preserve
Kids love visiting the elephants at Tulsa Zoo! In particular, climbing all over the elephant statue inside the viewing area. But with the completion of the new Oxley Family Elephant Experience and Elephant Preserve, visitors will get an even better look at these amazing animals. Although the project won't be completed until 2024, the Zoo anticipates opening the new elephant barn in 2023. Learn more about the project at buildingbeyond.org/projects/lost-kingdom-elephants/
14. Turkey Mountain Development
Turkey Mountain continues to complete its Master Plan. According to Ryan Howell with River Parks Authority, "By 2023, we will have completed more than 20 miles of new, sustainably built, family-friendly trails at Turkey Mountain. These trails are great for families with small kids and even families that like to ride bikes together." If you're intimidated by Turkey Mountain, make sure you check out the new, kid-friendly trails!
15. Owasso Events
Thanks to Owasso Recreation and Culture for sharing their 2023 event schedule! Here are 7 reasons for Tulsan residents to head up north to Owasso this year:
4/22, 1-4 p.m.: Lawn & Garden Spring Fling, Redbud Festival Park
7/4, 7-9 p.m.: Red White & Boom Pre-Show, Redbud Festival Park
7/4, Dark: Red White & Boom, Fireworks launched from Owasso Golf & Athletic Club
10/14, 11 a.m.-4 p.m.: Owasso Harvest Festival, Redbud Festival Park
11/25, 6-7:30 p.m.: Lights On Owasso, Redbud Festival Park
12/2, 8 a.m.-3 p.m.: Holiday Craft Fair, Owasso Community Center
12/9, 9-10 a.m.: Owasso Christmas Parade, Smith Farm Marketplace
16. Reservation Dogs Season 3
Reservation Dogs announced its season 3 renewal in September 2022. We're thrilled to continue following the adventures of Bear, Elora, Cheese and Willie Jack. What was your favorite moment from season 2?
17. NOMA
Have you visited Mother Road Market lately? Seen all the construction across the street? This is largely on behalf of NOMA (North of Market), a residential/retail/community space slated to open in late 2023. NOMA is just one example of the exciting, ongoing development along Route 66 in Tulsa and Tulsa's "Market District."
18. TulsaTrailsWest
TulsaTrailsWest surprised us in 2022, with a fun new Fall Festival for families. It is located on RFM (Red Fork Mountain) Ranch in West Tulsa. Owners have big plans for this new-yet-historic venue, including an expanded Fall Festival in 2023, Guided Horseback Trail Rides starting spring 2023, holiday activities and more. Follow @tulsatrailswest on Facebook or Instagram so you don't miss a thing!
19. Center of the Universe and Downtown Tulsa Partnership
The Downtown Tulsa Partnership, est. 2021, is a collaboration between "property and business representatives and civic leaders to advocate for and champion the continued improvement of Downtown Tulsa." Their 2022 initiatives included "Curbside Haiku," holiday pop-ups and more. In 2023, they plan to begin developing a new plan to improve and repair the Center of the Universe. The bridge needs structural improvements, and they aim to make it an even better experience for pedestrians. The $7.64-million-dollar project may not be completed in 2023, but in any case, consider subscribing to Downtown Tulsa Partnership's eNewsletters to be the first to know about their other plans and initiatives.
20. TulsaKids' 35th Birthday!
Shameless plug here. We are excited to celebrate our 35th birthday in 2023! Let us know in the comments how you think we should celebrate. And sign up for our emails so you don't miss it!
---