TulsaKids' 2020 Family Favorites: Winners and Finalists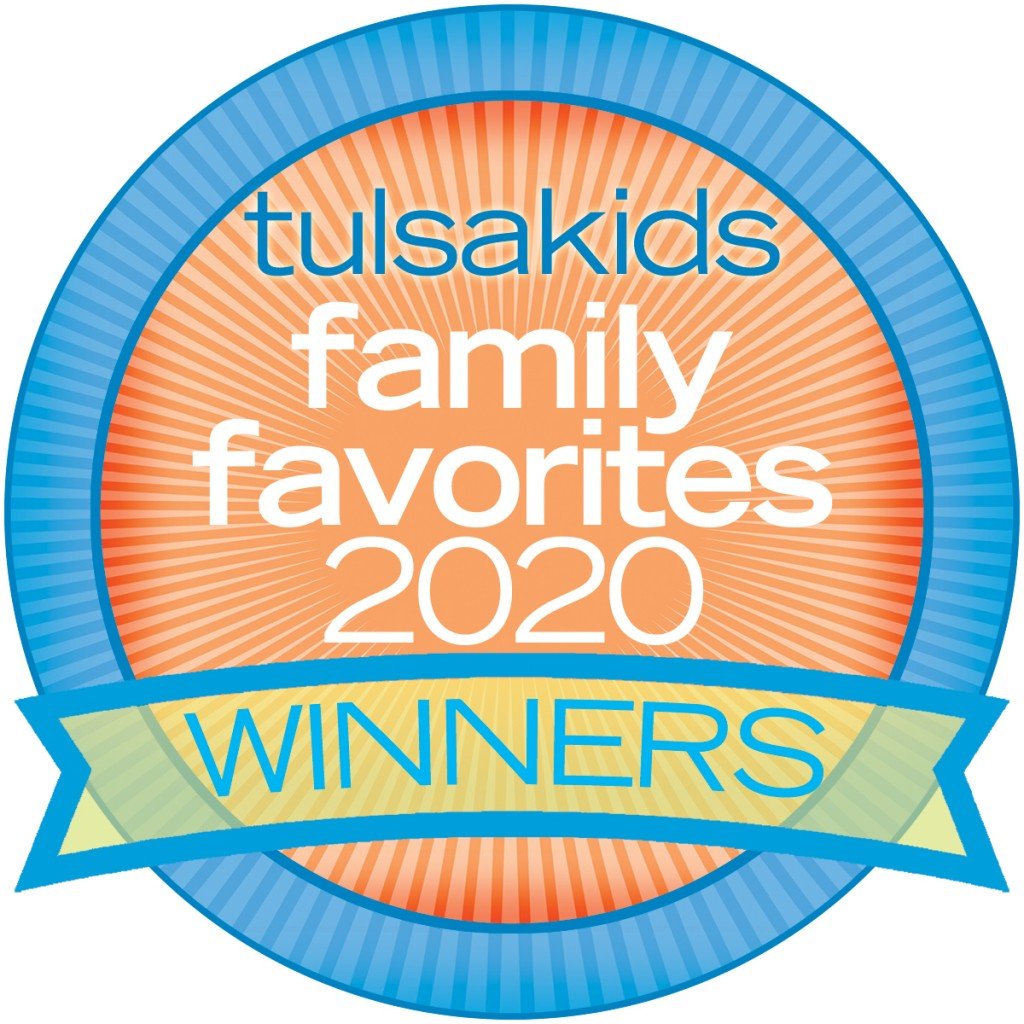 Thank you to everyone who voted in this year's Family Favorites contest, and congratulations to our winners and finalists! Below, you will find our 2020 Family Favorites in the following categories: Family Fun, Food & Restaurants, Party Favorites, Shopping, All Things Baby, Education, Camps & Lessons, Sports & Fitness, Mom & Dad and Health & Wellness.
FAMILY FUN
Tulsa area families have plenty of options when it comes to family fun. Almost everything is family friendly. There's nothing stuffy about our museums, performances and events. And then, there's Gathering Place, the mega-park attraction that families have flocked to since it opened. Here are a few of our readers' favorite places to play and be entertained.
Favorite Museum
TOP THREE
THE WINNER
Oklahoma Aquarium
300 Aquarium Drive, Jenks
www.okaquarium.org
The Polynesian Reef exhibit at Oklahoma Aquarium
Where can you experience the secret world of an octopus, pet a starfish and walk underneath a shark tank all under one roof? The Oklahoma Aquarium! Families can experience species that live in the Amazon River or less exotic Oklahoma and then visit the Polynesian Reef and Sea Turtle Island. There's so much to see and learn at the Aquarium, from Sleeping with the Sharks overnights to being a marine biologist for a day to hosting a birthday party – it's no wonder families keep coming back to the Oklahoma Aquarium.
---
Favorite Local Attraction
TOP THREE
THE WINNER
Gathering Place
2650 S. John Williams Way
www.gatheringplace.org
Photo Credit: Shane Bevel
Newly opened in 2018, this "park for all" was voted USA Today's Best New Attraction. The park, which meanders along Riverside Drive, has no admission fee and offers amenities to please everyone. There are too many to mention! Kids love the five-acre Chapman Adventure Playground with its castle-like turrets, slides, water areas, ladders and climbing features. There are areas for preschoolers, basketball courts, a BMX track and a skate park. Performances and events on the lawn range from diverse musical performances to puppet shows. The Williams Lodge and ONEOK Boathouse give visitors a place to relax and enjoy a drink, coffee, an ice cream cone, a snack or meal.
But, Gathering Place isn't finished – phase II will house the Tulsa Children's Museum Discovery Lab.
---
Favorite Family Friendly Performance of 2019
TOP THREE
THE WINNER
Tulsa Ballet's "The Nutcracker"
1212 E. 45th Place
www.tulsaballet.org
Photo courtesy of Tulsa Ballet
Tulsa Ballet's "The Nutcracker" is a holiday tradition for many area families. Since 2003, "The Nutcracker" has been working its magic on young and old alike as they are drawn into Clara's fantastic world. To make the performance more memorable, a VIP Experience allows families to have seating in the orchestra-level Golden Circle as well as go on stage after the performance to see the sets up close, meet the dancers and take photos with them in costume. You will also get a keepsake Nutcracker autographed by members of the cast. Look for a new production in 2021!
---
Favorite Family Friendly Fair or Festival
TOP THREE
THE WINNER
Tulsa State Fair
4145 E. 21st Street
www.tulsastatefair.com
Every October, the Tulsa State Fair draws thousands of people from across Green Country and beyond. Concerts, livestock and horse shows, special events and, of course, rides and food on the Midway entertain families for 11 days. So, grab a turkey leg and a funnel cake as you explore the fun at the fair!
---
Favorite Oklahoma-Based Professional/Semi-Professional Sports Team
TOP THREE
THE WINNER
Oklahoma City Thunder
www.nba.com/thunder/
Oklahoma's own NBA team, Oklahoma City Thunder, is a favorite of families across the state. Rumble the Bison, the team mascot, delights children – he even has his own origin story that you can read on the website. However, Tulsa fans will have to wait to travel the turnpike to the Chesapeake Energy Arena to cheer on their favorite team. The 2019-20 regular-season and playoff games are scheduled to be played in Orlando starting July 31, 2020.
---
Favorite Local Park/Place to Get Outside
TOP THREE
THE WINNER
Gathering Place
2650 S. John Williams Way
gatheringplace.org
It's no surprise that Gathering Place won in a second category this year. Gathering Place is a local attraction, but it's also an amazing place to play outside. With multiple areas for every age, ability and developmental level, Gathering Place truly is a park for everyone.
---
Favorite Indoor Place to Play
TOP THREE
THE WINNER
Urban Air Adventure Park
3328 E. 51st St.
www.urbanairtrampolinepark.com
Sometimes it's hard to get outside, so when parents want an indoor place for their kids to work off some major energy, they head to Urban Air Adventure Park. Kids can climb, jump, battle it out on the Warrior Course, challenge themselves on the Ropes Course or crawl through tons of tubes.
---
Favorite State Park
TOP THREE
THE WINNER
Natural Falls State Park
US Highway 412 West, Colcord
www.travelok.com
Located near the Oklahoma/Arkansas border, the highlight here is Dripping Springs, one of the tallest waterfalls in Oklahoma – 77 feet! It's no wonder families love hiking, camping (maybe in a yurt), picnicking and relaxing at Natural Falls. And, it's easily accessible with a paved trail leading to overlooks above the falls.
---
Favorite Place to Camp in Oklahoma
TOP THREE
THE WINNER
Broken Bow Lake
6 miles north of Broken Bow on Highway 259
www.brokenbowlake.org
Tulsa families love camping at Broken Bow Lake. There are hundreds of campsites along the Mountain Fork River, along the shores of Broken Bow Lake or in the woods – all located within Beavers Bend State Park. Whether you want to rough it in a tent, hook up your RV or cabin camp, you can find something to suit your needs at Broken Bow.
---
Favorite Weekend Getaway
THE TOP THREE
THE WINNER
Branson, MO
www.branson.com
Photo courtesy of Silver Dollar City
At just over three hours from Tulsa, Branson is an easy weekend getaway with plenty of amenities to attract Tulsa area families, not the least of which is its location in the beautiful Ozarks. The destination has everything from live entertainment to family-oriented attractions such as water parks, nearby Silver Dollar City, shopping, outdoor fun and special events throughout the year.
---
FOOD & RESTAURANTS
Whether you want to go out for ice cream or a unique ethnic food, Tulsa continues to please the family palate. Whether it's healthy eating or a great kids' menu, our readers know where to go.
Favorite Pizza Place
TOP THREE
THE WINNER
Hideaway Pizza
Locations in Tulsa, Broken Arrow and Owasso (find one near you!)
hideawaypizza.com
Pizza night wouldn't be the same for Tulsa families without Hideaway Pizza on speed dial. Whether you're eating in at one of their many locations in around town or ordering an Around the World specialty pizza to go for a slumber party, Hideaway is a classic that pleases kids and adults. (And many OSU fans are familiar with the original Hideaway that opened in Stillwater in 1957).
---
Favorite Place to Get Ice Cream
TOP THREE
THE WINNER
Braum's
Locations throughout Tulsa and surrounding communities
www.braums.com
For many of our readers, Braum's is the go-to place for after-school treats, summer banana splits or a post-game gathering. Waffle cones, regular cones, shakes, sundaes, malts and more bring families back again and again to Braum's. And, take home a gallon for the freezer while you're there!
---
Favorite Place to Grab a Burger
TOP THREE
THE WINNER
Ron's Hamburgers & Chili
Several locations
www.ronsburgersandchili.com
The old favorite edged out more recent establishments as our readers' choice for best burger. Serving up burgers, chili and root beer since 1975, Ron's is a casual restaurant that you can feel comfortable taking your kids to for lunch or dinner. And, if you don't like burgers, Ron's has salads, chicken and sandwiches – and the best Frito-chili pie on the planet. Try a side of Spanish fries, tots or onion rings with that order.
---
Favorite Ethnic Restaurant
TOP THREE
THE WINNER
Lanna Thai
7227 S. Memorial Dr.
www.lannathaitulsa.com
There are so many options in Tulsa to try the cuisine of other countries! Our readers voted Lanna Thai as their favorite place to get authentic Thai food. Family-owned and operated since 1998, Lanna Thai is no newcomer on the restaurant scene. Its staying power can be attributed to the fresh, carefully prepared dishes that are not only flavorful, but beautiful. It was recognized as one of the 50 Best Thai restaurants in the U.S.
---
Favorite Place for Healthy Eating
TOP THREE
THE WINNER
Panera Bread
7 locations in Tulsa, Owasso and Broken Arrow
www.panerabread.com
Parents love that they can grab a quick breakfast, lunch or dinner with the kids and feel good about what they're eating. Panera offers a nutrition guide on their menu items as well as committing to "clean" foods without artificial preservatives, sweeteners and flavors. Panera offers vegetarian and vegan options. Our readers like that they know what their kids are eating when they choose Panera.
---
Favorite Kids' Menu
TOP THREE
THE WINNER
Chick-fil-A
Several locations in Tulsa and surrounding communities
www.chick-fil-a.com
Kids love those chicken nuggets and Chick-fil-A has the best – and Mom and Dad can get that perfect chicken sandwich. The kids' menu boasts some healthy options like a fruit cup or a grilled entrée, and their kids' meals include organic and soda-free options. No wonder there's a line!
---
PARTY FAVORITES
Our readers know how to make birthday parties and family celebrations extra special, either by booking an awesome entertainer or finding the coolest venue or locating the most incredible gift. If you need some ideas to get your party started, here are TulsaKids' readers' top picks.
Favorite Kid's Party Entertainer
TOP THREE
THE WINNER
Dustin the Balloon Guy of Tulsa Balloons
www.tulsaballoons.com
Dustin the Balloon Guy of Tulsa Balloons
Kids love balloons, especially when they're combined with magic, juggling and incredible balloon sculptures. And, the bubble show isn't a few bubbles from a machine. These bubbles are huge – big enough to encapsulate you and your kid! All shows are fun, humorous and entertaining. Our readers must love Dustin because this is his 6th year as a Family Favorites winner!
---
Favorite Party Venue
TOP THREE
THE WINNER
Urban Air Adventure Park
3328 E. 51st St.
www.urbanairtrampolinepark.com
Tulsa parents know where to take their kids for an epic indoor adventure. Kids need to exercise and Urban Air will give them more movement than you thought possible. Climbing walls, trampolines, a ropes course, a sky rider, virtual reality games, a tubes playground and more will give your child and guests the best birthday party ever.
---
Favorite Place for Party Treats
TOP THREE
THE WINNER
Merritt's Bakery
3 locations in Tulsa and Broken Arrow
merrittsbakery.com
Tulsa families have been buying birthday cakes from Merritt's for generations. Since 1979 when Larry and Bobbie Merritt purchased a tiny shop called The Cake Box, Merritt's has grown to be one of Tulsa's favorite places to find the perfect, individualized cake, cupcakes or cookies to be the centerpiece of the party!
---
Favorite Place to Buy Children's Gifts
TOP THREE
THE WINNER
Kiddlestix Toy Store
3815 S. Harvard Ave.
www.kiddlestixtoys.com
For a carefully curated collection of toys that are fun, educational and lasting, Kiddlestix Toy Store is the place to shop. And, if you need help choosing that special gift, the staff can guide you to the perfect toy. Our readers love Kiddlestix – and they have free gift wrapping!
---
SHOPPING
When it comes to buying clothing for their kids or themselves, Tulsa moms know the best places for fashion and value – and to shop local! Here are their favorite places to shop for clothes.
Favorite Place to Buy Children's Clothes
TOP THREE
THE WINNER
Once Upon a Child
8929 S. Memorial Dr., Suite 365
onceuponachildtulsasouth.com
Our readers want fashionable clothes for their kids at a reasonable price. Parents can find gently used, clean children's clothing, shoes, baby items, accessories and more for almost 70 percent off retail, leaving more in their pockets for that college savings account!
---
Favorite Mom's Boutique
TOP THREE
THE WINNER
J. Spencer
3 locations in Tulsa and Broken Arrow
www.shopjspencer.com
TulsaKids readers voted J. Spencer as their top choice for unique jewelry, apparel and accessories. Founded in 1999 by Chris and Julie Spencer, J. Spencer specializes in knowing their customers and helping them find just he right apparel and accessories to reflect their personality.
---
Favorite Consignment Shop or Sale
TOP THREE
THE WINNER
Just Between Friends
4145 E. 21st St. (Expo Square Exchange Center)
jbfsale.com
Many TulsaKids readers plan their seasonal shopping around the Just Between Friends sales. Children's and maternity clothing, toys, games, books, baby gear, strollers, room décor, costumes – you name it – if it's about shopping for kids and their paraphernalia, you can find it at a JBF sale. Parents love the organized sales floor that makes it easy to find great deals on what they need.
---
ALL THINGS BABY
Nothing is more important than welcoming a new baby into the world. Our readers know where to go to have a baby, but also where to get that perfect newborn photo.
Favorite Pre- and Post-Partum Classes
TOP THREE
THE WINNER
Saint Francis Hospital
6161 S. Yale Ave.
www.saintfrancis.com
Expectant and new parents trust Saint Francis Hospital healthcare professionals to provide the best information before and after pregnancy. Whether it's learning about breastfeeding, understanding what happens during labor and delivery or a new sibling or grandparenting class, Saint Francis supports parents during this all-important event.
---
Favorite Place to Have a Baby
TOP THREE
THE WINNER
Saint Francis Hospital
6161 S. Yale Ave.
www.saintfrancis.com
With over 4,000 babies delivered each year by Saint Francis Hospital's staff and physicians, it's no wonder that Tulsa moms and dads trust their experience. Saint Francis offers a 24/7 Hospitalist team and a level IV Neonatal Intensive Care Unit (NICU), should that be necessary. No matter what service or support expectant parents need, Saint Francis has physicians and staff available round the clock.
---
Favorite Place to Buy Baby Gifts
TOP THREE
THE WINNER
Peek A Boo Baby
8283 S. Memorial Dr.
peekaboostores.com
When our readers want to find that special gift for baby, they turn to the family-owned specialty store, Peek A Boo Baby. Whether it's finding a gift for a friend or fashioning a complete nursery for your baby, the staff can help you pick things that are unique and will fit your style. They also have a convenient gift registry for expectant parents.
---
Favorite Newborn Photographer
TOP THREE
THE WINNER
Kristen Mackey, Son Kissed Photography
12500 East 86th St. N #103, Owasso
www.sonkissedphotography.com
Photo Credit: Son Kissed Photography
That all-important newborn photo can't be trusted to just anyone. Our readers chose Kristen Mackey as the photographer who can uniquely capture that magical time when a baby is new to the world.
____________________________________________________________________
EDUCATION
Nothing is more important than a child's education, but choosing the right fit for your child can be a daunting undertaking. Here's a list of schools from preschool through high school that our readers trust with their kids.
Favorite Preschool
TOP THREE
THE WINNER
Miss Helen's Private School
4849 S. Mingo Rd.
www.misshelens.com
Preschoolers at Miss Helen's are grouped into "pods," depending on their age, and then rotate to teachers for Spanish, music, art, stories, science and dance. TulsaKids readers like the small class size and extended day for working parents as well as the years of experience Miss Helen's has brought to education since 1954.
---
Favorite Private Elementary School
TOP THREE
THE WINNER
Metro Christian Academy
6363 S. Trenton Ave.
www.metroca.com
Readers voted Metro Christian Academy as their favorite elementary school for its commitment to high quality education in a Christian environment that emphasizes both academics and character. STEM, fine arts, P.E., foreign language, language arts, social studies and Bible are all part of the elementary school curriculum.
---
Favorite Private Middle School
TOP THREE
THE WINNER
Metro Christian Academy
6363 S. Trenton Ave.
www.metroca.com
A top choice by readers in the middle school category (?), parents whose children attend Metro Christian find a seamless transition from elementary school. Students are challenged in small class sizes where teachers can easily identify and help students who may need extra help or special placement. Honors classes are also available.
---
Favorite Private High School
TOP THREE
THE WINNER
Holland Hall
5666 E. 81st St.
www.hollandhall.org
Holland Hall has been a solid academic, college preparatory institution in Tulsa for more than 90 years. Parents who send their children to Holland Hall find challenging academics, the arts, sports and extracurricular activities all within a small and welcoming community where students are encourage to explore and learn about themselves. The school strives for a diverse student body comprised of various religious, ethnic, racial, socioeconomic and other backgrounds.
---
Favorite Tutoring
TOP THREE
THE WINNER
Kumon of Tulsa
Several locations
www.kumon.com
Sometimes kids need a little help with reading or math, maybe they lack confidence or just want to jump ahead. Kumon Math and Reading Center is a favorite choice of our readers when it comes to academic enrichment. Kumon instills confidence and independent learning in kids, as they advance at their own pace through lessons.
---
CAMPS & LESSONS
Summer camps, after-school programs and special lessons give kids a chance to learn new skills, make friends and pursue their unique interests. Here are the programs TulsaKids readers chose as standouts.
Favorite In-State Summer Camp
TOP THREE
THE WINNER
Falls Creek
6714 Hwy 77D, Davis
www.fallscreek.org
Established in 1917, Falls Creek has been welcoming young people to meet in the beautiful Arbuckle Mountains to learn, play and grow in their Christian faith. Young people at Falls Creek enjoy a multitude of activities from playing life-size chess to swimming to zip-lining with friends, old and new.
---
Favorite Out-of-State Summer Camp
TOP THREE
THE WINNER
Kanakuk
1353 Lake Shore Drive, Branson, MO
kanakuk.com
Parents have trusted Kanakuk with their children since 1926. From overnight camps, to day camps to family camps, Kanakuk provides a fun, warm Christian environment that kids love. Friendships, mentorships, water sports, traditional camp activities and more keep Tulsans choosing Kanakuk summer after summer.
---
Favorite Youth Theater
TOP THREE
THE WINNER
Theatre Tulsa
412 N. Boston Ave.
theatretulsa.org
Local theatre at its finest, Theatre Tulsa is a top pick by our readers for both its performances and excellent training of young actors through classes for all ages. Broadway Beginners gives kids ages 5-8 a fun exposure to acting, while Broadway Bootcamp, Broadway Bound and New Artists Apprenticeships provide more serious training for older children and youth.
---
Favorite Music Program or Lessons
TOP THREE
THE WINNER
Saied Music Company
3259 S. Yale Ave.
9320 E. 71st St.
saiedmusic.com
Our readers love knowing that at Saied, their kids will can take lessons on almost any instrument and learn from professional musicians and educators. Parents know that music boosts your brain power, so they choose Saied to keep kids engaged in music, whether for fun and enjoyment or a potential career.
---
Favorite Art Program or Lessons
TOP THREE
THE WINNER
Philbrook Museum of Art
2727 S. Rockford Rd.
philbrook.org
Philbrook is much more than a world-class art museum. Our readers love it for embracing and introducing children of all ages to art through studio classes, free admission to all children younger than 18, and numerous events geared toward children. Philbrook also provides kids with their own box of art supplies to encourage many, many visits to the museum.
---
Favorite Storytime
TOP THREE
THE WINNER
Tulsa City-County Library
Multiple branches throughout Tulsa County
www.tulsalibrary.org
Storytime at Jenks Library
While not technically a lesson, storytime is nonetheless an important part of early learning. TulsaKids readers picked the library as their favorite place to take the kids for storytime. Librarians use music, fingerplays, canine reading partners and more to bring books to life for their youngest patrons.
________________________________________________________________________
SPORTS & FITNESS
Pediatricians recommend that kids get at least 60 minutes of exercise a day. Whether its a team sport like soccer or an individual activity like dance, martial arts or gymnastics, Tulsa offers plenty of options to get kids moving.
Favorite Gymnastics/Cheer/Dance
TOP THREE
THE WINNER
The Little Gym of SE Tulsa
6556 E. 91st St.
www.thelittlegym.com
Offering everything from daily classes to parties and camps to nights out for parents, The Little Gym of SE Tulsa is a mom and dad favorite. Young children can play and explore at their own pace, take a more structured class or enjoy some interactive play with mom or dad at The Little Gym.
---
Favorite Martial Arts
TOP THREE
THE WINNER
Apollo's Martial Arts
Classes in Tulsa, Bixby, Broken Arrow & Owasso
apolloskarate.com
Besides giving kids exercise, the martial arts give kids confidence. Kids at Apollo's learn discipline and the skills to defend themselves, but above all, they learn to diffuse a situation without violence and the life skills of perseverance, self-control and a positive mental attitude.
---
Favorite Place to Learn Soccer
TOP THREE
THE WINNER
SoccerCity
5817 S. 118th E. Ave.
www.soccercitytulsa.com
Our readers chose SoccerCity as their favorite place for the kids to learn soccer because it offers everything from the Lil' Kickers program to indoor leagues for youth and adults. Lil' Kickers keeps the youngest kids active, while introducing them to soccer skills in a fun, developmentally appropriate way.
---
Favorite Soccer Club
TOP THREE
THE WINNER
Broken Arrow Soccer Club
1001 S. Main St., Broken Arrow
www.bascok.com
Soccer clubs allow youth to learn soccer and progress to more serious play as they grow. Whether it's recreational soccer or tournament play you're looking for, families can find the coaching and teams to match at Broken Arrow Soccer Club.
---
Favorite Swim Lessons
TOP THREE
THE WINNER
Miller Swim School
6415 S. Mingo Rd., Tulsa
525 W. 91st St. S, Jenks
millerswimschool.com
Parents have been taking their kids to learn to swim at Miller since 1960. Now, with two locations and beautiful indoor facilities, it's even easier to get your child to the pool. Miller Swim School is, above all, about safety and offers classes for infants through adults. With so many years' experience in teaching swimming, it's no wonder that Tulsa area families choose Miller for swim instruction.
---
MOM & DAD
You can't be with the kids every minute and not everything is about the kids, so when moms and dads need a haircut, a new car or a date night, where do they go? Here are our readers' favs.
Favorite Grocery Store
TOP THREE
THE WINNER
Reasor's
Locations throughout Tulsa and surrounding communities
www.reasors.com
Busy moms and dads love the easy online shopping and curbside pick-up provided by Reasor's. No need to get the baby out of the car, or shop with a tired toddler. Besides groceries, Reasor's has a deli, a bakery, a pharmacy and can even provide holiday dinners for the crowd. Our readers pick Reasor's to handle all their grocery needs and more.
---
Favorite Family Friendly Gym
TOP THREE
THE WINNER
YMCA of Greater Tulsa
ymcatulsa.org
Sometimes it's hard to leave the kids home to work out, so our readers chose the YMCA as the place that the entire family can get fit. From fitness classes to swimming to yoga to team sports, the YMCA offers something for everyone.
---
Favorite Salon
TOP THREE
THE WINNER
Ihloff Salon and Day Spa
Three Tulsa locations
ihloffspa.com
An Aveda salon, Ihloff pampers parents with artful haircuts, color and style from passionate professionals. A full-service, award-winning salon, Ihloff pampers guests with impeccable service. TulsaKids readers like that they can get a massage, a makeover, manicure and more all in one location.
---
Favorite Car Dealership
TOP THREE
THE WINNER
Jackie Cooper Imports
9393 S. Memorial Dr.
www.jackiecooperimports.com
Nissan, Mercedes-Benz, Infiniti and Porsche — Jackie Cooper Imports has everything families need from a safe SUV for a growing family, to a fun convertible for mom and dad. Our readers trust Jackie Cooper's experienced staff to steer them the right way for new or pre-owned cars – and a service department to care for them after the sale. And, it's easy to start the search online.
---
Favorite Childcare Service
TOP THREE
THE WINNER
Seeking Sitters
604 S. Zunis Ave.
www.seekingsitterstulsa.com
Our readers trust Seeking Sitters to provide quality, safe childcare whether they need an occasional babysitter or full-time care. Seeking Sitters allows parents and kids to meet their sitter virtually to find the best match for them. The sitter will come prepared with activities and games to engage, educate and entertain the child. Seeking Sitters will also provide pet sitting and house sitting for families.
---
Favorite Date Night Restaurant
TOP THREE
THE WINNER
Charleston's
3726 S. Peoria
6839 S. Yale
charlestons.com
Charleston's warm wood interior invites couples to sit for a quiet meal without the kids. The menu includes everything from salmon to steaks to salads with gluten-free options as well. Consistently high-quality classic American food, service and craft cocktails. Our readers find it a perfect spot to unwind and reconnect.
---
Favorite Place for Girls' Night Out
TOP THREE
THE WINNER
Pinot's Palette
Three locations in Tulsa & Broken Arrow
www.pinotspalette.com
TulsaKids moms voted Pinot's Palette as their favorite place to gather for a fun night out. Even if you're not artistic, you can follow the step-by-step guide as you enjoy relaxing with a glass of wine with friends.
---
Favorite Locally Owned Brew Pub
TOP THREE
THE WINNER
Marshall Brewing Company, The Tap Room
1742 E. 6th St.
www.marshallbrewing.com
Marshall's was a first and a favorite of fans of the local craft brewing companies. The Tap Room and outdoor area is great for parents, but it's also family friendly. While Mom and Dad enjoy a beer, wine or non-alcoholic drink at one of the picnic tables, the kids can wander around – maybe even bring the family dog!
---
Favorite Locally Owned Coffee Shop
TOP THREE
THE WINNER
918 Coffee
2446 E. 11th St.
www.tulsa918coffee.com
This sleek coffee shop with a small outdoor area near TU is open for late-night coffee dates, album listening nights and more. Our readers like the unique drinks such as lavender lemonade, dirty vanilla chai, salted caramel latte or just plain, black coffee. You can grab a muffin and coffee in the morning and come back in the evening for beer, wine or a late-night latte.
---
Favorite Bank or Credit Union
TOP THREE
THE WINNER
TTCU Federal Credit Union
Several locations
www.ttcu.com
TulsaKids readers like TTCU's convenience with multiple locations, online and mobile banking. Families can get home or car loans as well as find information to educate everyone in the family, including children and teens, about making smart financial decisions.
---
Favorite Cleaning Service
TOP THREE
THE WINNER
Merry Maids
5656 S. Mingo Rd.
www.merrymaids.com
Between work and caring for kids, parents might find it hard to maintain a clean home. That's where Merry Maids comes in. Tulsa moms and dads trust and appreciate Merry Maids' 40 years of experience, the flexible scheduling options, bonded employees and free estimates.
---
HEALTH & WELLNESS
Every family needs trusted healthcare providers for preventative care, emergencies or illnesses that always arise. Here are our readers' picks when they need health care for family members – even the family pet.
Favorite Veterinarian
TOP THREE
THE WINNER
Woodland West Animal Hospital
9360 S. Union Ave.
www.woodlandwestanimalhospital.com
The family pet is…well…family, and TulsaKids readers know that Woodland West veterinarians will treat their pets with care and compassion. And, if your dog is sick on Saturday, Woodland is open seven days a week. Whether they're boarding your dog at the pet resort or keeping vaccinations up-to-date, Woodland can cover all care for your family's best friend.
---
Favorite Pediatrician
TOP THREE
THE WINNER
Stacy O'Sullivan, Pediatric Specialists of Tulsa
7412 S. Yale Ave.
www.pediatricspecialistsoftulsa.com
A graduate of the University of Oklahoma College of Medicine, Dr. O'Sullivan has worked in many venues of pediatric medicine including for private pediatric offices, pediatric urgent care and pediatric ER. Her dream has been to open her own practice to better serve the patients she loves. "Pediatrics provides me such joy," she says. "Caring for children and their families is incredibly rewarding on so many levels. It truly is a privilege to serve a child as their physician and healthcare provider."
---
Favorite Family Doctor
TOP THREE
THE WINNER
Chelsey Griffin, DO, OSU Medicine
9101 S. Toledo Ave.
osumedicine.com
Family physicians serve patients from infancy through end of life. Our readers chose Dr. Griffin as their favorite family physician because they appreciate the on-going relationship with a caring doctor who listens to their concerns.
---
Favorite OB/GYN
TOP THREE
THE WINNER
Trisha Parks, DO, Elite Obstetrics and Gynecology
5010 E. 68th St., #200
www.eliteobgyntulsa.com
Women need specialized care throughout their lives, whether it's preparing to have a baby, pregnancy, gynecological exams or menopause, they need a knowledgeable doctor who understands women's health issues. Our readers chose Dr. Parks as the physician who can support them through pregnancy, labor and delivery and everything beyond.
---
Favorite Optometrist
TOP THREE
THE WINNER
Robert Zoellner, Dr. Robert Zoellner & Associates, OD
3016 S. Harvard
6999 S. Memorial
drzoellner.com
Home of the $99 deal for 1 pair of eyeglasses and an eye exam, Dr. Zoellner & Associates can take care of your family without breaking the bank, allowing everyone to take care of their eye health. Whether you need an exam, contacts or some stylish frames, moms, dads and kids can all see more clearly with Dr. Zoellner.
---
Favorite Kid Friendly Dentist
TOP THREE
THE WINNER
Morrow, Lai and Kitterman Pediatric Dentistry
2930 S. Pittsburg
mlkdentristry.com
Our readers know that finding a dentist who specializes in pediatric dentistry can make all the difference in a child's dental health. Pediatric dentists know how to make children's visits enjoyable, safe and comfortable for kids – giving parents peace of mind!
---
Favorite Orthodontist
TOP THREE
THE WINNER
Clint Emerson, Emerson Orthodontics
1560 E. 21st St., Suite 100
800 W. Mission St., Broken Arrow
www.emersonbraces.com
It's a fact of life – lots of kids need braces. TulsaKids moms and dads like Dr. Emerson's years of experience. He is ready to treat kids who may need early care through teens and adults. Our readers like the fun and friendly atmosphere of the office and the professional care that they receive.
---
Favorite Allergist
TOP THREE
THE WINNER
Eastern Oklahoma Ear, Nose & Throat, Inc.
5020 E. 68th St.
9343 S. Mingo Rd.
eoent.com
Since 1975, Eastern Oklahoma Ear, Nose & Throat, Inc. has been serving patients from children through adults. When a specialist is needed for allergies or sinus problems, our readers turn to the ENT physicians at Eastern Oklahoma Ear, Nose & Throat.
---
Favorite Ear, Nose & Throat Doctor
TOP THREE
THE WINNER
Atul Vaidya, Eastern Oklahoma Ear, Nose & Throat, Inc.
5020 E. 68th St.
9343 S. Mingo Rd.
eoent.com
Eastern Oklahoma Ear, Nose & Throat, Inc. wins in another category. Dr. Vaidya was specifically voted as the doctor they choose when the kids are suffering from everything from ear infections to sinus and allergy problems to tonsil infections.
---
Favorite Orthopedist
TOP THREE
THE WINNER
Caleb Nunley, MD, Tulsa Bone & Joint Associates
12455 E. 100th St. N #120, Owasso
tulsaboneandjoint.com
No parent wants to have a kid in a cast, but sometimes it's necessary, and you want an expert to ensure proper healing. Dr. Nunley helps patients with breaks, joint issues, concussion, arthritis, knee and hip issues and more — AND sports medicine (he's the team physician for Owasso High School).
---
Favorite Chiropractor
TOP THREE
THE WINNER
Sonda Powell, Optimal Health & Wellness
2738 E. 51st St. #170
www.optimalhealthok.com
Since 2004, Dr. Sonda Powell and her husband Riley have been serving Tulsans with a variety of needs from sciatic pain to headaches to neck and back pain. As their practice evolved, they began to care for pregnant women, infants with colic and difficulties breast feeding, plageocephaly and children with problems ranging from sensory processing disorder, autism, IBS and more. Dr. Sonda Powell even offers a Leaps and Bounds program designed to guide parents through their young child's brain development. TulsaKids readers like the "whole patient" approach that Dr. Powell brings to their families' total health and wellness.
---
Favorite Therapist
TOP THREE
THE WINNER
TherapyWorks Tulsa
7608 E. 91st St.
therapyworkstulsa.com
Tulsa families have been taking their kids to TherapyWorks for occupational, physical and speech therapy for over 35 years. Pediatric therapists work together to provide comprehensive services that meet the needs of the children they serve as they help them overcome their challenges. The facility offers over 12,000 square feet of state-of-the-art equipment and treatment space.
---
Favorite Hospital
TOP THREE
THE WINNER
Saint Francis Hospital
6161 S. Yale Ave.
www.saintfrancis.com
Our readers trust their family's health to Saint Francis Hospital. From having a baby to urgent care, Saint Francis provides compassionate care at every stage of life. The Children's Hospital at Saint Francis provides specialized care for the youngest members of the family, whether it's in the state-of-the-art neonatal intensive care unit or pediatric oncology, kids get their own special care at Saint Francis.
---