Tulsa Botanic Garden announces Grand Opening dates for two new gardens.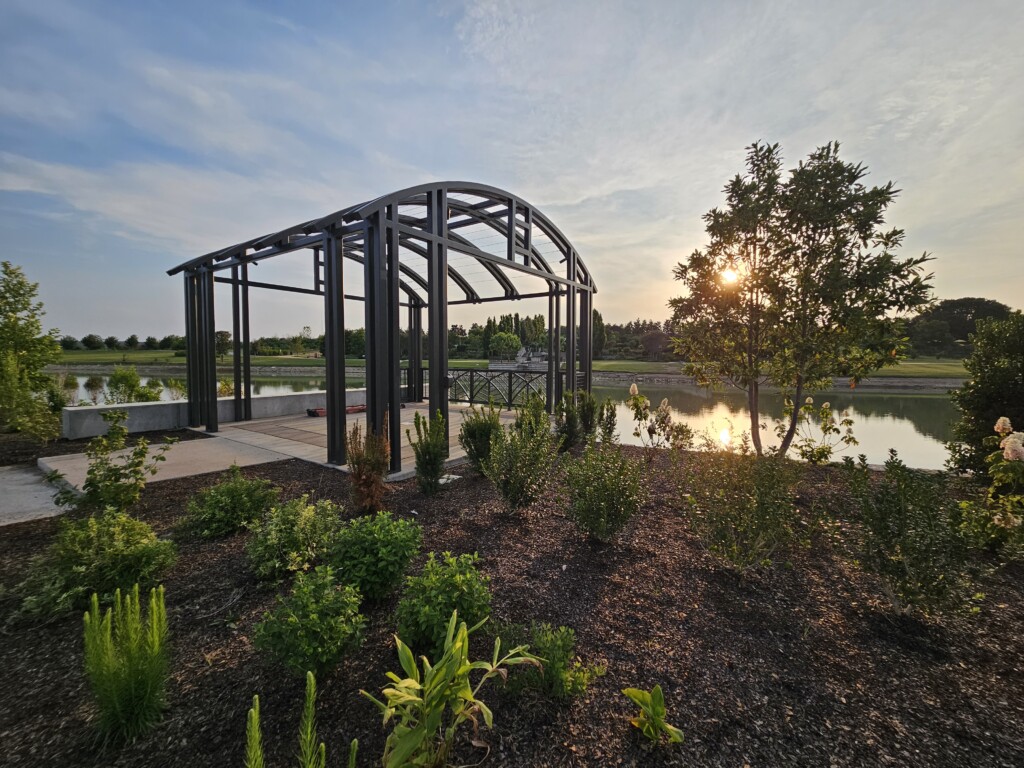 *Editor's Note: The Garden opening has been postponed to July 21-23.
Tulsa Botanic Garden will open two new gardens: the Stanford Family Liberty Garden and Bumgarner Family Foundation Lotus Pool with a ribbon cutting ceremony set for Friday, June 23 and grand opening celebration continuing through Sunday, June 25.
The Stanford Family Liberty Garden and Bumgarner Family Foundation Lotus Pool have been under construction since groundbreaking in early March 2022 and will add almost two acres of developed gardens to the Botanic Garden.
The Ribbon cutting ceremony will be Friday, June 23 at 10 a.m. with tours and other activities following. More tours and family-friendly activities are scheduled on Saturday and Sunday, June 24 and 25. A full schedule can be found on the Garden website: tulsabotanic.org.
Garden members can attend an Opening Party on Friday evening with live music, tours, food, drinks and complimentary snow cones. Membership can be purchased on the Botanic Garden website and helps support the non-profit organization.
As part of the grand opening celebration, the Botanic Garden will be offering half price admission from June 23 to June 30 with donations of canned goods or other non-perishable food items. All donations will benefit Iron Gate (Tulsa) and HELP Works, Inc. (Osage County).
The Stanford Family Liberty Garden features an Entry Grove with large ornate metal gates surrounded by stone columns, a 3,000 square foot Civic Lawn, and the Flagpole Terrace with a 60 ft. flagpole decorated with an ornamental metal plinth featuring an Art Deco- inspired design. The custom-designed motif is echoed in the entry gates and railings of nearly open-air pavilions. Outlining the Civic Lawn are walkways along flower beds featuring perennial borders of fragrant
flowers in colors of yellows and whites along with evergreens. Waterside Stairs on the south end of this peninsula offer views across the Lake.
The Bumgarner Family Foundation Lotus Pool is an aquatic garden encircling the northeastern portion of the existing Lake closest to the visitor center. The new Deco Bridge will allow visitors a short walk around the water's edge with multiple vistas. Three Overlooks on the east side extend into the water and have stone walls creating intimate areas to linger. A total of thirty water jets will continue the lines of the stone walls into the Lotus Pool, transforming the wall from stone to water fountains. Floating Gardens on the north and south sides extend into the Pool in a spiral pattern and are home to hibiscus, iris and other water-loving plants. Forty underwater planters will feature lotus, water lilies and other aquatic plants. Lighting features along the stone walls, water jets and in plant containers of this aquatic garden will offer dramatic nighttime views.
Construction for both gardens was done by Tulsa companies Manhattan Construction Company and JonesPlan, Inc.
About Tulsa Botanic Garden:
Tulsa Botanic Garden is an all-season oasis blooming just 8 miles northwest of downtown Tulsa at 3900 Tulsa Botanic Dr., 74127. The Garden is currently open with summer hours (June 1-August 31), Tuesday-Sunday, 9 a.m. to 5 p.m. Discounted advance tickets, purchased up to the day prior, are $8 for ages 16+, $4 for ages 3-15. Children under 3 are free. Same day admission prices are $10 and $5 respectively. Garden members receive free regular admission as a benefit of membership.
The A.R. and Marylouise Tandy Floral Terraces is a three-acre ornamental garden featuring over 8,000 plants with seasonal beds, beautiful art deco designs and water features. The Children's Discovery Garden, is a wonderland of interactive fun for the whole family including the iconic Spring Giant, spitting animal fountains, carnivorous plants, Sensory Walk, whirligigs, and the Tree Fort where the canopy provides a natural backdrop for storytelling and imaginative play. The Lakeside Promenade gracefully encompasses a seven-acre lake, and the Cross Timbers Trail provides a 1.5-mile hike through the native prairie and forest. The J.E. and L.E. Mabee Grange is a 2,400 square foot multipurpose building available for private events.
Tulsa Botanic Garden is a 501(c)(3) non-profit organization. For more information, call 918-289-0330 or visit www.tulsabotanic.org.