Take a Spin at the Tulsa State Fair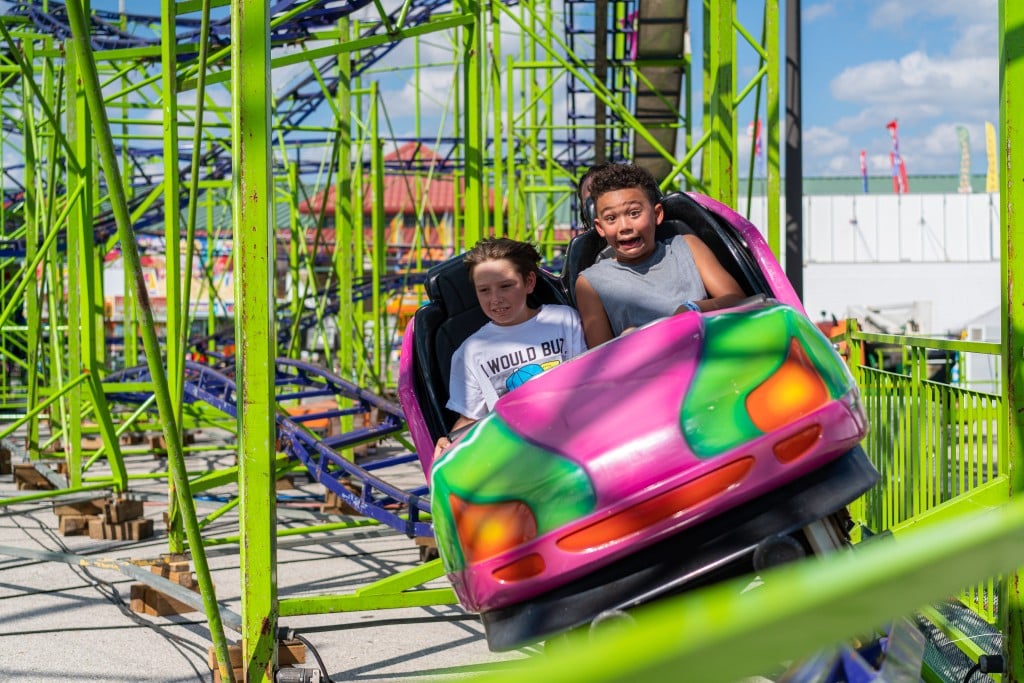 Food, entertainment and agriculture collide at the Tulsa State Fair. The annual event opens at 11 a.m. on September 29. Family fun is the goal, and the fair has something for everyone!
Funnel Cakes and More: Food at the Fair
Corndogs, Pineapple Whip and Lemonade. What's your favorite fair food? Is it Fire Roasted Corn on the Cob or a Deep Fried Oreo? What about an Indian Taco or Ribbon Fries? Food is king at fairs across the country and Tulsa's fair is no different. While no one should miss out on their favorite traditional fare, the new, creative (sometimes peculiar) and delicious foods steal the spotlight.
New foods for 2022 include:
Hot Cheeto and Dill Pickle Shakes/Smoothies from Pineapple Whip
Deep Fried Fruity Pebble Cheesecake from SKT Concessions
Deep Fried Cookie Dough Sundae from The Original Minneapple Pie
Chicken Bacon Waffle Stick from Waffle Chicks
OMG Chicken Sandwich from Family Foods (– All White Chicken Breast Battered & Coated in Frosted Flakes, Deep Fried & Served on a Crispy Cream Donut, Topped with Bacon & Maple Syrup)
Rick's Pickle Pizza from R&J Concessions
Alligator Corndog from Pioneer Wagon
Bacon Mac n Cheese Empanada from Back Street BBQ Burgers
And that's just a short list of all the new options.
Now that you have found a light snack, grab a seat and enjoy one of the many free shows. Looking for acrobats? Don't miss Oklahoma's own Inspyral Circus. Love dogs? Perondi's Stunt Dogs & Dog Diving Show. Team FMX will perform jaw-dropping freestyle motocross stunts three times each day, north of SageNet Center Upper Level.
Young fair-goers will especially love the magical Disney on Ice: Road Trip Adventures, with performances September 29-October 2 in the Expo Square Pavilion. This year's ice show includes popular Disney characters, from the classic – Mickey and friends – to the contemporary – Moana, Woody, Forky and more. Purchase Disney on Ice tickets here.
And of course, there are multiple stages featuring live music throughout the duration of the fair. Headliners on the Oklahoma Stage this year include Ginuwine (10/5, 8 p.m.); We the Kingdom (10/3, 8 p.m.); and Resurrection: A Journey Tribute (9/29, 8 p.m.).
The Tulsa State Fair midway features over 60 rides – and, new in 2022, the Raptor Run! See the full rides line-up at tulsastatefair.com/p/attractions/rides3. Most rides cost two or three tickets, with each ticket priced at $1.50.
One money-saving option for fair enthusiasts is to purchase a Mega Ride Pass for $80. Or, purchase one online from August 5-October 2, and it's just $70. The Mega Ride Pass gets you gate admission PLUS unlimited rides all eleven days of the fair.
Livestock Shows
The Tulsa State Fair's premier livestock shows will feature the best of the best from all 77 counties of Oklahoma and some out of state exhibitors. Over 15,000 animals will be onsite throughout the fair! Horses, cattle, sheep and goats are just a few of the livestock animals you will be able to watch.
Stop by Central Park Hall to visit the Petting Zoo and Birthing Center, where you will find a variety of adorable farm animals. For guests who would like to learn more, the Aglahoma Exhibit in Central Park Hall will feature fun facts about our state.
This year, you can learn new skills at the fair! Register for one of the following workshops taught by a local maker:
Groovy Blooms – Succulent Workshop: 9/29, 6 and 8 p.m.
Board and Brush – Mini Project Workshop: 9/30, 6 and 8 p.m.
Sister Sister Paint Parties – 10/1, 11 a.m. and 1 p.m.
Magnolia Soap & Bath – Bath Bomb Project: 10/1, 4 and 6 p.m.
Kayla Fay Creations – Cookie Decorating: 10/2, 11 a.m. and 1 p.m.
Tulsa Stained Glass – Stained Glass Mosaic Workshop: 10/2, 4 and 6 p.m.
Chalk Coutour – Home Decor Workshop: 10/3, 6 p.m.
Audrey Peck – Jewelry Making: 10/4, 6 and 8 p.m.
Garden Deva – Windchime Workshop: 10/5, 6 and 8 p.m.
Wreath Classes by Laurie: 10/6, 6 and 8 p.m.
Indigo Tie Dye Company – Tie Dye T-Shirt Workshop: 10/7, 6 and 8 p.m.
Tulsa Candle Company – Candle Workshop: 10/8, 11 a.m. and 1 p.m.
Wilder Creations – Macrame Workshop: 10/8, 4 and 6 p.m.
Gas Petal – Flower Arranging Workshop: 10/9, 11 a.m. and 1 p.m.
Laurel & Marie – Brush Lettering for Beginners Workshop: 10/9, 4 and 6 p.m.
Workshops range from $30-90 and include Fair Gate Admission and Paid Parking on the workshop date. Register at tulsastatefair.com/p/attractions/918-create-diy-workshops.
FORD FAMILY FUN NIGHT: September 29
Gate Admission is only $6 with a coupon from your local Ford Dealer. Rides are $2 each during Midway hours (does not include Extreme Rides). Gate Admission without Ford coupon is $15. Promotion starts at 11 a.m.; not valid with other promotions or offers.
MAZZIO'S RIDE-A-THON: Monday, October 3*
Save $10 on a ride wristband by picking up a coupon at your local Mazzio's (does not include Gate Admission and Extreme Rides). Price without Mazzio's coupon is $45.
ARBY'S RIDE-A-THON: Wednesday, October 5*
Save $10 on a ride wristband by picking up a coupon at your local Arby's (does not include Gate Admission and Extreme Rides). Price without Arby's coupon is $45.
COLLECTOR'S PIN: Thursday, October 6
The first 3,000 guests paying Gate Admission will receive a FREE 2022 Limited Edition Tulsa State Fair Lapel Pin, while supplies last. Show your proof of purchase at any Guest Service location.
*Single day ride wristband promotional price is only available for purchase and use on dates listed above. Wristbands are not recommended for children under 36″ as there are a limited amount of rides they can safely ride. Parents with children under 48″ should check the height requirements before purchasing to make an informed decision whether wristbands are the best value for their children.
Learn more about these special promotions at tulsastatefair.com/p/about/savings. And follow @tulsastatefair on Facebook and Instagram for details about special social media promos and more fun!
Purchase Tickets Today!
Advance tickets are on sale September 1-26, 4 tickets for only $35. Please join us September 29 through October 9 for the 2022 Tulsa State Fair!