Scott Taylor – Local artist celebrates creativity, color and kids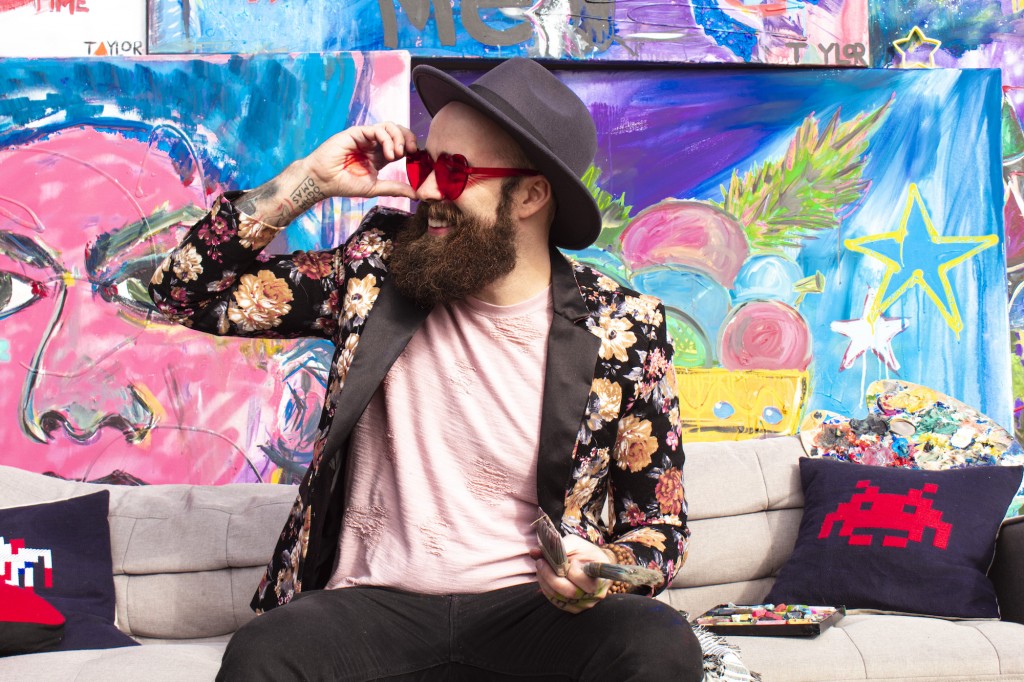 Scott Taylor has always had an artistic and creative personality but didn't put brush to canvas full-time until just a few years ago. Prior to embarking on his career in contemporary art, he had the idea to create a company that would help connect clients and patrons with local art. Taylor founded ColorPop Art Lab in 2012, which is essentially "a one-stop-shop" for commissioned art, connecting artists to clients.
It wasn't until a local decorator friend encouraged him to paint a piece to display in a Designer Showcase home that he publicly shared his art. That first piece sold immediately and launched his career as a contemporary pop artist. Now, only four years later, he's opened his own gallery on Cherry Street.
He will be the first to admit that it hasn't always been easy to make a living as an artist, but his entrepreneurial spirit and drive to boldly create have synergized; he has cracked the code for "How to Make Money as an Artist," which is the title of his podcast.
Scott's artistic career is much like his personality: down-to-earth, engaging and energetic, while demonstrating the characteristics of kindness, joy and positivity.
TK: What brought you to Tulsa?
Scott: Well, I'm originally from South Carolina. After spending a few years in California in my early 20s pursuing acting, I think I was just ready for something new. So, I decided to settle down here in good ol' Tulsa, Oklahoma, and figure out my next step. Thought I'd only stay here a year, but I fell in love with the place.
TK: How did you get started in art?
Scott: I doodled as a kid but didn't take it too seriously. I've always been attracted to creativity. Art, movies, books, video games, all of it. I always enjoyed the creations of others but just didn't do much of it myself. But once I painted that first Designer Showcase painting, I was hooked. I couldn't stop! It was like there was this whole other side to me that had a voice. It changed my life, and I have been painting full-time ever since.
TK: What do you remember about that first piece you sold?
Scott: Oh man, I remember that Designer Showcase like it was yesterday. I was definitely nervous because I had never done anything quite like that before. But I just figured I'd go for it and do the best I could to create something that I was happy with and proud of. That's all you can really do as an artist sometimes. I am just grateful that may friend asked me to do it because that one moment catalyzed an entire journey that I never saw coming! That's why I am really big on encouraging and believing in your friends. You never know sometimes how life-changing a kind word or fun opportunity can be for someone!
TK: What advice would you give to others thinking about pursuing a career in art?
Scott: Well, right out the gate, I would say GO FOR IT! Tulsa is a wonderful and supportive launchpad for creatives and artists, with tons of awesome arts organizations and non-profits always ready to lend a hand. On top of that, there is just a lot of opportunity here if you are willing to put in the work. Also, I think it's really important as artists to support the work and successes of our peers. The rising tide lifts all ships, and the collective artistic successes of local artists here in Tulsa benefit us all in our industry. So, support your artist friends!
TK: Do you have a personal mission statement? If so, what is it?
Scott: I would say my personal mission statement, in other words, my goal each day, is simple: To do my best to leave each place, thing and person I interact with better than I found them. I want to be, in my art as well as in my life, a positive, happy and encouraging presence in the world around me.
TK: Do you love what you're doing every day?
Scott: Every day, I'm just so grateful. I love what I'm doing, and I feel like the trajectory of my career is going where I want it to. But it's not always easy or great, and I have bad days just like anyone else. I think the key is trying to find that gratitude in the middle of the journey and in the ups and downs of the pursuit.
TK: Do you have a mentor?
Scott: Yes, I have a lot of artists locally that I look up to. There are far too many to name here, but one in particular that I admire is my friend Josh Stout. He really has worked hard to build his art career locally and beyond, so it's a joy to see his success. But really, I am encouraged and inspired by every single artist working to put their craft out in the world. It's not easy, so all of you in Tulsa inspire me every day!
TK: Can you describe the Scott Taylor brand?
Scott: My personality is really infused into everything that I do. I really try to incorporate themes that are a part of my value system: loving others, being present, being kind, checking in on your friends. I feel like these values are important to our humanity. My paintings are the way they are because I want people to feel connected and happy when they see them – it's all coming from my personality and how I perceive the world around me.
TK: How much has social media helped your career?
Scott: It's been a huge asset for me. Social media gives businesses and brands the ability to reach more people easier than ever before. So, from an entrepreneur perspective, it's a very effective tool that, when used correctly, can truly grow your brand.
TK: Why do you think creating art is important for kids?
Scott: Getting kids involved in and excited about art at an early age has proven to yield all kinds of neurological benefits including increased critical thinking, problem solving and thinking outside the box! Plus, I can't tell you how important it is for kids to be encouraged early and often that they have a creative voice that is important and needed.
TK: During the pandemic, you provided complimentary virtual art classes for kids.
Scott: I did! I decided during the lockdown to offer free virtual super-hero drawing classes for kids over Facebook. As a parent myself, I knew the kids were home and bored, and it wasn't the easiest time for parents to keep their at-home kiddos occupied, so I wanted to create some fun and educational entertainment for them to do. The classes had become so popular that parents started asking me about continuing on with private lessons, which I have been doing since then. I absolutely love those.
TK: What do you enjoy about teaching art to kids?
Scott: Wow. Big question. So many things. I consider it such a high privilege to be able to pour into young artists week after week. Seeing them connect with their art in a meaningful way and helping them feel confident about what they uniquely can bring to the table is just the best feeling ever. My approach considers, "How can I come alongside you to help you continue to grow and evolve? And how can I make it fun?" Kids learn at a quicker pace when they are learning something they enjoy, so I focus on finding out what that is and building from there! I have class slots on Saturdays and Sundays, and to enroll, all you have is call or email!
TK: Do you have business goals as an artist, and how do you go about setting them?
Scott: I do have goals. You can't expect things to happen if you don't do anything to progressively move toward said goals. I've really been focusing on implementing short-term, 90-day goals so I can make sure to have time to work on them a little each day but also time built in for rest.
TK: Great segue! How do you rest?
Scott: The hard thing about being an entrepreneur is that I can always be working. Resting can be difficult for me, but one of the ways I do rest is by instituting clear time boundaries on doing work/thinking about work. It's easy to get immersed in your business and mentally connected to it 24/7. Setting clear time boundaries ensures that you control the work, instead of the work controlling you. I also really try to shut my phone off in the evenings and just enjoy hanging out with my son, reading, playing piano, etc.
TK: Congratulations on your new gallery! It just opened in December 2021! Where can people find it?
Scott: Thanks! It's located next to Panera on Cherry Street. Look for the mural painted on the wall that says, "Surround yourself with happy." What a thrill to have been able to open that space up! And to have such a fantastic grand opening turnout – over 500 people! I'm still in shock. Tulsa has been so supportive, and it has been just amazing to see. The gallery itself is a great place to see originals, prints, apparel and more, but I also have a small pop-up in Mother Road Market on 11th, and that space has a lot of fun stuff in it, too!
TK: What haven't you done yet that you'd like to do?
Scott: So not everyone knows this, but I actually wrote a children's book back in 2014 on dealing with trauma and building emotional literacy. The manuscript and illustrations are done, but I have just been so darn busy I haven't been able to release it. So, yeah, definitely officially releasing that book would be on the list.
TK: What's next for you?
Scott: Well, I'm thankful to say I am busy working on a number of commissions that I'm super excited about. Art has the power to really elevate your mind, touch your heart, to make you see the world differently and honestly, to change your life. So being a part of that experience for my clients and patrons is just incredible.
To find out more, visit: Scott Taylor Gallery on Cherry Street, 1608 E. 15th Street, Tulsa, OK 74120; scotttaylorartgallery.com ; Scott@scotttaylorartgallery.com; Instagram: @thatscotttaylor and @scotttaylorartgallery
You can listen to Nancy's visit with Scott on the Sharing Passion and Purpose Podcast: sharingpassionandpurpose.com.
Nancy A. Moore is a Public Relations Coordinator at Montreau, Adjunct Professor at Tulsa Community College, and has been writing for TulsaKids for almost 20 years.
---