TulsaKids' Special Needs Resource Directory
This is a collection of resources to help families with children with special needs in the Tulsa Area.
7608 E. 91st St.
Tulsa, OK 74133
918.663.0606
www.therapyworkstulsa.com
Working wonders in children's lives for over 35 years, TherapyWorks offers physical, occupational and speech therapy at its outpatient clinic in Tulsa. TherapyWorks helps children with Autism Spectrum Disorders, ADHD, sensory processing, Down syndrome, balance and coordination, orthotics, sports injuries, cerebral palsy, torticollis, fine motor skills, handwriting, speech, language, oral-motor skills, swallowing, feeding, picky eating, food allergies and intolerances and many more neurological and physical impairments. One-on-one treatment is provided by specialized, experienced pediatric therapists. To learn more about TherapyWorks, call 918.663.0606 or visit www.therapyworkstulsa.com. Tulsa's oldest most respected pediatric clinic. We can work wonders in your child's life. Call us today!
---
6022 S. Yale Ave.
Kingspointe Village
Tulsa, OK 74135
918.488.8991
www.brainbalancecenters.com
Brain Balance of Tulsa offers a comprehensive, drug-free program that helps kids overcome their behavioral and learning difficulties enabling them to reach their social and academic potential. If your child suffers with behavioral issues, ADHD or a learning disability then you've experienced their painful frustration and lack of confidence both academically and socially. At Brain Balance Achievement Centers, we can help your child achieve success behaviorally, socially, and academically. We are specialized achievement centers that utilize a drug-free, whole-child approach to address the underlying issues in many of the behavioral, developmental and learning disorders that plague so many children today. Call us today to schedule your free consultation!
---

---
Dr. Penny Stack
8118-B S. Memorial Road
Tulsa, OK
918.313.5518
penny@dyslexiatulsa.com
www.dyslexiatulsa.com
Your child's reading success is our passion! Our expert team of occupational and speech therapists as well as teaching staff bring the perfect blend of evidence-based research supported medical and educational theory to address the "why" of reading struggles and the "how-to" reading mechanics. To ensure your child achieves their maximum learning potential we also provide services for printing and cursive handwriting, test strategies, organizational skills, time management, test prep and much more!
---
P.O. Box 4423
Tulsa, OK 74159
918.855.0817
www.hopescrossingcamp.org
Hopescrossingcamp@gmail.com
Hope's Crossing Camp is a FREE one-week summer day camp for kids with disabilities, June 1-5, 2020. Campers' challenges include cerebral palsy, Down syndrome, heart disease, cancer, spina bifida, and scoliosis. Hope's Crossing Camp is held at Camp Loughridge in West Tulsa and activities include canoeing, archery, games, swimming, diving, basketball, soccer, zip line, fishing, arts and crafts, and more. Campers are matched one-to-one with a Counselor. Apply at www.hopescrossingcamp.org.
---
Kim Knapp
6715 E. 41st St.
Tulsa, OK
918.806.0106
info@htrpediatrics.com
htrpediatrics.com
Established in 2005, HTR Pediatric Therapy provides Physical, Speech and Occupational Therapy to children ages 0-21. We know there is no one solution to fit every patient, which is why our team of therapists work together to create plans that will foster your child's individual success. Our goal is to increase your child's abilities through the use of functional and fun therapy so your child can maximize their outcomes. Our therapists specialize in a wide range of diagnoses, including treatment of the medically complex child. Utilizing cutting edge interventions, we are the only clinic in Oklahoma to provide therapy in the Universal Exercise Unit, aka the "spider" cage! All the way from Europe, treatment in the "spider" cage consists of bungee cords which provide extremely dynamic support, allowing our therapists to strengthen isolated muscles with goals of sitting, standing and walking in a child with cerebral palsy or other neurological conditions. We also specialize in custom wheelchair seating, treatment of Pediatric Incontinence and feeding therapy for oral aversions, oral motor and feeding issues. At HTR Pediatrics, we passionately believe that every family deserves a place to turn when they need help.
---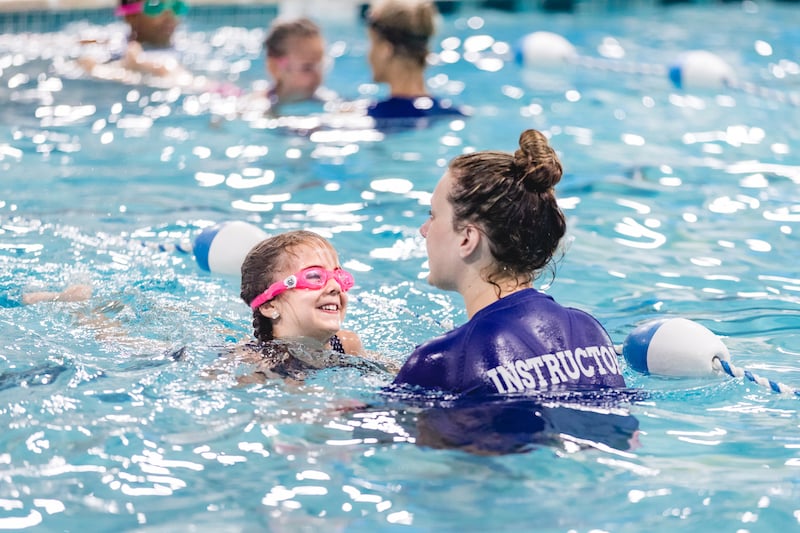 6415 S. Mingo Rd.
Tulsa, OK
MILLER SWIM SCHOOL JENKS
525 W. 91st St. S.
Tulsa, OK
918.254.1988
www.millerswimschool.com
Miller Swim School has been teaching Tulsa and surrounding communities about water safety for over 60 years. We offer private or group swim lessons with our highly trained instructors for students with disabilities or special needs. Individuals with special needs can benefit from swimming to increase confidence and self-respect, as well as improve physical strength and coordination. Most importantly, ongoing swimming lessons reduce the risk of drowning by 88%, an incident students with special needs are at a higher risk for. Swim lessons offer social interaction, joy, friendship and a sense of accomplishment. We offer year-round swim lessons for ages 6 months to adult, as well as a Special Olympics swim team, and a partnership with Autism Tulsa to scholarship swimmers on the Autism spectrum. Miller Swim School is an authorized American Red Cross provider and a member of the United States Swim School Association.
---
Sarah Koehling
1911 West C St.
Jenks, Oklahoma
918.409.0157
office@tulsaspeech.com
www.tulsaspeech.com
Looking for individualized therapy in a more intimate setting for your child? Speech and Beyond Pediatric Therapy provides Speech, Occupational and Physical Therapy to children at our out patient clinic, conveniently located in Jenks. We also provide Dietary services, Feeding Therapy from SOS-trained therapists and Counseling.
We serve children of all ages and abilities, up to the age of twenty-one. Our therapists provide a multi-disciplinary approach to meet every child's individual need.