Home Improvement: TulsaKids' Family Favorites Winners & Finalists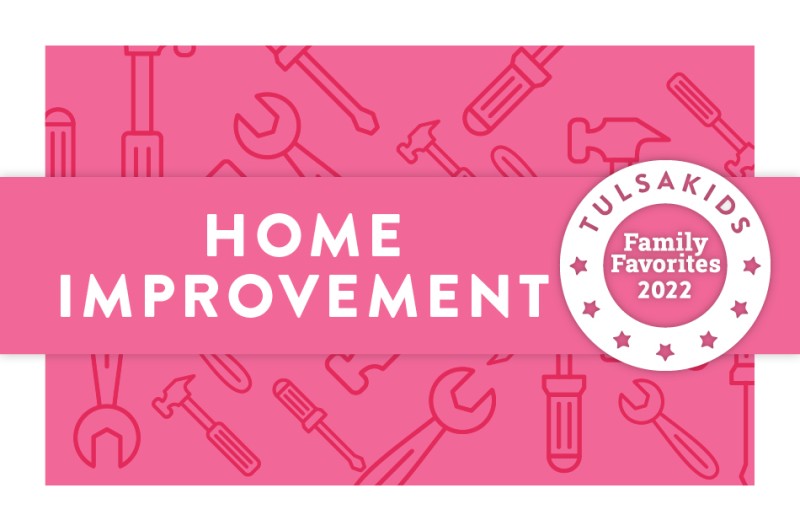 When a major appliance fails or you hear the patter of little feet inside walls of your house, don't fret: These Tulsa professionals are here to help! Find everything from the best exterminators to the best lawn care service, electricians and more, as voted on by the readers of TulsaKids Magazine!
And find the rest of our Family Favorites Winners & Finalists here.
FAVORITE LOCALLY OWNED APPLIANCE STORE
Parents like the personal customer service they get at Hahn. Locally owned, Hahn Appliance Warehouse has been serving families in and around metro Tulsa since 1958.
Finalists: Lowe's Home Improvement; Metro Appliances & More
FAVORITE INTERIOR DESIGNER
The family home should be the comfortable place that brings everyone together. Britany Luth combines the beautiful and the practical to create a home that will bring your dreams to life.
Finalists: Birdy Design; Emily Davis, Emily Davis Interiors
FAVORITE FURNITURE STORE
TulsaKids' readers voted Mathis Brothers as their top Family Favorite because they know they can outfit every room in their house with beautiful and affordable furniture in any style.
Finalists: TA Lorton; West Elm
FAVORITE RENOVATOR
Families who want to bring their older homes back to life, call Born Again Restored. For those who are ready to start new, they can do that as well. Even a smaller refresh can make a house more pleasant and livable.
Finalists: ReHome Remodeling & Construction; Rossi Brothers Company
FAVORITE HOME CLEANING SERVICE
Magic Maids of Tulsa
Not only does this cleaning business clean homes and commercial spaces, but they also give back. Magic Maids of Tulsa partners with the nonprofit Cleaning For A Reason, which cleans homes to help women battling cancer. Magic Maids has a 100% satisfaction guarantee and will re-clean for free.
Finalists: ICleanIt; Nook & Cranny Homekeeping
FAVORITE HEAT & AIR SERVICE
Online scheduling, coupons and quick home service for heating, air conditioning and plumbing make Airco Service and easy top pick for parents.
Finalists: Brad's Heating & Air, Inc.; Quality Heating, Cooling & Plumbing
FAVORITE PEST CONTROL
Termites, mice, spiders, bed bugs! Oh, my! From pests to lawn care, Mother Nature's Pest & Lawn can protect you and your family from weeds, bugs and other scary stuff.
Finalists: Creepy Crawlers Pest Control; Sure Shot Exterminating, Inc.
FAVORITE LAWN AND GARDEN CARE
Shop their extensive plant collection – shrubs, trees, perennials, herbs and annuals – whatever you need to beautify your landscape. Don't have a green thumb? That's OK. Southwood can design and install everything for you.
Finalists: A Cut Above Lawn & Landscaping; Mother Nature's Pest & Lawn
FAVORITE PLANT NURSERY
Southwood wins in a second category – this garden center has everything from shade plants to indoor greenery to trees.
Finalists: Riddle Plant Farm; Sanders Nursery & Distribution
FAVORITE HOME SECURITY
Moms and dads have enough to worry about without the stress of burglaries, car thefts and porch pirates. ADT Security gives parents peace of mind with a comprehensive security package.
Finalists: Advance Alarms, Inc.; Alert 360 Home Security
FAVORITE ELECTRICAL SERVICE
Scared of the dark? Murray Electric can get you back on track 24 hours a day, 7 days a week. Small and large electrical repair or new construction, Murray can turn it back on.
Finalists: Doug's Electric; Elliott Electric Supply
FAVORITE PLUMBING SERVICE
Tulsa area parents want someone they can trust when they have a plumbing problem. Williams is licensed, bonded and insured, so you know they'll do the work. Locally owned, they can get that leak fixed in no time.
Finalists: Wooten Plumbing; Duvall Plumbing Co.