Holiday Lights and Trees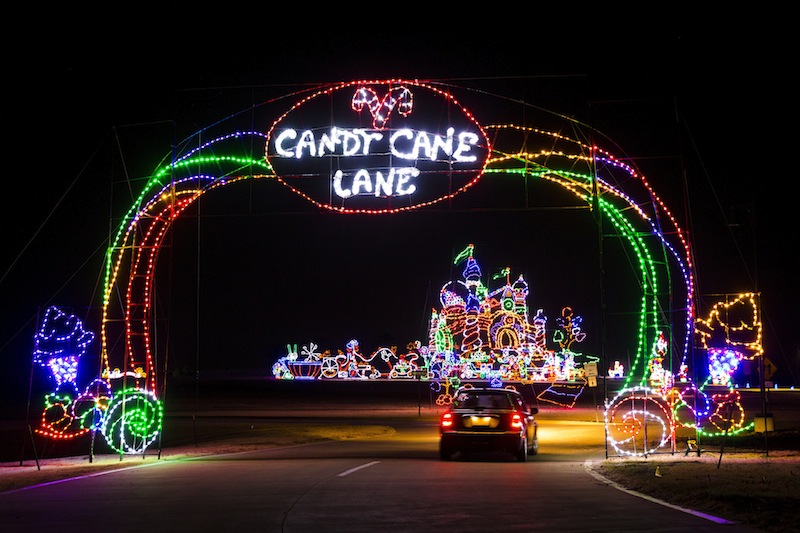 Nothing gets people in the holiday spirit quite like brilliant displays of sparkling lights and the cozy sight of a decked-out Christmas Tree! Continue reading to learn where to find some of the area's best holiday lights!
When: October 22-December 14
Where: Broken Arrow History Museum, 400 S. Main St., Broken Arrow
The Museum Broken Arrow will welcome the Christmas season with a showcase of community donated and decorated trees at their annual Christmas Tree exhibit. Museum visitors are encouraged to bring an unwrapped toy suitable for children under 12 to be donated. www.brokenarrowmuseum.org
---
When: Thursday, November 14, 6-9 p.m.
Where: Rose District Plaza, 418 S. Main St., Broken Arrow
The holiday shopping season officially begins in Broken Arrow! Hosted by the Broken Arrow Main Street Merchants Association, the Festival begins at 6 p.m. at the Rose District Plaza, where City Leaders will turn on the Rose District Christmas tree and lights will illuminate the district. The ice skating rink at the pavilion opens immediately after the lights come on. After the lights come on, visitors can enjoy the rest of the celebration with merchant giveaways, specials and more! brokenarrowok.gov
---
When: Saturday, November 23, 12-8 p.m.
Where: Riverwalk Jenks, 300 Riverwalk Terrace, Jenks
Head to the Jenks Riverwalk for a Lights On! Celebration, complete with live music, games, food, activities, candy and more from from 12p-8p in celebration of the holiday season and Christmas.
---
When: November 27-January 1, 5:30-11:30 p.m. (Opens at 6 on Wednesday, Nov. 27)
Where: Rhema Bible Church, 1025 W. Kenosha St., Broken Arrow
Rhema's Christmas Lights Extravaganza began in 1982 with about 60,000 lights. Today, more than two million lights adorn the campus from Thanksgiving Eve through New Year's Day. The glittering lights will shine every day from 5:30-11:30 p.m. Admission is free. www.rhemalights.org
---
When: November 28-January 1, 5:30-10 p.m.
Where: The Castle of Muskogee, 3400 W. Fern Mountain Rd., Muskogee
Drive through Castleton Village, filled with over 2,000 holiday displays and thousands of colorful lights, creating an unforgettable experience. Open every night, Thanksgiving through New Year's, 5:30-10 p.m. Drive-through is free; donations accepted.
Other activities, including visits with Father Christmas a cafe, train rides through the village, and more, are available certain days for an additional fee. Learn more at www.okcastle.com.
---
When: November 28-January 1, 5:30-10 p.m.
Where: Honor Heights Park, 1400 Honor Heights Dr., Muskogee
The beautiful Honor Heights Park comes alive with lights in the evenings. From Thanksgiving through New Years Day, visitors can enjoy a stunning drive through a holiday delight. The drive-through display includes over 1.2 million shimmering lights, enhancing the natural beauty of the park's gardens, waterfalls and ponds with holiday displays the whole family will love. www.visitmuskogee.com
---
When: Thursday, Nov. 28, 6:30 p.m.
Where: Utica Square, 21st and Utica
Put away the turkey, bundle up the kids, and head over to Utica Square for Lights On! For the last 51 years, Lights On has evoked the holiday spirit in all who attend. Sip on some hot chocolate as you sing your favorite holiday carols. As for the little ones, Santa Claus will join to conduct the final countdown when over 1,000,000 lights, adorning 175 trees, light up the evening sky. This Thanksgiving, make a Tulsa tradition a family tradition at Utica Square. www.uticasquare.com.
---
When: Friday, Nov. 29, 6-9 p.m.
Where: Chandler Park, 6500 W. 21st St.
Chandler Park will flip the switch for their Lights on the Hill at 6 p.m. Meet inside the community center for refreshments and fun! Then cruise the park and see all the lights! Lights can be viewed Friday through Sunday, November 30-December 15, and daily, December 16-26, 6-9 p.m. Parks.tulsacounty.org
---
When: Fridays, Saturdays and Sundays, Nov. 29-Dec. 22, 5-9 p.m.
Where: Woolaroc Museum & Wildlife Preserve, 1925 Woolaroc Ranch Rd., Bartlesville
A wonderful holiday tradition returns again this year at Woolaroc Museum & Wildlife Preserve, with the spectacular Wonderland of Lights. The grounds and buildings of Woolaroc will be covered with over 750,000 lights as the historic ranch transforms itself into a magical winter wonderland! Admission to Wonderland of Lights is $6 for adults and $1 for children 11 and under. www.woolaroc.org
---
When: Weekly, Thursday, Friday, Saturday and Sunday, November 29-January 5, 5-10 p.m.
Where: Tulsa Botanic Garden, 3900 Tulsa Botanic Dr.
Get more information at www.tulsabotanic.org.
---
When: Saturday, November 30, 5-8 p.m.
Where: Charley Young Event Park, 50 W. Dawes, Bixby
This Lights On! event will feature the opening of Charley Young Event Park's ice rink, live music by Branjae, live reindeer and Santa Claus!
---
When: Sunday, December 1, 5-7 p.m.
Where: Blue Whale of Catoosa
It's the lighting of the Blue Whale! Complete with caroling by the Catoosa School Choir and complimentary hot chocolate, coffee, cookies and candy canes. Rock House Church will have a donations box if you want to bring an unwrapped toy (not stuffed).
---
When: December 2-31, 6-9 p.m. (Excluding December 25)
Where: Chickasaw Cultural Center, 867 Cooper Memorial Dr., Sulphur
Embrace the holiday season with a spectacular drive-thru light display at the Chickasaw Cultural Center's Celebration of Lights.The Chickasaw Cultural Center's light extravaganza features dozens of displays with traditional Christmas themes, as well as its own unique cultural additions. www.chickasawculturalcenter.com
---
When: December 2-31, 2019 (Excluding December 25)
Where: Chickasaw Cultural Center, 867 Cooper Memorial Dr., Sulphur
In the spirit of Christmas, departments from across the Chickasaw Nation decorate a tree in accordance with the selected theme and votes are cast for the best tree.
This year's Festival of Trees theme is "Celebrating Christmas Through the Decades." Be sure to stop by the Aapisa' Art Gallery to view all the amazing trees and vote for your favorite! www.chickasawculturalcenter.com
---
When: Friday, November 29, 6-9 p.m.
Where: Guthrie Green, 111 E. M.B. Brady St.
Guthrie Green is excited to announce its first Holiday Market: 8 Days of Celebration, November 29th through December 6th, 2019!
Each day will mark a special holiday theme that includes live music, food, hot drinks, and several local vendors selling their items in clear igloos surrounding the urban park. This fun and unique experience is a first for the Tulsa community, and will be a destination for all ages to celebrate.
Friday, Nov 29th: LIGHTS ON!
LIGHTS ON ceremony with be hosted by KOTV news anchor, Craig Day, and will feature live music, Santa Claus onsite, holiday food items, and the new holiday market featuring over 15+ vendors
---
When: December 18-January 1, 5-8 p.m.
Where: Gathering Place, 2600 S. Riverside Dr.
Gathering Place will once again transform itself into a Winter Wonderland presented by American Airlines, spreading holiday cheer with special performances and carolers, a holiday market, festive food, holiday drinks, a train for kids, and of course thousands of twinkling lights turning our five-acre Adventure Playground into a festive holiday village! Don't forget to capture a holiday family photo with Santa Claus by the fireplace! Create holiday traditions and memories for the whole family at Winter Wonderland presented by American Airlines at Gathering Place. gatheringplace.org
---