Halloween Festival – Fall Fun to Frightening Thrills!
Friday and Saturday, September 29-October 28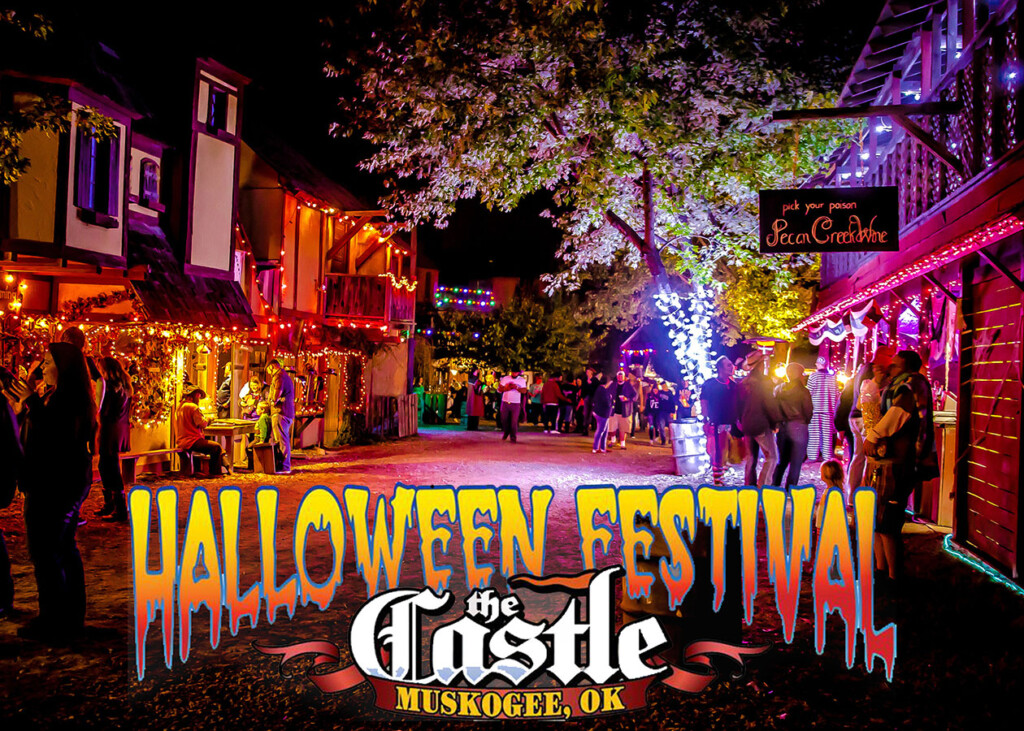 The Halloween Festival at the Castle of Muskogee is just around the corner! Only a short drive from Tulsa or Ft. Smith, the Ghost Hosts of Oklahoma's 60-acre park would like you to join them each weekend this fall!
Halloween is spooky business at the Castle of Muskogee and the resident ghouls have been working hard to ensure top thrills for all guests! The Castle Village is home to over 15 merchants that offer unique creations, festive costumes, thirst-quenching drinks and mouth-watering food options from savory to sweet!
The Circus has returned to the Castle's Cave. Jester's Revenge is the newest addition to the Halloween lineup. This haunt presents as a long forgotten fun house with a heavy dose of sinister clown. Guests will experience the terror of the jesters who reside in this carnival of fright. Gather your wits before entering because no one can predict what lies ahead!
Horror Fans:
Join us this October for Friday the 13th! Crystal Lake enthusiasts are encouraged to dress the part and join us for a themed night of this classic series. Domus Horrificus has been upgraded… The depths of your darkest fears come to life in this haunt. There are eerie hallways, twists and turns in this nightmarish realm. All guests beware of this terrifying five haunt. Perhaps the most infamous of the Halloween Festival is the Trail of Blood. Hearts race once guests realize they have suddenly been abandoned in the backwoods of the Castle.
Best Savings of the Month – OCT 6th – Canned Food Drive.
Guests may bring any canned food item in exchange for (1) half price haunt ticket. Guests may bring as many cans as they would like. Offer is not applicable on combos or the Train.
We now offer the Adventure Pack in addition to the Fright Combo! These are the bundle options for guests who plan to visit multiple activities at the festival and want to save $$ with their purchase. The Adventure Pack is geared towards the less scary haunts: Ultimate Maze, Haunted Hayride, Torture Chamber & Catacombs and the Zombie Hunt. When this family friendly bundle is purchased, your group is sure to have a spooky evening full of excitement. New for 2023, The Black House will be open and offering a not so scary petting zoo. Tickets are $5 and may be purchased online, at the Ticket Booth, or at the Black House.
Pro Tips:
Guests are encouraged to visit www.okcastle.com for event changes and details on pricing. The Castle is proud to offer five weekends of thrills. There are so many activities to do and see for this festival, we encourage guests to plan their night ahead of time. Gates open at 5:30pm each night, the Monster Dance is held at 6:30pm and the outdoor haunts will commence at dark. If you would like to maximize your evening, we cannot stress enough… FRIDAYS!
If guests are unable to visit on a Friday, we suggest a Saturday earlier in the month. These nights are ideal for guests who would like to enjoy a variety of haunts and activities in one evening. If you decide to purchase a Haunt Combo (Fright Combo or the Adventure Pack), you may redeem tickets on any evening of the 2023 season. If you are new to Castleton or bringing a group, we encourage you to message us on FB, IG or send an email to info@okcastle.com. We would love to help answer any questions you may have before your arrival!
When selecting a haunt/haunt combo, please utilize the Castle's Scare Rating as a guide. For example, at pumpkins, the Haunted Hayride provides eerie excitement without the residual nightmares. Within the Castle walls, guests may step up to by daring a stroll through Casa Morte or with Domus Horrificus. With a scale from 0 to 5 , The Castle has something to entertain everyone!
Parking and admission to the Halloween Village are FREE. Tickets must be purchased for attractions. Festival Hours: 6pm–10pm*
*Must purchase tickets by 10pm. Haunt remains open after ticket booth closes. Gates open at 5:30pm. Unaccompanied minors (Under 18) must have a photo ID to enter. Minors (under 16) must always be in attendance with a responsible adult.