Green Country Grown-Up: The Kallweits
Adopting through Oklahoma's Foster Care DHS Adoption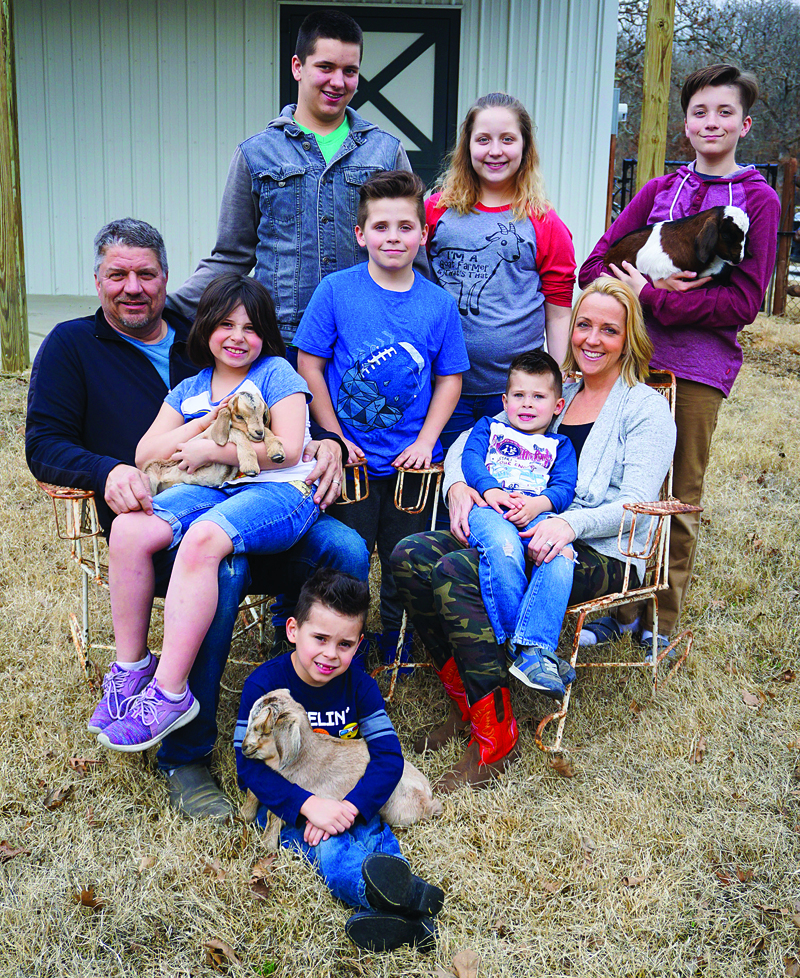 Adrienne Kallweit, and her husband, David, live outside their comfort zone, whether it's their business or their lifestyle. The Kallweits' adventurous and entrepreneurial spirits guided them into establishing and growing their babysitting franchise, but as time sped on, they felt they needed to grow in other ways. This has literally come to fruition by adding four more children to their family of five. Now, they have a total of nine in their family, and they did it through the help of Oklahoma's Foster Care DHS Adoption.
The Kallweit family, known lovingly to their family and friends as K-9, is a beautiful blend of two parents and seven siblings. It's been a little over a year since the families have merged into one, and now they couldn't imagine their lives any other way.
TK: When did your family become interested in being a foster care family?
Adrienne: Our business mission has revolved around keeping children safe and cared for by loving individuals and, because of that, we have experienced so many nudges directing us toward this path. But one really pivotal point was getting to know Blake, a friend of one of our biological children. We learned that he had been in and out of the DHS Foster Care system due to various family issues. Blake spent a lot of time at our house and would call often asking, "Do you need help around the farm?" just to find a way to come over. We knew that there were other kids, just like Blake, looking for a safe and loving place to land.
TK: When you decided to move forward on becoming a foster family, what did you have in mind?
Adrienne: Because of knowing Blake, we knew we wanted to immediately adopt rather than start through foster care. We wanted the opportunity to provide a forever home to children. We also wanted to help by keeping siblings together. We were matched with an adoptive sibling group after a year-and-a-half process of application, approval and then placement. "The Littles," as they were coined, came into our home first as foster placement, and then we were able to adopt after a waiting period.
TK: You have three biological kids, so adding more into the mix might seem overwhelming. What has helped with the transition?
Adrienne: From the moment we started this journey, we sat down with our three biological children to discuss if this was the right path for our family. This was a journey that the five of us took, which I think attributes to much of the success of our story. We took our oldest three through every step, reviewing profiles, meeting kids, planning the homecoming and answering "…where do we all sleep!?"
TK: Can you share any advice for others who might be considering caring for, or adopting, a foster child?
Adrienne: Just like having biological children, an adoption process takes time. We stuck to some great advice we received from a friend who recently adopted through the state of Colorado: "Stick to the goals that you have decided are best for your family and don't compromise as you go through the process." I knew what she meant soon after we began meeting some of the kids, as you literally want to help them all. We stuck to our goals to make sure the children we considered would fit with our family. We also had an amazing DHS worker who supported us, encouraged us and even became like family walking us through every step.
TK: What has been the most positive thing that has come from adopting four of your children from foster care?
Adrienne: A 1500-word article couldn't even begin to outline the "most positive" thing that has come from adopting The Littles. But if I was 1000 miles up looking down into this beautiful mess, what I would see is that it wasn't about us, it was about them. I see The Littles as their own beautiful tribe; they merged into our family from the minute they came home, and none of us can imagine life without each other, but I see their strength together. They will each be able to persevere through life because they have love, a safe place to land and were able to grow up in this life together.
TK: On the flip side, what has been the most difficult to adjustment with adding four more people to your family?
Adrienne: The laundry. Seriously, the laundry is insane. But I do think that it takes a special understanding of children to successfully transition to the blended family. Raising our older kids has helped equip us to handle behaviors that we might have struggled with and, in response, understand them as normal.
TK: What would your advice be to someone thinking about becoming a foster parent?
Adrienne: If you have even considered foster care or adoption, I would encourage you to take the first step and give DHS or one of the adoption agencies a call. You go through so many layers of understanding that you will know as you pass through each stage if this is something for your family. Growing our family has absolutely come with its challenges, but there hasn't been anything that God hasn't equipped us to handle. We wouldn't change it for the world.
TK: After going through the foster care system, is there one myth that comes to mind, and how might you address it?
Adrienne: Kids in the foster care system are just normal kids. They have middle school drama, need math tutoring, might not have mastered a milestone exactly on schedule. They also are gifted artists, skilled athletes or amazing inventors and just looking for someone to help untap or encourage these talents. And, like other normal kids they are full of love, even if hard to show because of the confusion or loss they may have experienced in their life. Just craving to be loved and share their love in return.
Nancy A. Moore is a Public Relations Coordinator at Montreau, Adjunct Professor at Tulsa Community College, and has been writing for TulsaKids for almost 20 years.