Gathering Place is Splashing into Summer with New Offerings
Park visitors can beat the heat with early hours, water-based events, and summertime treats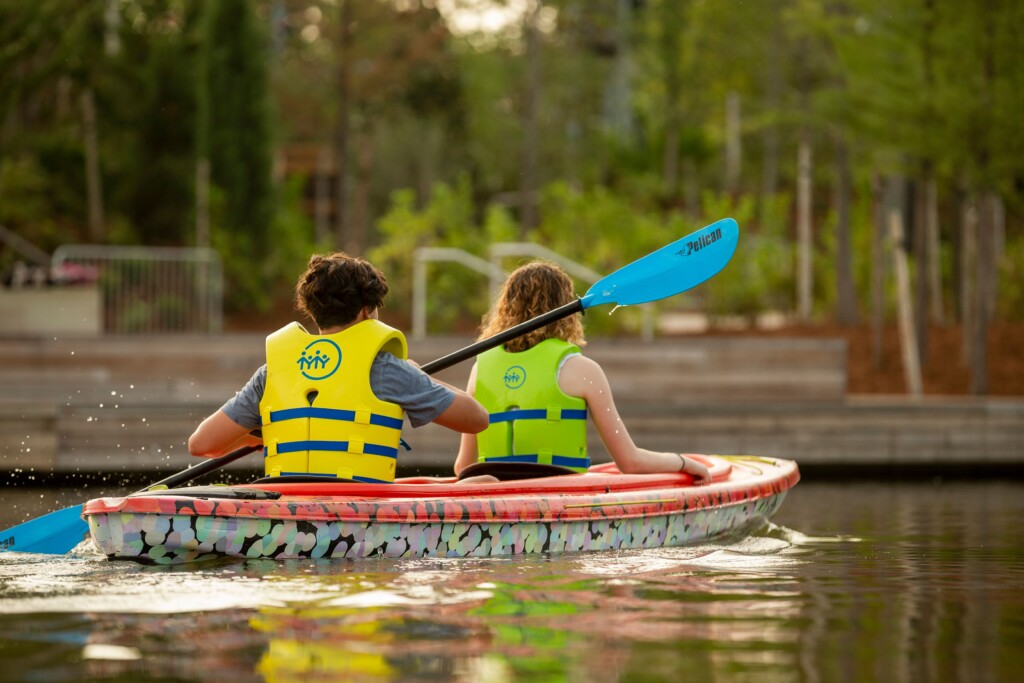 Tulsa is heating up, and Gathering Place is gearing up for summer with exciting new offerings. From early park hours to a weekly water-based event series and daily tasty treats, park guests can beat the heat and stay cool for the summer.
New Park Hours
Beginning on May 26, Gathering Place will implement new early hours allowing guests to enjoy the park ahead of the afternoon heat. Gathering Place, including all parking lots, Williams Lodge, and ONEOK Boathouse, will open from 7 a.m. to 9 p.m., daily. In addition, Gathering Place's water features including Charlie's Water Mountain, Water Maze, and free boat rides, will open for the season on May 26.
The park's new hours include:
Park hours: 7 a.m. to 9 p.m.
Chapman Adventure Playground: 7 a.m. to dusk
Williams Mist Mountain and splash pad: 9 a.m. to 8 p.m.
Charlie's Water Mountain: 10 a.m. to 7 p.m.
Energy Transfer Sports Courts, Skate Park, and Pump Track: 7 a.m. to 10 p.m.
Redbud Café: 9 a.m. to 9 p.m.
The Patio: 11 a.m. to 7 p.m.
Beat the Heat Event Series
Gathering Place will host free weekly water-based, hands-on activities for children this summer in partnership with Tulsa Regional STEM Alliance (TRSA). Beat the Heat is a fun and interactive way to learn about aquatic science and will take place every Tuesday beginning in June from 9 a.m. to 11 a.m. in various locations throughout the park.
Each Tuesday in the summer, Beat the Heat will present a new science experiment about buoyancy, precipitation, hydrodynamics, and other water-related topics. Throughout the summer, guests can journey through the different water features at the park—such as Charlie's Water Mountain, Williams Mist Mountain, Willow Beach, Wetland Gardens, and koi ponds—to learn more about a new scientific principle and engage with water activities to cool off and beat the summer heat.
Guests can find the location and science experiment for each Beat the Heat event on the park's event calendar.
Beat the Heat will take place every Tuesday from 9 a.m. to 11 a.m. in June, July, and August. The weekly series begins on Tuesday, June 6 and ends on Tuesday, August 29. Beat the Heat is free and open to the public thanks to Tulsa Regional STEM Alliance (TRSA).
Summertime Treats
Gathering Place is introducing new tasty treats to Redbud Café and The Patio to help guests refresh and recharge during summer days at the park. Guests can purchase soft drinks in new collectible souvenir cups featuring iconic park scenery and park mascots—Tulsey the turtle, Blue the heron, and Hazelnut the squirrel. In addition, guests can cool off with a Coca-Cola, blue raspberry, or cherry ICEE offered at The Patio.
In addition to the new offerings, Gathering Place will continue hosting free weekly events throughout the summer months. Visit www.gatheringplace.org for more information.