February 29 is Rare Disease Day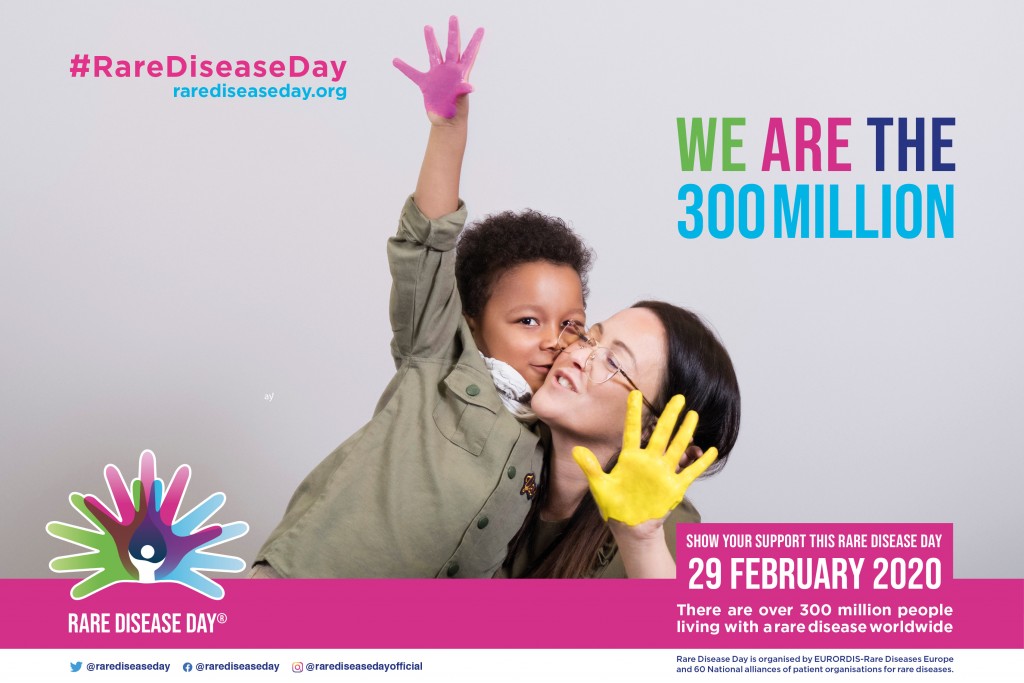 Fittingly, Rare Disease Day 2020 falls on the rarest calendar day, February 29. (Otherwise, it falls on the last day in February.) This isn't a date I had marked on my calendar, but a post by @thegfpd on Instagram alerted me. According to rarediseaseday.org, over 300 million people worldwide are living with a rare disease. While the diseases themselves might be rare, they affect a large number of people.
Other interesting statistics provided by the website are that there are 6,000 different rare diseases (find a list here). 72% of them are genetic, and 70% of those genetic rare diseases start in childhood. Learn more about what rare diseases are here.
The key messages for this year's Rare Disease Day event are: "Rare is many worldwide. Rare is strong everyday. Rare is proud everywhere." The day seeks to raise awareness of the people living with rare diseases as well as those taking care of them. According to rarediseaseday.org, "The long-term cause of the Rare Disease Day campaign is to achieve equitable access to diagnosis, treatment, health and social care and social opportunity for people affected by a rare disease."
#showyourstripes
The GFPD (thanks to Tulsa Times Two blogger Jen Kerckhoff for introducing me to this organization) is celebrating Rare Disease Day with the theme of "Show Your Stripes." People are invited to wear stripes on February 29, and share their photos on social media using the hashtags #rarediseaseday and #showyourstripes. You can also tag @rarediseasedayofficial and @thegfpd on Instagram.
Why stripes? The zebra is often associated with rare diseases because apparently medical students are taught, "When you hear the sound of hooves, think horses, not zebras." In other words, look for the more common diagnosis first. However, as there are rare diseases, obviously sometimes the sound of metaphorical hooves could be the zebra rather than the more common horse. (And you can imagine that this mindset, combined with a "lack of scientific knowledge and quality information" about rare diseases can make it more difficult for people to get a diagnosis of their rare disease.)
#rarediseaseday
Other ways to celebrate Rare Disease Day 2020 are just to use the hashtag #rarediseaseday and share statistics about rare diseases on social media. You can also find links to download the Rare Disease Day logo and Facebook frames here. And of course, you can advocate to policy makers on behalf of those with a rare disease. Read Rare Diseases International's paper on "Rare Diseases: Leaving No One Behind in Universal Health Coverage" here.
While I don't personally have a rare disease or other disability, I do know at least one person who does and have come across a few YouTube channels recently that give insight into what it can be like to live with a disability. The first two YouTubers mentioned below have both been diagnosed with a condition that is on the list of rare diseases; the third channel interviews a variety of people, some of whom may have a rare disease, others of whom do not. Listening to these channels has helped me question some of my assumptions about disability and accessibility, and I would encourage you to give them a listen!
According to the description in her YouTube bio, "I'm a deaf YouTuber who makes videos about my life with disabilities and chronic illness in a positive uplifting way, LGBTQ+ awareness and vintage fashion." I love Jessica's channel because not only does she have a fantastic British accent, making it very pleasant to listen to, she covers an impressive variety of topics, as you can tell from the description!
If you are interested in learning more about living with a disability or chronic illness, Jessica's channel has Playlists for both. A couple videos to start with are "10 Disability Misconceptions", "What NOT to Say to Your Disabled Relative" and, for further reference, "Disabled YouTubers I Love."
About Annie Elainey's channel: "On this channel, I create weekly videos (as long as my health allows) on various topics that include my observations and experiences with body image, gender, race, LGBT+, disability, chronic illness, and mental health. This channel also contains my creative work; I share music performances, visual art, pieces of writing, as well as uplifting influences and favorites in the creative arts."
Annie's channel is where I first heard about how banning plastic straws is dangerous for disabled people (watch that video here). (Jessica also has a couple videos about this.) Two other videos of Annie's that I learned a lot from were "Parking Lot Accessibility" and "How Hatred for Laziness Impacts Disabled People."
In the latter, Annie says, "If you are one of those people who laughs at, scoffs at, condescends or mocks products for being 'lazy,' then you, more often than not, are neglecting to consider accessibility. As a society, people hate 'lazy' so passionately, I don't fully understand it. I've seen people get more angry about people they assume are being lazy than people who have committed literal, horrible acts of violence. Is 'lazy' really the worst thing a person can be?" (For an example of this condescension, watch this video in which Annie reacts to reviewers' comments about the so-called 'laziness' of various products.)
While I've never written a review mocking a 'lazy' product, I couldn't guarantee that I haven't done so verbally, at some point in my life. I know I've been brought up to value hard work. It's such a clear reminder that our perspective is limited.
Chances are, you've heard of this one before. The SBSK channel has more than 2 million subscribers. In this channel, a man named Chris interviews "people in the disability/neurodiversity community." The purpose of the channel is to let people with disabilities, etc., share their stories.
According to the YouTube bio, "Founded in 2016, SBSK is a 501(c)3 organization that seeks to normalize the diversity of the human condition under the pillars of honesty, respect, mindfulness, positivity and collaboration. This multi-media movement supports the acceptance and celebration of all members of the neurodiverse/disability community regardless of diagnosis, age, race, religion, income, sexual orientation, gender or gender expression."
Watching the channel is a great reminder, again, that you should NEVER make assumptions about people–about their level of understanding, ability to communicate, etc. For example, this video features "Two Unique Brothers (A "Talkative Nonverbal" and his Brother with Treacher Collins)."
When the nonverbal brother is asked, "When somebody sees you and your brother out in public, what do you hope they think?" he replies, via sign language interpreted by his brother, "I hope they think, first, 'Wow, that guy has some good hair!'…But in all seriousness, I hope that when people see us out in public, they understand that we are people just like the rest of them. And yeah, we are different and yeah, there is more to us than our differences. But we don't ignore our differences. We embrace them and they are who we are. And we are proud of it. It's okay to accept who you are because it is the most powerful feeling in the world. To slowly, but surely, learn to love yourself."
A lot of videos feature siblings or parents of the person being interviewed, so you get their perspective as well.
---