Family Fun in Tulsa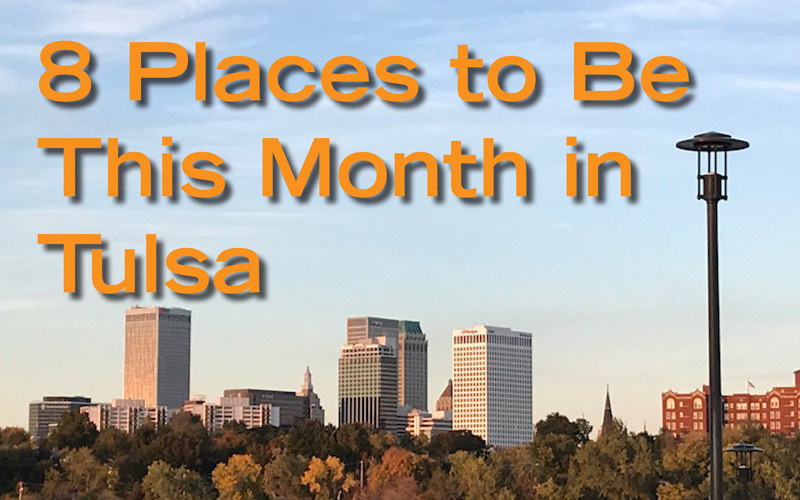 Green country is full of fun, family-friendly activities and events. Here are a few you won't want to miss this month!
January
When: January 4-9, various showtimes
Where: Tulsa PAC, 110 E. 2nd St.
Roald Dahl's amazing tale is now Tulsa's golden ticket! It's the perfect recipe for a delectable treat: songs from the original film, including "Pure Imagination," "The Candy Man," and "I've Got a Golden Ticket," alongside a toe-tapping and ear-tickling new score from the songwriters of Hairspray.
Willy Wonka is opening his marvelous and mysterious chocolate factory…to a lucky few. That includes Charlie Bucket, whose bland life is about to burst with color and confection beyond his wildest dreams. He and four other golden ticket winners will embark on a mesmerizing joyride through a world of pure imagination. Now's your chance to experience the wonders of Wonka like never before – get ready for Oompa-Loompas, incredible inventions, the great glass elevator, and more, more, more at this everlasting showstopper!
Recommended for ages 6 and up.
When: January 8, 11 a.m.-3 p.m.
Where: Hicks Park, 3443 S. Mingo Rd.
Birth Through Eight Strategy for Tulsa (BEST), in partnership with the Community Service Council's Power of Families Program, Gilcrease Museum and Tulsa Parks, will host a Three Kings Day at Hicks Park. The event will include a resource fair, food distribution, as well as culturally relevant processions, dances and other fun activities. Checkout the Gilcrease table to create your own Three Kings Crown. This indoor event is free and requires no reservations. Masks are requested.
When: Various Times
Where: Various Locations
We're thrilled that TCCL storytimes are being held in-person once again! Find a complete lineup at tulsakids.com/storytimes.
When: January 14-30, various showtimes
Where: Tulsa PAC, 110 E. 2nd St.
The timeless classic every family can enjoy!
Open-hearted Maria frees the Von Trapp family from rules and regulations with joy, laughter, and music. Guaranteed to be one of your favorite things.
When: January 17, 11 a.m.
Where: Corner of N. Detroit Ave. and John Hope Franklin Blvd.
The theme of the 43rd Annual Dr. Martin Luther King Jr. Commemorative Parade is "Hope and Action: The Fierce Urgency of Now." Parade viewers are encouraged to consider how they can help keep Dr. Martin Luther King's legacy alive.
When: January 17, 5-8 p.m.
Where: Tulsa Botanic Garden, 3900 Tulsa Botanic Dr.
Explore the sights and sounds of our native prairie and forest with a moonlit hike on our 1.5 mile Cross Timbers Nature trail. Take a self-guided walk at your own pace or arrive by 6 p.m. for a guided walk with horticulturist Matthew Southall. Comfortable shoes, warm clothes and red flashlights encouraged. Trail surface is mowed path and uneven surface rocks and cannot accommodate wheelchairs or strollers.
Warm drinks and other beverages as well as s'mores kits will be available for purchase before or after your walk, with fire pits nearby.
Event is come and go, last admission at 7 p.m. to ensure time to walk trail before event closes at 8 p.m. Dogs are not permitted at this event.
Pre-register here.
When: Various times (Find schedules here.)
Where: Mabee Center, 7777 S. Lewis Ave.
All kids aged 13 and under get in free to ORU men's and women's basketball games when accompanied by an adult. Ticket information can be found at oruathletics.com/tickets.
When: January 29, 7:30 p.m.
Where: Tulsa PAC, 110 E. 2nd St.
Experience Star Wars like never before! Jump in the Millennium Falcon and journey to Tatooine, Alderaan and beyond with a complete showing of Star Wars: A New Hope in high-definition, on a giant screen, with John Williams' Oscar® winning score played live by Tulsa Symphony. Luke Skywalker leaves his home planet, battles the evil empire and learns the ways of the Force in the iconic film that started it all.
© 2021 & TM LUCASFILM LTD. ALL RIGHTS RESERVED © DISNEY.
---