Godspell
When:
February 16, 2020 @ 2:00 pm
2020-02-16T14:00:00-06:00
2020-02-16T14:15:00-06:00
Where:
Tulsa PAC
110 E 2nd St
Tulsa, OK 74103
USA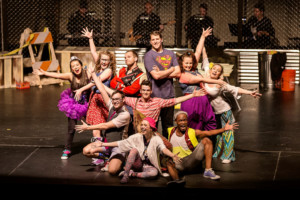 Tulsa Project Theatre, Tulsa's only Equity Production Company, presents Godspell, Valentine's Day 2020. At the behest of John the Baptist, young men and women forsake their jobs and take up the mantle of Jesus Christ  — becoming his disciples — in a musical retelling of the Gospel of Matthew set in a modern-day urban setting. Using song and dance, the apostles traverse the city, spreading Christ's message of love and tolerance as the time moves ever closer to his betrayal at the hands of Judas and, ultimately, his crucifixion.
"Godspell," the first hit musical by Stephen Schwartz ("Wicked"), features such songs "Day by Day," "Learn Your Lessons Well," and "Light of the World."
Shows run Friday-Sunday 2/14-16, and Thursday-Sunday 2/20-2/23 with one Saturday matinee 2/22, and two Sunday matinees at 2:00pm. All other shows begin at 8:00pm. Tickets are available at: https://www.tulsaprojecttheatre.com/tickets.html.
Comments
comments