TulsaKids' Enrichment Guide
TulsaKids' annual Enrichment Guide provides a list of extracurricular options in the Tulsa area for kids of all ages. Whether you're looking for art classes, tutoring, sports teams or more, these local businesses are here to ensure that your child has an enriching school year!
---
101 E. Archer St.
Tulsa, OK
www.ahhatulsa.org
Ahha Tulsa's Hardesty Center is the place for families to be creative together! THE STUDIO invites visitors to think like artists through open-ended exploration of media and creative challenges. In THE STUDIO, visitors select their own materials from a wide array of possibilities, generate their own ideas, and make their own creative products. Need creative inspiration? You'll discover even more ideas in the contemporary art galleries. Visit ahhatulsa.org/visit to plan your visit and find out what's new.
---
Aim High Main Campus
7020 E. 38th St.
Tulsa, OK
918.664.8683
Aim High North Tulsa Campus
3740 E. Admiral Pl.
Tulsa, OK
918.794.4774
Aim High Academy offers gymnastics, ninja, and dance classes. These classes not only teach strength, flexibility, balance, and coordination but also build self-esteem and confidence. Aim High Academy's mission is to combine Fitness and Faith to help build bright Futures. For more information on our classes or enrollment, log on to www.aimhighgym.org.
---
1400 N. Gilcrease Museum Rd.
Uncover arts and culture from the comfort of your own home with Gilcrease To Go! Gilcrease To Go are self-paced classes that offer a combination of live sessions via Zoom and activities your child can complete at their own pace. With Gilcrease To Go, students can learn to make their own comic book, explore pirate history and more!
Each class features an exciting theme designed for a specific age group and comes with its own goodie bag of materials. Class lengths vary from one to three days. Live sessions are staggered, so students may register for multiple classes at a time. Space for each class is limited, so register your student today!
---
Contact: Shawn McCorkle
4300 S. Butternut
Broken Arrow, OK
918.299.9283
www.kjmequestrian.com
KJM offers English riding lessons for beginner, intermediate and advanced riders at our conveniently located facility near 111th & Garnett for riders ages 7 and older. Students will ride our gentle school horses first in private lessons, with the option of moving to group lessons with riders of similar age and skill level. Pleasure riders will take lessons once per week, whereas the more serious riders that want to move into advanced classes or compete in horse shows may choose to take lessons more often. Lessons are available Monday through Saturday and are scheduled with one of our five professional instructors.
Please call us at 918.299.9283 to schedule an introductory lesson or visit us on our website at kjmequestrian.com.
Note: Our facility at 98th & Sheridan is currently used for Summer Camps, Pony Parties, and Therapy Rides for children with physical/mental disabilities. The latter is conducted free of charge as a way to give back to the community. We currently do not offer lessons at this location.
---
---
KnowledgeNest was built on a foundation of believing that parents and students should have more say in what education looks and feels like to them. Whether you are returning to school and looking for a tutor, or perhaps looking at transitioning to virtual or home school learning, there is a place for your family. You can even customize a package just for your needs.
Combining years of teaching experience with "outside the box" thinking, I offer unique approaches to learning no matter the subject. Students are offered choices in their learning, and that information along with their learning styles is used to build lessons just for them. I provide engaging and memorable experiences in which the student is given the tools and freedom to construct their own knowledge.
---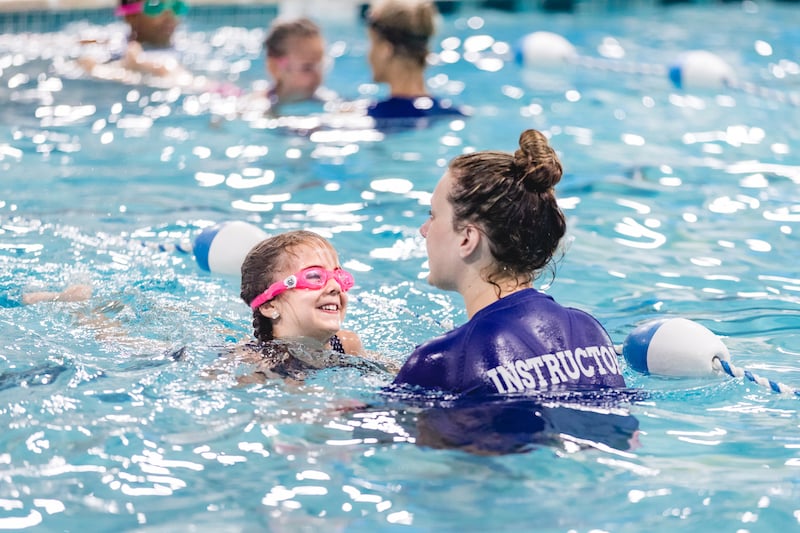 Miller Swim School Tulsa
6415 S. Mingo Rd.
Tulsa, OK
918.254.1988
Miller Swim School Jenks
525 W. 91st St. S.
Tulsa, OK
Miller Swim School has been in the unique business of teaching swimming for over 60 years. At Miller, our mission is to build a safer community, one family at a time, through swim lessons, water safety education and drowning prevention.
Swimming lessons are one of the best activities to keep a child active while providing them with a valuable set of life skills. Through participating in water activities, students are able to gain self-discipline, coordination, and balance. Studies have also shown that swimming lessons help children grow socially and intellectually.
At Miller Swim School, students are grouped according to both age and swimming ability in the water. Classes are offered year-round, both morning and evening at both our Tulsa and Jenks facilities. Year-round lessons are offered 7 days a week, with morning, afternoon, and evening options to work around your busy schedule! Safety is our number one priority, both in the water and out. Check out our website for our enhanced safety precautions to keep you and your family healthy this year! Smaller class sizes, social distancing in the lobby and waiting areas, and private lessons are all a part of keeping our safety plan!
Miller Swim School also offers party packages and open swim times, water aerobics, swim team, and triathlon training for families and friends to enjoy the pool year-round!
Check out our website for a comprehensive list of programs at www.millerswimschool.com and follow us on Facebook and Instagram for the latest news and specials!
---
300 Aquarium Dr.
Jenks, OK
918.296.3474
www.okaquarium.org
The Oklahoma Aquarium is the state's must-see attraction with thousands of fish from all over our aquatic world. From the world's largest collection of bull sharks to a 300-pound loggerhead sea turtle, there are many amazing fish to discover. Come see our newest exhibit, The Secret World of the Octopus, which features a 360-degree view of the mysterious and alluring giant Pacific octopus. Experience our interactive touch tanks with stingrays, sharks, and more, and then feed our turtles and other sea creatures for an up-close animal encounter. Children can enjoy our outdoor, coral reef-themed playground, and then see the different reef animals inside the aquarium. Join our experts during daily animal feedings, and then watch our dive shows as scuba-certified divers explore our tanks full of ocean wonder.
---
5817 S. 118th East Ave.
Tulsa, OK
918.249.0044
www.soccercitytulsa.com
Ages: 18 mos. – 9 yrs.
Step onto the field during any Lil' Kickers class and you will find it transformed into a world created just for your child. Our well-trained coaches will thrill your child with 50 minutes of highly creative, high-energy and age-appropriate activities that serve as a great introduction to soccer and help children master developmental milestones appropriate for their age. Because Lil' Kickers is first and foremost a child development program, our purpose is really to help children mature on all levels. Our program focuses on helping children build strong physical, intellectual and emotional skills that will help them be successful on and off the soccer field. We believe in teaching children in ways that suit their developmental level. So, you won't see adult-like skill drills in our classes, but you will see teaching methods specifically designed to create an atmosphere that is effective and fun. You will also see happy, confident and sweaty kids who are eager to learn and want to keep coming back for more. Whether your child is new to soccer or has already developed a love for the game, the progressive nature of Lil' Kickers offers a place for children at every level. Our convenient class times provide families options to accommodate multiple children and busy schedules.
Our fall session is set to start August 17. Fall registration will be open and the schedule will be available by July 15th. Come and join us and see why we have been voted a Family Favorite Best Soccer Program/Athletic League in Greater Tulsa since 2013!
---
Contact: Keally Lilly, Owner
10031 S. Yale Ave., Suite 105

,
(101st and Yale)
South Tulsa Dance Co. is celebrating 23 years of dance in Tulsa! Owner Keally Lilly is proud to offer the best training for kids of all ages in a positive atmosphere. "We encourage all of our dancers to work hard but also to have fun while doing so!" South Tulsa Dance Co. offers something for everyone! We have over 80 weekly recreational classes as well as competitive programs for beginner, intermediate and advanced dancers. We also offer tumbling, acro, voice, piano and musical theatre. NEW this year, we will be offering a special needs class free of charge. For more information, please contact Keally Lilly, keally@southtulsadanceco.com or call us at (918) 638-0629. Open House is August 2, 9 and 16 from 1-4 p.m.
---
610 S. Main Street

,
Suite 300
Tulsa

,
OK
74119
The bART Center for Music offers affordable music lessons for everyone ages 4 and up, including adults! Our programs include private lessons, music theory, composition, and community outreach.
This fall, lessons are available for Piano, Violin, Viola, Cello, Guitar, Ukulele, Double Bass, Flute, and Voice, and will be conducted in studio and online, with Music Theory and Composition conducted online only. Our beautiful Deco District facilities at 610 S. Main Street includes 8,000 square feet of space with 17 music studios, 2 large classrooms, and ample space for gathering, sharing music and small performances.
At the bART Center for Music, we are committed to providing our students with professional instruction and mentorship to meet all needs. Our teaching artists are experienced professional performing artists coming from diverse and knowledgeable musical backgrounds. Many of our instructors teach at local universities and/or high schools and perform regularly with local symphonies, as well as ensembles and bands around the Tulsa area. We are committed to supporting not only our students, but local artists and musicians in the Tulsa community as well.
---
806 N. Sycamore Ave

,
Broken Arrow

,
OK
74012
Tracie's School of Dance has been serving the Broken Arrow and surrounding communities since 1990. We have a variety of classes available for dancers ages 3 and older. We provide multi-class discounts as well as family discounts at affordable rates. Our class offerings consist of tap, ballet, pointe, jazz, lyrical, hip hop, leaps/turns and acro.
The goal of Tracie's School of Dance is to provide your child with a positive, rewarding, and nurturing dance education in a Christian environment.
Our focus is to ensure that each dancer can excel through all areas of dance in any given opportunity. We offer a variety of performance opportunities for the recreational or competitive dancer ranging from yearly recitals, nursing home performances, Nutcracker performances, dance conventions/competitions, bowl games, Macy's Thanksgiving Day Parade, Disney World performances and parades, just to name a few.
We have highly certified and reputable staff members who are able to teach all levels of dance from beginner through pre-professional. Training at our studio will provide age/level appropriate dance skills, self-confidence, knowledge in the art of dance, and poise. We believe that everyone succeeds!
Visit us at an open house August 2, 9, 16, or 23 from 2-4.
---
Broken Arrow Campus
HardestyCDE@tulsaballet.org
1901 W. New Orleans St.
Broken Arrow, OK
918.872.6414
Brookside Campus
education@tulsaballet.org
1212 E. 45th Pl.
Tulsa, OK
918.712.5327
Ages served: 3-Adult
Tulsa Ballet Center for Dance Education offers exceptional dance training to students from 3 years old to adult. TBCDE ballet classes follow a structured curriculum, and we offer diverse programming that is suitable for the novice dancer, for those that are seeking intensive training and for postsecondary dancers who are intent on a professional career in dance. With enhanced safety protocols in place and increased financial assistance for the 2020 School year, TBCDE offers a safe and fun dance environment with highly qualified and caring teachers. Both our Brookside and Broken Arrow campuses offer state-of-the-art studios with sprung floors as well as in-person and virtual class options. From Classical Ballet to Jazz, Tap, and Contemporary Dance, TBCDE has a location and class time that is convenient for you! Classes start soon for the 2020-2021 school year. Come join the TBCDE family!
---
Contact: Katie Girvin
6421 E. 36th St. N.
Tulsa, OK
918.669.6600
kgirvin@tulsazoo.org
www.tulsazoo.org
Discover wildlife with remote learning from the Tulsa Zoo's Education team! We are bringing the zoo to you with live, interactive programs for students PreK to college. Safari to the African savanna, climb into the cold, and trek to the tropics with virtual lessons and live animals. Learn about science and the natural world with grade-appropriate activities, unique content, and Q&A time for curious students — all facilitated by a Zoo Educator. Choose the next step in your journey at tulsazoo.org/outreach.
---
4820 S. 83rd E. Ave.
Tulsa, OK
918.622.5867
www.shouterspirit.com
Twist and Shout was established in 1996. We train all levels of athletes in Tumbling and Cheer throughout Oklahoma in Tulsa, Edmond and Norman for ages 4 and up! Our goal is to teach all level of athletes to progress in sport and character!
Our program offers:
*Competitive and Recreational Cheerleading
*Competitive and Recreational Tumbling
*PowerTumbling: a form of floor-only gymnastics
*Summer Tumbling and Cheer Camps
*Monthly Tumbling Clinics: One Saturday each month for 2 hrs. throughout the year
*Birthday Parties
---