Discovery Lab Updates
Information about the children's museum's new location and construction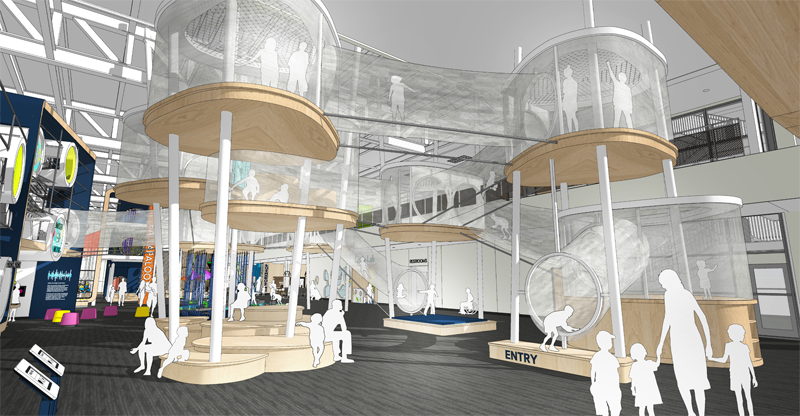 On this page, we will be sharing updates about the new Discovery Lab building, a key part of Gathering Place's Phase II.
The Anne and Henry Zarrow Foundation Invests $6 Million in Imagination Space
Donation Funds Discovery Lab Central Gallery for Children
July 13, 2020
Today, The Anne and Henry Zarrow Foundation announces a $6 million gift to Discovery Lab's $45 million capital campaign for a new children's museum/science center to anchor the southern end of Gathering Place. This momentous contribution will support education through play and include the naming and dedication of the Central Gallery in memory of Anne Zarrow. This area within the museum allows children to explore independently using their imaginations and taking risks while building skills like collaboration, problem solving, critical thinking, and innovation.
"This gift to Discovery Lab is a unique opportunity to celebrate Anne Zarrow's caring concern for children and families." Bill Major, Executive Director of The Anne and Henry Zarrow Foundation, said.
"We are forever indebted to The Anne and Henry Zarrow Foundation for this gift," Ray Vandiver, Executive Director/CEO of Discovery Lab, said. "Because of their generosity, Tulsa area children and families will have opportunities for fun, educational experiences and meaningful play for years to come."
"Mom really loved children. When she saw children in need, such as a child sleeping on the floor of a shelter who needed bedding and warm clothes, she responded. I know mom would appreciate the opportunities that the new Discovery Lab facility will provide. Opportunities to learn and experience adventures while building community with other kids and their families. This naming opportunity is a special way to honor her." Judy Kishner, Anne and Henry Zarrow's daughter and President of The Anne and Henry Zarrow Foundation, said.
The new 50,000 square-foot Discovery Lab will be at 31st Street and Riverside Drive on the south end of the Gathering Place and will feature interactive exhibits and programs focused on science, technology, engineering, art, and math (STEAM) and health and wellness curriculum. With over 250,000 visitors projected annually, the museum will serve families and all area schools, as well as, house, develop, and deliver programming for the Tulsa Public Schools STEM Center. The museum is currently under construction and projected opening date will be fall 2021.
Located at 560 N. Maybelle Ave., Tulsa, OK 74127, Tulsa Children's Museum Discovery Lab has been igniting the curiosity of children since 2007. Discovery Lab works to inspire children, connect families, and build community through exploration, exhibits, programming, and play.