On Display: Current Temporary Exhibitions at Tulsa-Area Museums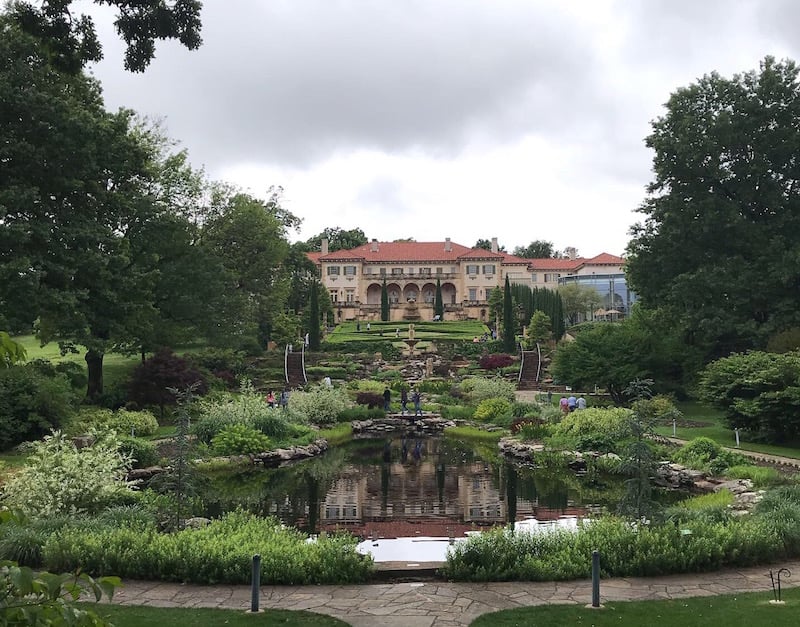 Looking to add a little culture to your day? Check out what's new at some of Tulsa's best museums!
Location: 101 E. Archer St.
Hours: Wednesday-Saturday, 12-9 p.m.; Sunday, 12-7 p.m.; Closed Monday and Tuesday
Admission, non-members: Adults: $10.95; Youth (3-17): $6.95; Two and under: Free
Temporary Exhibitions:
THE EXPERIENCE: IMAGINE: "This completely new art environment continues ahha's tradition of large-scale, semi-permanent, interactive art. When you visit THE EXPERIENCE: IMAGINE, you will explore zones designed and built by one of six Tulsa-based artists. Each has different interactive elements. What will you discover? Ahha is limiting admission during the pandemic, and THE EXPERIENCE is included with regular admission. Advance tickets recommended."
TAC @ ahha: "This year marks the 33rd Tulsa Artists' Coalition (TAC) juried exhibition. Selected from many submissions, the objects on view represent 99 recent work by 65 local TAC artist members. TAC is a volunteer run nonprofit organization of artists and art supporters, formed to encourage and support emerging and established contemporary artists, and to foster the development of new forms and multidisciplinary work in Tulsa and surrounding communities. Learn more at www.tacgallery.org." Learn more here.
---
Location: 31st and Riverside (Opening January 2022)
Temporary Exhibits:
Follow @discoverylabtulsa on Facebook for information about the opening of their new location!
---
Location: 1400 N. Gilcrease Museum Rd.
---
Location: 307 E. Reconciliation Way, Tulsa
Hours: Tuesday-Saturday, 12-5 p.m.
Temporary Exhibitions:
---
Location: 2727 S. Rockford Rd.
Hours: Wed.-Sun., 9 a.m.-5 p.m.; Fridays, 9 a.m.-9 p.m.; Closed Mondays and Tuesdays
Admission: Children 17 and under, Active Duty Military, College Students attending NSU, ORU, OSU-Okmulgee, OSU-Tulsa, OU-Tulsa, RSU, TCC, TU: Free; General Admission: $9; Senior Citizens (62+), College Students (with valid i.d.), Groups of 10+: $7
Temporary Exhibitions:
ANOTHER WORLD: THE TRANSCENDENTAL PAINTING GROUP: "In a period of great change and uncertainty, a small group of artists in New Mexico joined together in a mutual need to explore spirituality through abstraction. In 1938, the artists formed the Transcendental Painting Group, and over only a few short years created abstract works of art that are sensuous, emotive, and radiant explorations of form, landscape, and the human spirit." Continue reading. Open through February 20, 2022.
NEW WAVES: SIGNALS FOR CHANGE: "Since Philbrook's founding, the Museum has collected and exhibited work by Native artists who ask urgent questions about the future of Indigenous art, drawing on historical forms to propel them in fresh, unexpected directions. New Waves: Signals for Change features works by artists in Philbrook's collection, including Harry Fonseca, Fritz Scholder, and Jaune Quick-to-See-Smith, that continue to spark dialogues today, redefining how Native art is made, discussed, and shown. These figures defy and transcend limitations placed on Indigenous artists, or–as Jaune Quick-to-See Smith says–'break the buckskin ceiling.'" Continue reading. Open through March 13, 2022.
THE HUMAN CONDITION: DRAWINGS BY RICK BARTOW: "These three recent acquisitions–vibrant drawings that illustrate the full range of human experience in vivid color–will be on view for the first time at Philbrook. For Bartow, works like these were a way of working through and wrestling with the paradoxes and conditions that define us all." Continue reading. Open through March 13, 2022.
---
Location: 2021 E. 71st St.
Hours: Monday-Friday, 10 a.m.-5 p.m.; Saturday, 12-5 p.m.; Sunday, 1-5 p.m.
Admission: Adults: $6.50; Seniors (55+): $5.50; Students: $3.50; Children 12 and under, Teachers, Military and First Responders (with i.d.): Free
Temporary Exhibitions:
See website for details.
---
Location: 3624 N. 74th E. Ave.
Hours: Monday-Saturday, 10 a.m.-4 p.m.
Admission: Various options, including Museum-only admission and Museum + Planetarium admission. Find the best option for you
here
.
Temporary Exhibits:
Find a list of TASM exhibits and activities here.
---
Location: 102 E. M.B. Brady St.
Hours: Tuesday-Sunday, 10 a.m.-6 p.m.; Closed Mondays
Admission: Adult: $12; Seniors (55+): $11; Military (up to 4 persons): $10; College Student (with i.d.): $8; Youth (17 and under): Free
Temporary Exhibitions:
STRONGER TOGETHER: THE POWER OF WOMEN IN COUNTRY MUSIC: "Join us for a journey through the history of women in country music, from the early years and post-World War II, to the emergence of Nashville as a country music mecca, starting October 22.
Presented and curated by the GRAMMY Museum®, the exhibit will feature artifacts from such celebrated female country artists as Brandi Carlile, Maybelle and Sara Carter, Rosanne Cash, Caylee Hammack, Faith Hill, Miranda Lambert, Little Big Town, Patsy Montana, Maren Morris, Dolly Parton, Minnie Pearl, Margo Price, Taylor Swift, Yola and more." Learn more. Open through April 4, 2022.
---
Farther Afield
Temporary Exhibitions:
Tattooing: Religion, Reality and Regret: "Tattooing is a custom dating back thousands of years in North America. Traditionally, women and men used them to visually express tribal affiliation and war honors, as well as connections to divine beings, maturity rites, and social and religious affiliation. These expressions of identity continued on with the person after death—ensuring their place in the afterlife.
Today, tattoos have been adopted by military personnel, musicians, college students, and countless others. Although many are works of art, others, unfortunately, are not, and their permanence provides visual evidence of poor decision making, late-night drinking, and spring break events, many would rather forget! Explore these traditions and artistic expressions though paintings from the permanent collection and photographs from the Dickinson Research Center." On view August 27, 2021-May 8, 2022.
Temporary Exhibitions:
Perception and and Technique in Abstract Art: "In the years following World War II, many artists experimented by pouring, dripping, or thickly dabbing wet paint onto their blank canvases. They prioritized the act or event of painting over the final picture, creating abstract works where we see traces of techniques as opposed to traditional subjects. These artists took their lead from Jackson Pollock, famous for his drip paintings, and from Helen Frankenthaler, who poured paint onto raw canvas and then used brushes and other tools to produce washes of color. As Frankenthaler said: 'There are no rules, let the picture lead you where it must go.'
In opposition to the artists who took their lead from Pollock and Frankenthaler, there was another group of abstract artists, who produced works that made the artist's hand or physical activity mostly disappear. These artists produced paintings, sculptures, and prints that at first appear to be colorful exercises in geometry, with their precise circles, squares, and straight lines. However, through our own active participation as viewers, these equally experimental works yield illusionistic or even distorting effects that ultimately provide very different, at times almost hallucinogenic, experiences." Learn more here. Open through July 24, 2022.
For America: "Featuring 99 paintings created between 1809 and the present by masters such as Winslow Homer, John Singer Sargent and Andrew Wyeth, For America: Paintings from the National Academy of Design opens November 6, 2021 at OKCMOA and runs through January 30, 2022. These masterworks provide a unique history of American art as told by many of the best-known American artists." Read more. Open November 6, 2021-January 30, 2022.
Temporary Exhibitions:
North Forest Lights: "North Forest Lights is back for a third season in Crystal Bridges' North Forest. Enjoy an immersive nighttime walk through the woods featuring dynamic, nature-inspired lighting elements, and soundscapes. Five distinct installations will bring the soul of the forest to life with light, sound, and sensory effects in a captivating, family-friendly experience. North Forest Lights will be open in the evening hours after sunset Wednesday through Sunday." Continue reading. Open through January 2, 2022.
Julie Alpert: Altars, Keepsakes, Squiggles, and Bows: "This fall, step into the imaginative world of artist Julie Alpert in a new, site-specific installation: Altars, Keepsakes, Squiggles, and Bows. For this immersive exhibition, Alpert transforms a section of Crystal Bridges' Contemporary Art Gallery into a spectacle of pattern, color, and shapes like bows, drips, roses, hearts, hashtags, and jazz hands using painted wood, collage, and modified household objects.
The colorful space tackles themes of nostalgia, girlhood, keepsakes, and staging. Alpert is interested in the things we collect and arrange that become imbued with meaning and the repetitive, daily chores we perform in an attempt to care for ourselves and our spaces. Each moment in the 88-foot-long sequence acts as an altar to the everyday object with flashes of surreal, subconscious imagery." Learn more. Open through May 16, 2022.
---