On Display:
Current Temporary Exhibitions at Tulsa-Area Museums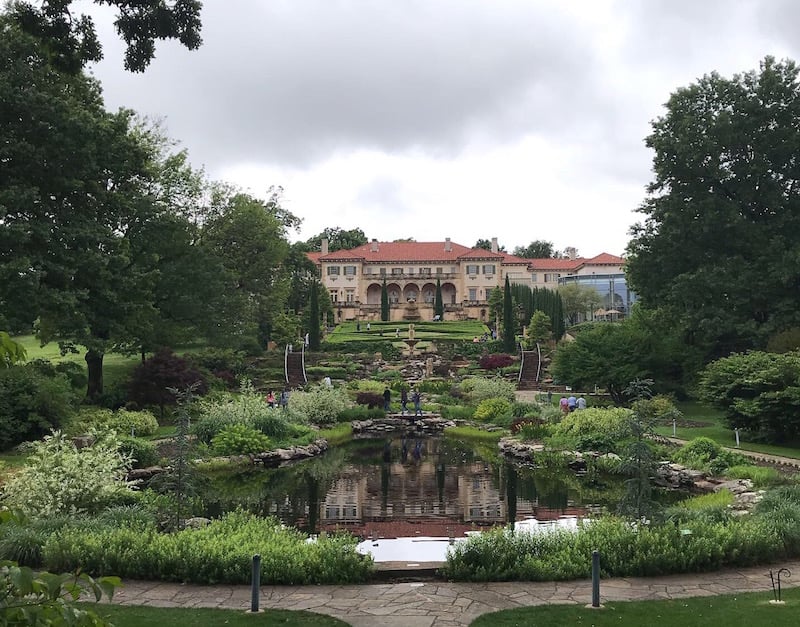 Looking to add a little culture to your day? Check out what's new at some of Tulsa's best museums!
Location: 101 E. Archer St.
Hours: Wednesday-Saturday, 12-9 p.m.; Sunday, 12-7 p.m.; Closed Monday and Tuesday
Admission, non-members: Adults: $10.95; Youth (3-17): $6.95; Two and under: Free
Temporary Exhibitions:
THE EXPERIENCE: IMAGINE: "This completely new art environment continues ahha's tradition of large-scale, semi-permanent, interactive art. When you visit THE EXPERIENCE: IMAGINE, you will explore zones designed and built by one of six Tulsa-based artists. Each has different interactive elements. What will you discover? Ahha is limiting admission during the pandemic, and THE EXPERIENCE is included with regular admission. Advance tickets recommended."
Mayfest Youth Art Gallery: "The original work you see in this exhibition was created in the past year by Tulsa area K-12 students attending a number of area schools and by homeschool students. Winners were selected to receive cash prizes by ahha Tulsa staff. Some works in this exhibition are for sale and the funds from your purchase support both the mission of ahha Tulsa and young Tulsa artists.The exhibition is generously sponsored by the Public Service Company of Oklahoma, AAON, and the Gelvin Foundation." Learn more here. Open March 31-June 20, 2021.
CRYSTAL Z CAMPBELL: NOTES FROM BLACK WALL STREET (OR HOW TO PROJECT YOURSELF INTO THE FUTURE): "Notes from Black Street (Or How to Project Yourself into the Future) is a solo painting exhibition by Oklahoma-based artist, Crystal Z Campbell. The exhibition centers Campbell's ongoing series of painted and collaged found photographs that ripple between abstraction and representation. Culled from institutional archives, these highly textured paintings highlight and fabulate Black life in Greenwood (Tulsa, Oklahoma) before, during, and after the 1921 Tulsa Race Massacre. A series of one-hundred smaller painted photographs will form a mini-monument. As a counterpoint to the oft circulated images of Greenwood under siege, a selection of larger hand-painted photos will feature still unidentified Black citizens standing on the land in repose, lounging across automobiles and lawns, or perched atop tree limbs. Riffing on the role of Black portraiture in photography and representation, the use of these images foreground the desire for self-fashioning and self-determination precisely one hundred years after the 1921 Tulsa Race Massacre. The narrative is always at stake: will justice enter the frame upon a century?" Learn more here. Open May 7-July 25, 2021.
---
Location: 560 N. Maybelle Ave.
Hours: Mon.-Sat., 9:30 a.m.-5 p.m.; Sun., 11:30 a.m.-5 p.m.
Admission, Non-Members: Ages 2 and Up: $6; Ages younger than 2: Free
Temporary Exhibits:
The Floor Is Lava and Beneath Your Feet: "The design, development, and fabrication of The Floor is Lava exhibit experience has been created to engage children ages 2-12 and their caregivers in concepts of physics and engineering as they relate to physical movement. In this exhibit, your child will have the opportunity to practice the process skills of collaboration, critical thinking, communication, and problem solving through strategies integrated into the exhibit's safe risk experiences.
The Floor is Lava experience includes vault boxes, a warp wall, one-footed wedge walk, a climber into the tape tunnel, rope jungle, an S-ramp, and Imagination Playground. Guests will enjoy learning the concepts of friction, momentum, and motion through imaginative play as they make their way across our Main Hall with the goal of staying off of the floor.
Our newest exhibit, Beneath Your Feet, opens on January 18th and is about experiencing earth sciences with a distinct Oklahoma lens. Guests will explore plate tectonics, waves, the rock cycle and the unique geology that makes up Oklahoma. Your family will also make a mountain and learn about how continents were formed. Come explore this hands-on exhibit!
---
Location: 1400 N. Gilcrease Museum Rd.
Hours: 10 a.m.-5 p.m., Tuesday-Sunday; Closed Mondays
Admission, Non-Members: Adults: $8; Seniors (62+): $6; Active duty members of the U.S. Military: $6; College students with valid i.d.: $5; Children 18 and younger: Free
Temporary Exhibitions:
Assignment Tulsa: "Gilcrease Museum, in partnership with the Photographers of Tulsa Group (PHOTOG), is pleased to present Assignment Tulsa. This exhibition, through the art of photography, showcases the many things that make Tulsa such a special place to live. Assignment Tulsa is also visual evidence of the skills and creativity of the PHOTOG members who participated.
Last summer, beginning in July, and running through November, these photographers participated in a contest that became Assignment Tulsa. While unimaginable at the time the contest was conceived, all of the photographs would be taken during a global pandemic. Evidence of the pandemic and the social justice protests of the summer of 2020 is seen in several of the photographs.
The overarching subject for Assignment Tulsa is Tulsa, with each of the five months having a specific theme:
July – Tulsa Buildings
August – Tulsa Icons
September – Tulsa Parks
October – Tulsa People
November – Photographs could be of any subject so long as they presented our city in some form or fashion
PHOTOG photographers could submit one photograph each month. Each month's winning photographs were selected by a panel of three judges not affiliated with PHOTOG. A total of 156 photographs were entered during the five months of the contest.
The result is Assignment Tulsa, presenting the 49 winning photographs taken by 26 different PHOTOG photographers." Learn more here. On view through March 5-July 4, 2021.
---
Location: 307 E. Reconciliation Way, Tulsa
Hours: Tuesday-Saturday, 12-5 p.m.
Temporary Exhibitions:
OVAC Momentum: "The Oklahoma Visual Arts Coalition (OVAC) will feature 3 Spotlight Artists and 53 Survey Artists in their annual Momentum Exhibition. OVAC's Momentum exhibition supports Oklahoma creatives aged 30 and under through financial backing, curatorial guidance, and professional development. With an environment created specifically for them, young artists gain experience, meet their audiences, and are exposed to the diverse artistic movements throughout the state." Read more here. Open April 2-23, 2021.
Tulsa Race Massacre Centennial Project (Coming Soon): "This exhibition will be in honor of the Tulsa Race Massacre Centennial. The works will be chosen by the Tulsa Race Massacre Centennial Project Committee composed of board members, staff, and community members." Learn more here. On view May 7-June 19, 2021.
---
Location: 2727 S. Rockford Rd.
Hours: Wed.-Sun., 9 a.m.-5 p.m.; Fridays, 9 a.m.-9 p.m.; Closed Mondays and Tuesdays
Admission: Children 17 and under, Active Duty Military, College Students attending NSU, ORU, OSU-Okmulgee, OSU-Tulsa, OU-Tulsa, RSU, TCC, TU: Free; General Admission: $9; Senior Citizens (62+), College Students (with valid i.d.), Groups of 10+: $7
Temporary Exhibitions:
From the Limitations of Now: "Bringing together local artists and artists working across the country, From the Limitations of Now reflects on the important ways art and literature allow us to examine America's past and picture a future in which, in the words of renowned Oklahoma author Ralph Ellison, "we are able to free ourselves from the limitations of today." Spanning multiple galleries throughout the Museum, the exhibition will feature a range of works, including vibrant tapestries and beadwork, vivid photographs, songs, paintings, and videos. These artworks reflect on the violence of American history, the power of ancestors who worked in the face of violence to forge a more just world, and speculate on visions of a future that is still yet to be." Learn more here. On view March 14-September 5, 2021.
---
Location: 2021 E. 71st St.
Hours: Monday-Friday, 10 a.m.-5 p.m.; Saturday, 12-5 p.m.; Sunday, 1-5 p.m.
Admission: Adults: $6.50; Seniors (55+): $5.50; Students: $3.50; Children 12 and under, Teachers, Military and First Responders (with i.d.): Free
Temporary Exhibitions:
See website for details.
---
Location: 3624 N. 74th E. Ave.
Hours: Monday-Saturday, 10 a.m.-4 p.m.
Admission: Various options, including Museum-only admission and Museum + Planetarium admission. Find the best option for you
here
.
Temporary Exhibits:
Find a list of TASM exhibits and activities here.
---
Location: 102 E. M.B. Brady St.
Hours: Tuesday-Sunday, 10 a.m.-6 p.m.; Closed Mondays
Admission: Adult: $12; Seniors (55+): $11; Military (up to 4 persons): $10; College Student (with i.d.): $8; Youth (17 and under): Free
Temporary Exhibitions:
Roots, Rock, and Rebels: The Photography of Henry Diltz: "The Woody Guthrie Center announces the new exhibition, "Roots, Rock and Rebels: The Photography of Henry Diltz," showcasing photos and other memorabilia spanning Diltz's career as one of the go-to photographers in the 1960s, particularly among the Laurel Canyon music scene. His reputation for capturing the perfect frame has kept Diltz working with a variety of major artists for decades." Continue reading.
Songs of Conscience, Sounds of Freedom (Opening May 21): "Songs of Conscience, Sounds of Freedom, the newest exhibit set to open at the Woody Guthrie Center®, examines the role of music in informing and inspiring social consciousness throughout American history, featuring an array of musicians across decades and genres, all using their art to push toward a more equitable world. The exhibit is set to open May 21, 2021.
The exhibit explores music's role in major social movements as well as the smaller steps in between. Charting a path from spirituals that were sung by enslaved people in America, to the labor movement struggles that Guthrie wrote about in songs like "1913 Massacre," to the mass movement of music and art that helped to stir action during the Civil Rights Movement of the 1960s to the continued fight for racial justice in America today, the exhibit spans time and genre to tell the stories of music's role as an inspiration and an educator." Read more here.
---
Farther Afield
Temporary Exhibitions:
Spiro and the Art of the Mississippian World: "The Spiro people, and their Mississippian peers, are nearly forgotten in the pages of North American history, yet they created one of the most exceptional societies in all of the Americas." Learn more. Open through May 9, 2021.
Find Her West: "The American West is difficult to define and far more complex than stereotypes suggest. It is a destination, an experience, an idea, and for some even home. It has few boundaries and crosses cultures, geography, socioeconomics, gender, age, and eras. Photographs and other archival items from the Museum's Dickinson Research Center reveal this diversity. At its core, history is not about dates and events, but the people who experienced them. Not just the famous, but the everyday and ordinary. Look closely. These faces and names are not fiction. They are mothers and daughters, sisters and aunts, nieces and wives, grandmothers, and friends. Diverse in ethnicity, background, and age, they share a commonality. Each experienced and shaped the American West through roles far more complex than stereotypes suggest. With strength and resolve, they built homes, families, businesses, careers, and powerful legacies. They found their West. Now find yours at the National Cowboy & Western Heritage Museum." Read more. Open through May 16, 2021.
Temporary Exhibitions:
OKCMOA at 75: "OKCMOA at 75 traces the history of the Oklahoma City Museum of Art from its founding through the present day. Through more than 40 newspaper clippings, photographs, letters, publications and the scrapbooks kept by the Museum's first director, Nan Sheets, the historical exhibition explores the Museum's rich past. OKCMOA at 75 will be on view in the Museum's lobby and is free to visit." Learn more. Open through April 25, 2021.
Postwar Abstraction: Variations: "The half-century or so following the end of World War II was one of the most fertile periods in the history of abstract painting. The works featured in Postwar Abstraction: Variations highlight a period of remarkable creativity, when ideas of abstraction and the nature and limits of artistic mediums were being hotly contested by artists. Associated with movements as diverse as Abstract Expressionism, Color Field painting, Hard-Edge painting, Op Art, and Minimalism, artists continually sought to redefine what painting was and what it could be.
Postwar Abstraction: Variations presents longstanding Museum highlights by Sam Gilliam, Leon Polk Smith, Helen Frankenthaler, Sam Francis, Ellsworth Kelly, and Gene Davis, along with rarely shown works by Richard Pousette-Dart, Ida Kohlmeyer, and Leonardo Nierman. Their work, and the work of many other artists, forms the Oklahoma City Museum of Art's outstanding collection of postwar American art from 1952 to 1996." Learn more. Open through September 26, 2021.
Temporary Exhibitions:
Crafting America: "Crafting America, a new exhibition developed by Crystal Bridges, celebrates the skill and individuality of craft within the broad context of American art. From jewelry to furniture to sculptures and more, this exhibition is dazzling and full of surprises." Continue reading. Open through May 31, 2021.
---