On Display: Current Temporary Exhibitions at Tulsa-Area Museums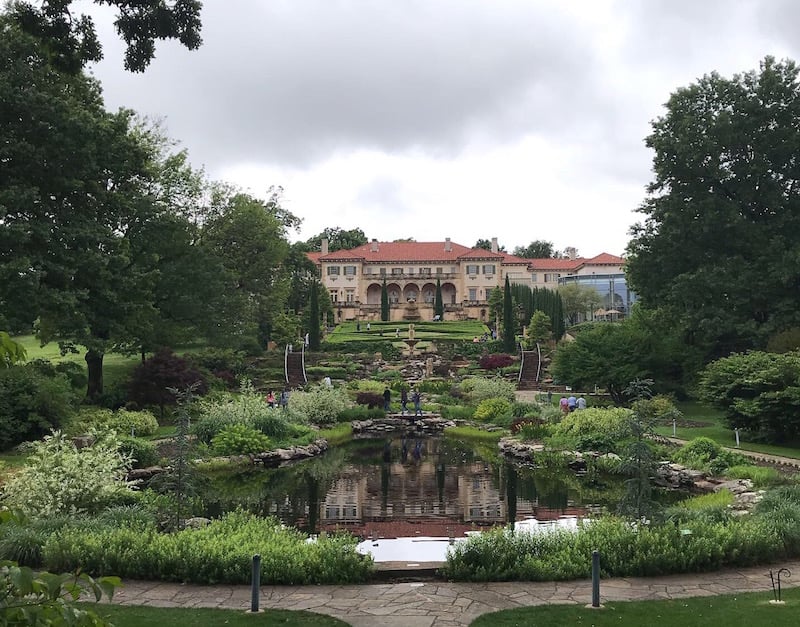 Looking to add a little culture to your day? Check out what's new at some of Tulsa's best museums!
Location: 101 E. Archer St.
Hours: Wednesday-Saturday, 12-9 p.m.; Sunday, 12-7 p.m.; Closed Monday and Tuesday
Admission, non-members: Adults: $10.95; Youth (3-17): $6.95; Two and under: Free
Temporary Exhibitions:
THE EXPERIENCE: IMAGINE: "This completely new art environment continues ahha's tradition of large-scale, semi-permanent, interactive art. When you visit THE EXPERIENCE: IMAGINE, you will explore zones designed and built by one of six Tulsa-based artists. Each has different interactive elements. What will you discover? Ahha is limiting admission during the pandemic, and THE EXPERIENCE is included with regular admission. Advance tickets recommended."
EARTHLY MIRAGE BY HOESY CORONA: "Earthly Mirage is a survey spanning 10 years of artistic production by queer, Latinx artist Hoesy Corona. Through the examination of scapegoating, othering, fear of death, white supremacy, xenophobia and the climate crisis this exhibition poetically considers what it means to be a queer Latinx immigrant in a place where there are few. The presented works encompass installation, performance, and video. The exhibition includes the following 5 ongoing bodies of work developed between 2010 and 2021: The Nobodies (2010-2020); Mother Death Life Mama (2012- present); Scapegoats (2012-present); White Constructions (2015-present); and Climate Immigrants (2017-present)." Learn more here. Open August 6-October 24, 2021.
GREENWOOD'S LEGACY: SHAPING A CITY AND A NATION: "The exhibition, Greenwood's Legacy: Shaping a City and a Nation, is a celebration of Greenwood's victory in overcoming the decimation of the Massacre to rebuild and grow its vibrant neighborhood. The exhibit features 13 of Greenwood's most influential citizens in mixed-media displays that explore how they shaped and were shaped by the experience of living in Greenwood. According to artist/ethnographer and Greenwood's Legacy exhibit designer Dr. Wendi D. Wilkerson, "The goal of this exhibition is to inspire people by demonstrating the excellence, talent, determination, and community spirit that have defined Greenwood from its inception till today. By showcasing these pillars of the community in the context of their lives and work in Greenwood, we are recognizing Greenwood as a very special, very vital place in Tulsa and in history."
Presented in partnership with Victory of Greenwood." Learn more here. Open June 30-September 19, 2021.
---
Location: 560 N. Maybelle Ave.
Hours: Mon.-Sat., 9:30 a.m.-5 p.m.; Sun., 11:30 a.m.-5 p.m.
Admission, Non-Members: Ages 2 and Up: $6; Ages younger than 2: Free
Temporary Exhibits:
The Floor Is Lava and Beneath Your Feet: "The design, development, and fabrication of The Floor is Lava exhibit experience has been created to engage children ages 2-12 and their caregivers in concepts of physics and engineering as they relate to physical movement. In this exhibit, your child will have the opportunity to practice the process skills of collaboration, critical thinking, communication, and problem solving through strategies integrated into the exhibit's safe risk experiences.
The Floor is Lava experience includes vault boxes, a warp wall, one-footed wedge walk, a climber into the tape tunnel, rope jungle, an S-ramp, and Imagination Playground. Guests will enjoy learning the concepts of friction, momentum, and motion through imaginative play as they make their way across our Main Hall with the goal of staying off of the floor.
Our newest exhibit, Beneath Your Feet, opens on January 18th and is about experiencing earth sciences with a distinct Oklahoma lens. Guests will explore plate tectonics, waves, the rock cycle and the unique geology that makes up Oklahoma. Your family will also make a mountain and learn about how continents were formed. Come explore this hands-on exhibit!
---
Location: 1400 N. Gilcrease Museum Rd.
---
Location: 307 E. Reconciliation Way, Tulsa
Hours: Tuesday-Saturday, 12-5 p.m.
Temporary Exhibitions:
---
Location: 2727 S. Rockford Rd.
Hours: Wed.-Sun., 9 a.m.-5 p.m.; Fridays, 9 a.m.-9 p.m.; Closed Mondays and Tuesdays
Admission: Children 17 and under, Active Duty Military, College Students attending NSU, ORU, OSU-Okmulgee, OSU-Tulsa, OU-Tulsa, RSU, TCC, TU: Free; General Admission: $9; Senior Citizens (62+), College Students (with valid i.d.), Groups of 10+: $7
Temporary Exhibitions:
From the Limitations of Now: "Bringing together local artists and artists working across the country, From the Limitations of Now reflects on the important ways art and literature allow us to examine America's past and picture a future in which, in the words of renowned Oklahoma author Ralph Ellison, "we are able to free ourselves from the limitations of today." Spanning multiple galleries throughout the Museum, the exhibition will feature a range of works, including vibrant tapestries and beadwork, vivid photographs, songs, paintings, and videos. These artworks reflect on the violence of American history, the power of ancestors who worked in the face of violence to forge a more just world, and speculate on visions of a future that is still yet to be." Learn more here. On view March 14-September 5, 2021.
DALÍ'S ALICE IN WONDERLAND: "Journey down a rabbit hole of delight, imagination, and paradox with Salvador Dalí and Lewis Carroll.
In 1969, surrealist artist Salvador Dalí illustrated Alice's Adventures in Wonderland, the beloved 1865 children's tale by Lewis Carroll. Dalí created a striking realm of color and dreamlike imagery that perfectly aligns with Carroll's world of fantastic characters and enigmatic situations.
In Dalí's hands, Alice skips through landscapes both mysterious and evocative while the White Rabbit, Mock Turtle, and Queen of Hearts look on. Through an illustration for each of the twelve chapters of the book, a frontispiece, and a bronze sculpture of Alice, Dalí embraces the irrationality of the story and includes recurrent motifs from his work, including a melting clock, butterflies, and a girl skipping rope." On view June 11-October 17, 2021
---
Location: 2021 E. 71st St.
Hours: Monday-Friday, 10 a.m.-5 p.m.; Saturday, 12-5 p.m.; Sunday, 1-5 p.m.
Admission: Adults: $6.50; Seniors (55+): $5.50; Students: $3.50; Children 12 and under, Teachers, Military and First Responders (with i.d.): Free
Temporary Exhibitions:
See website for details.
---
Location: 3624 N. 74th E. Ave.
Hours: Monday-Saturday, 10 a.m.-4 p.m.
Admission: Various options, including Museum-only admission and Museum + Planetarium admission. Find the best option for you
here
.
Temporary Exhibits:
Find a list of TASM exhibits and activities here.
---
Location: 102 E. M.B. Brady St.
Hours: Tuesday-Sunday, 10 a.m.-6 p.m.; Closed Mondays
Admission: Adult: $12; Seniors (55+): $11; Military (up to 4 persons): $10; College Student (with i.d.): $8; Youth (17 and under): Free
Temporary Exhibitions:
Songs of Conscience, Sounds of Freedom: "Songs of Conscience, Sounds of Freedom, the newest exhibit set to open at the Woody Guthrie Center®, examines the role of music in informing and inspiring social consciousness throughout American history, featuring an array of musicians across decades and genres, all using their art to push toward a more equitable world. The exhibit is set to open May 21, 2021.
The exhibit explores music's role in major social movements as well as the smaller steps in between. Charting a path from spirituals that were sung by enslaved people in America, to the labor movement struggles that Guthrie wrote about in songs like "1913 Massacre," to the mass movement of music and art that helped to stir action during the Civil Rights Movement of the 1960s to the continued fight for racial justice in America today, the exhibit spans time and genre to tell the stories of music's role as an inspiration and an educator." Read more here.
---
Farther Afield
Temporary Exhibitions:
Find Your North: "Its name might indicate the eastern origins of those who labeled it, but the American West is far larger than a single perspective. It crosses gender, cultures, eras, age, geography and even directions. For many, it was the West. For many others, however, it was the North. Explore how Hispanic peoples shaped the region and its history, from vaqueros to modern vocabulary, through photographs, maps and illustrations from the Museum's Dickinson Research Center." Learn more here. On view August 20-October 17, 2021.
Tattooing: Religion, Reality and Regret: "Tattooing is a custom dating back thousands of years in North America. Traditionally, women and men used them to visually express tribal affiliation and war honors, as well as connections to divine beings, maturity rites, and social and religious affiliation. These expressions of identity continued on with the person after death—ensuring their place in the afterlife.
Today, tattoos have been adopted by military personnel, musicians, college students, and countless others. Although many are works of art, others, unfortunately, are not, and their permanence provides visual evidence of poor decision making, late-night drinking, and spring break events, many would rather forget! Explore these traditions and artistic expressions though paintings from the permanent collection and photographs from the Dickinson Research Center." On view August 27, 2021-May 8, 2022.
New Beginnings: An American Story of Romantics and Modernists in the West: "This major traveling exhibition featuring a selection of works from the Tia Collection of Santa Fe, New Mexico offers a fresh view of the evolution of art in New Mexico, from the late Romantics era to the advent of early Modernism. The exhibition will include more than 100 early 20th century artworks by 70 artists, featuring signature works by well-known artists such as Oscar Berninghaus, Andrew Dasburg, Leon Gaspard, Victor Higgins and Will Shuster as well as works by under-recognized artists. These artists lived and worked in northern New Mexico during the 1920s and 1930s, when Santa Fe and Taos were among the most important national and international arts colonies." On view September 10, 2021-January 2, 2022.
Temporary Exhibitions:
The Painters of Pompeii: "The Painters of Pompeii: Roman Frescoes from the National Archaeological Museum, Naples will see a number of collection highlights travel to North America for the first time. Opening June 26 and running through October 17, this historic presentation of the art of painting in ancient Rome will be presented exclusively at the Oklahoma City Museum of Art before returning to Europe." On view June 26-October 17
Postwar Abstraction: Variations: "The half-century or so following the end of World War II was one of the most fertile periods in the history of abstract painting. The works featured in Postwar Abstraction: Variations highlight a period of remarkable creativity, when ideas of abstraction and the nature and limits of artistic mediums were being hotly contested by artists. Associated with movements as diverse as Abstract Expressionism, Color Field painting, Hard-Edge painting, Op Art, and Minimalism, artists continually sought to redefine what painting was and what it could be.
Postwar Abstraction: Variations presents longstanding Museum highlights by Sam Gilliam, Leon Polk Smith, Helen Frankenthaler, Sam Francis, Ellsworth Kelly, and Gene Davis, along with rarely shown works by Richard Pousette-Dart, Ida Kohlmeyer, and Leonardo Nierman. Their work, and the work of many other artists, forms the Oklahoma City Museum of Art's outstanding collection of postwar American art from 1952 to 1996." Learn more. Open through September 26, 2021.
Temporary Exhibitions:
Crystal Bridges at 10: "Crystal Bridges at 10 is an immersive exhibition with 10 distinct art experiences celebrating the museum's collection and the local community one decade into the museum's lifetime. Primarily drawing from the museum's collection, the exhibition features 130+ artworks, presenting crowd favorites in new ways, showcasing works never before on view at the museum, and lifting up artist voices." Learn more here. Open through September 27, 2021.
---