On Display:
Current Temporary Exhibitions at Tulsa-Area Museums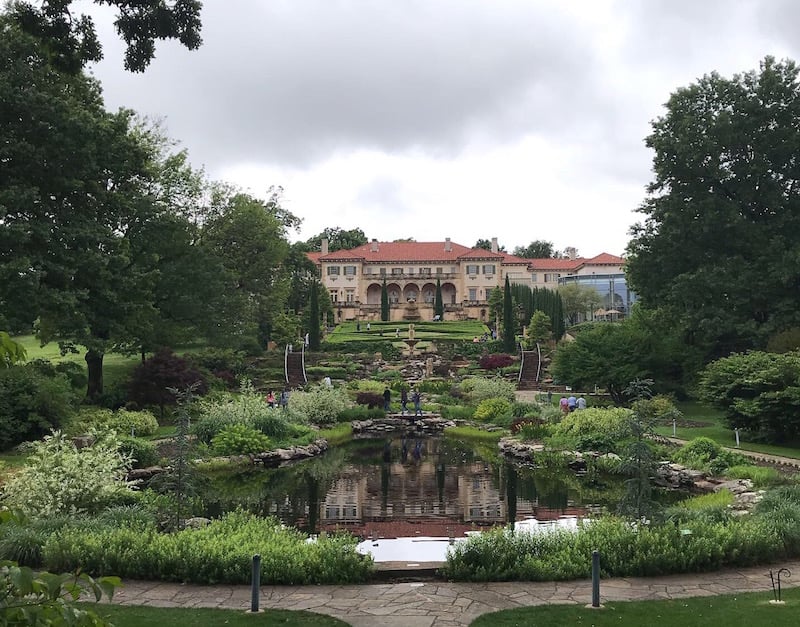 Looking to add a little culture to your day? Check out what's new at some of Tulsa's best museums!
Location: 101 E. Archer St.
Hours: Wednesday-Saturday, 12-9 p.m.; Sunday, 12-7 p.m.; Closed Monday and Tuesday
Admission, non-members: Adults: $10.95; Youth (3-17): $6.95; Two and under: Free
Temporary Exhibitions:
THE EXPERIENCE: IMAGINE: "This completely new art environment continues ahha's tradition of large-scale, semi-permanent, interactive art. When you visit THE EXPERIENCE: IMAGINE, you will explore zones designed and built by one of six Tulsa-based artists. Each has different interactive elements. What will you discover? Ahha is limiting admission during the pandemic, and THE EXPERIENCE is included with regular admission. Advance tickets recommended."
---
Location: 560 N. Maybelle Ave.
Hours: Mon.-Sat., 9:30 a.m.-5 p.m.; Sun., 11:30 a.m.-5 p.m.
Admission, Non-Members: Ages 2 and Up: $6; Ages younger than 2: Free
Temporary Exhibits:
How People Make Things: "The How People Make Things exhibit is inspired by the factory tour segments from the Mister Rogers' Neighborhood television series, and offers hands-on activities using real factory tools and machines to create objects that are cut, molded, deformed and assembled."
The Floor Is Lava: "The design, development, and fabrication of The Floor is Lava exhibit experience has been created to engage children ages 2-12 and their caregivers in concepts of physics and engineering as they relate to physical movement. In this exhibit, your child will have the opportunity to practice the process skills of collaboration, critical thinking, communication, and problem solving through strategies integrated into the exhibit's safe risk experiences.
The Floor is Lava experience includes vault boxes, a warp wall, one-footed wedge walk, a climber into the tape tunnel, rope jungle, an S-ramp, and Imagination Playground. Guests will enjoy learning the concepts of friction, momentum, and motion through imaginative play as they make their way across our Main Hall with the goal of staying off of the floor."
---
Location: 1400 N. Gilcrease Museum Rd.
Hours: 10 a.m.-5 p.m., Tuesday-Sunday; Closed Mondays
Admission, Non-Members: Adults: $8; Seniors (62+): $6; Active duty members of the U.S. Military: $6; College students with valid i.d.: $5; Children 18 and younger: Free
Temporary Exhibitions:
Mexican Modernism: Revolution & Reckoning: "Mexican Modernism: Revolution & Reckoning features a rotation of works representing a pivotal time in Mexico's history, from the end of the Mexican Revolution to the middle of the 20th century. Over the course of one year, this exhibition will display close to 80 rotating works by well-known artists such as Diego Rivera, José Clemente Orozco and Rufino Tamayo as well as other influential artists during this period such as Leopoldo Méndez, María Izquierdo and Raúl Anguiano. These artists committed to progressive social reform and together their work reflects a nation in the midst of dynamic transformation." Learn more here. Open through August 30, 2020.
I-Witness Culture: Frank Buffalo Hyde: "Artist Frank Buffalo Hyde (Onondaga/Nez Perce) believes it is the artist's responsibility to represent the times in which they live. Transforming street art techniques into fine art practices, his humorous and biting narrative artworks do exactly that. In I-Witness Culture, Hyde investigates the space where Native Americans exist today: between the ancient and the new; between the accepted truth and actual fact; between the known and the unknown." Continue Reading. Open February 8, 2020-January 17, 2021.
Landscapes on Fire: Paintings by Michael Scott: "At the beginning of this new decade, fires and flames never seem to be far from the headlines. An elemental force of nature, fire contains immense power to create and destroy. As humans contribute to increasing changes in the global climate, fire seasons and cycles produce ever more extreme events from Australia to the Amazon to California.
But fire also heals. From the Sierra Nevada Mountains to the Tallgrass Prairie in Oklahoma, naturally occurring fires are part of a healthy ecosystem. In fact, suppressing regular burns has led to catastrophic consequences in the United States. Over the past century, Smokey the Bear's misguided forest fire prevention efforts left America's western forests full of excess fuel, leading to today's firestorms raging beyond control." Continue Reading. Open August 7, 2020-February 21, 2021
---
Location: 2727 S. Rockford Rd.
Hours: Wed.-Sun., 9 a.m.-5 p.m.; Fridays, 9 a.m.-9 p.m.; Closed Mondays and Tuesdays
Admission: Children 17 and under, Active Duty Military, College Students attending NSU, ORU, OSU-Okmulgee, OSU-Tulsa, OU-Tulsa, RSU, TCC, TU: Free; General Admission: $9; Senior Citizens (62+), College Students (with valid i.d.), Groups of 10+: $7
Temporary Exhibitions:
Hearts of Our People: Native Women Artists: "Women have long been the creative force behind Native art. Presented in close cooperation with top Native women artists and scholars, Hearts of our People is the first major traveling exhibition of artwork by Indigenous women of the past and present, honoring the achievements of over 100 artists from the United States and Canada spanning over 1,000 years. Their triumphs—from pottery, textiles, and painting, to photographic portraits, —show astonishing innovation and technical mastery. Philbrook is the final stop for this groundbreaking exhibition, and our presentation will include pieces from the collection representing local communities selected by a group of Oklahoma Native advisors:
Heather Ahtone (Chickasaw/Choctaw)
Ruthe Blalock Jones (Peoria/Shawnee/Delaware)
Anita Fields (Osage)
America Meredith (Cherokee)
Juanita Pahdopony (Comanche)
Mary Jo Watson (Seminole)"
Learn more. Open October 7-January 3, 2021.
---
Location: 2021 E. 71st St.
Hours: Monday-Friday, 10 a.m.-5 p.m.; Saturday, 12-5 p.m.; Sunday, 1-5 p.m.
Admission: Adults: $6.50; Seniors (55+): $5.50; Students: $3.50; Children 12 and under, Teachers, Military and First Responders (with i.d.): Free
Temporary Exhibitions:
SACAL: A Universal Mexican: "The Sherwin Miller Museum of Jewish Art, in partnership with the Consulate of Mexico in Little Rock and the José Sacal Micha Foundation, is proud to present, SACAL: A Universal Mexican. This exhibit opened to the public on Wednesday, March 4, 2020 and it is a benefit to all the visitors of the museum and in framework of celebration of the 5 de mayo.
José Sacal is undoubtedly one of the most prominent representatives of contemporary sculptural art. Known for his experimentation and freedom, Sacal recognized no boundaries in his sources of inspiration and was not afraid to find new meaning in old forms. Sacal's work has been showcased in more than 40 individual exhibitions and dozens of collaborations in Mexico and around the world. In 2006, he became the first Mexican to have his sculpture art permanently displayed in the country of China. Today, more than 20 Sacal sculptures can be found in public spaces across Mexico, Israel, and the United States, including Los Angeles and Washington, D.C.
The sculptures featured at the Sherwin Miller Museum comprise two series: The Paraphrase, inspired by distinguished artists like Michelangelo, Frida Kahlo and Picasso; and Characters of Impact, in which Sacal recreates unmistakable historical figures like Einstein and Churchill. This exhibit will be on display through December 2020." Continue reading.
---
Location: 3624 N. 74th E. Ave.
Hours: Monday-Saturday, 10 a.m.-4 p.m.
Admission: Various options, including Museum-only admission and Museum + Planetarium admission. Find the best option for you
here
.
Temporary Exhibits:
Find a list of TASM exhibits and activities here.
---
Location: 102 E. M.B. Brady St.
Hours: Tuesday-Sunday, 10 a.m.-6 p.m.; Closed Mondays
Admission: Adult: $12; Seniors (55+): $11; Military (up to 4 persons): $10; College Student (with i.d.): $8; Youth (17 and under): Free
Temporary Exhibitions:
Roots, Rock, and Rebels: The Photography of Henry Diltz: "The Woody Guthrie Center announces the new exhibition, "Roots, Rock and Rebels: The Photography of Henry Diltz," showcasing photos and other memorabilia spanning Diltz's career as one of the go-to photographers in the 1960s, particularly among the Laurel Canyon music scene. His reputation for capturing the perfect frame has kept Diltz working with a variety of major artists for decades." Continue reading.
---
Farther Afield
Temporary Exhibitions:
Wild Wooly Western Wildlife, in 3D!: "The trans-Mississippi West and with its watersheds, prairies, plains, canyons, and mountains have provided habitat for animals for millions of years. Since humans came to this part of North America about 12,000 years ago, they hunted these animals for food, shelter, tools, and protection. But they also honored them through drawn, painted, and especially sculpted depictions of these animals. Drawing from the largest and most comprehensive sculpture collection of the American West, the National Cowboy & Western Heritage Museum will present "WILD WOOLLY WESTERN WILDLIFE, in 3D!!!!!" a selection of sculptures of bison, pronghorn, moose, mountain lions, bears, and other critters, in bronze, wood, and plaster from the 19th and 20th centuries—all from the museum's own collection. Artists will include Laura Gardin Fraser, James Earle Fraser, Charles M. Russell, Joe De Yong, Henry Schrady, W. R. Leigh, Willard Stone, Gerald Balciar, and Michael Coleman." Continue reading. Open October 2-January 3, 2021.
Tucker Smith: A Celebration of Nature: "This exhibit will be truly retrospective, with work ranging from Smith's early years as a professional artist to his most recent paintings. It will also present the breadth of subject matter he has tackled, with an emphasis on western wildlife, but also including camp and cowboy scenes, straight landscapes, a few foreign locales, and at least one railroad painting." Read more. Open October 2-January 3, 2021.
Temporary Exhibitions:
From the Golden Age to the Moving Image: The Changing Face of the Permanent Collection (through Dec. 31, 2020): See recent acquisitions, including Kehinde Wiley's 2018 portrait, "Jacob de Graeff," in the newly re-opened 2nd-floor galleries. Learn more here.
Art with a History: "Art with a History delves into the provenance of a number of diverse works of art from the permanent collection. Featuring a range of artworks, including paintings, sculptures, and works on paper, from the Renaissance to the twentieth century, this exhibition explores the unique ownership histories of each object and the methods used to uncover their stories." Read more. Open June 17, 2020 – November 29, 2020.
Temporary Exhibitions:
North Forest Lights: "North Forest Lights is back for a second season in Crystal Bridges' North Forest. Enjoy an enchanted nighttime walk through the woods featuring dynamic, nature-inspired lighting elements, and immersive soundscapes. Five distinct installations will bring the soul of the forest to life with light, sound, and sensory effects in a captivating, family-friendly experience. North Forest Lights will be open in the evening hours after sunset." Learn more. Open September 4, 2020 – April 4, 2021.
---