Congratulations to Joss, Pre-K Graduate!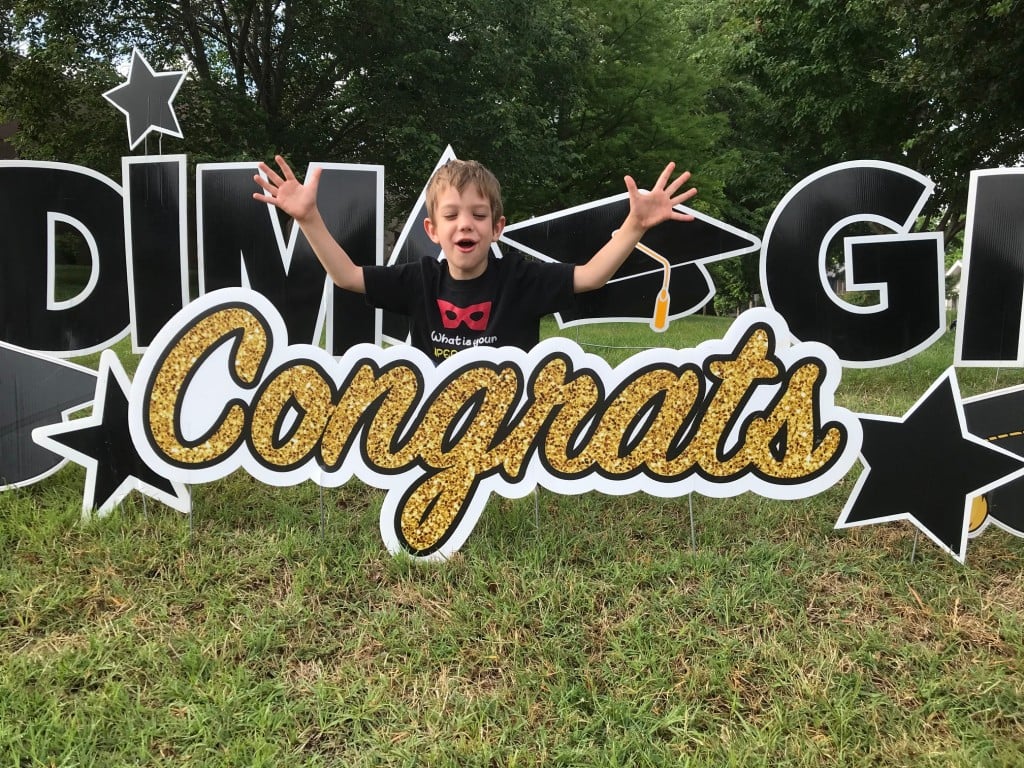 Joss started part-time at B'nai Emunah Preschool four years ago. He was in diapers, we walked to and from school each day from our apartment – I carried him in the baby carrier for the first year – and now he is a pre-K graduate!
The early years
A Note About Closure, or Lack Thereof
It goes without saying that this school year has not ended as anticipated. I'm trying not to dwell on how much he's missed out on the past two months. He's traded interaction with teachers and friends for playing iPad games while I try to continue working full-time from home. I know everyone with kids at school is in the same boat, as far as feeling this lack of closure to the year. It's hard not to be able to say a proper good-bye. I can't imagine what it must be like for the senior class of 2020.
But I'm still sad thinking about the past two months. Zoom calls have gotten harder, and so has finding motivation to come up with fun activities for him to do while I just keep working. I'm not so much feeling guilty about all the screen time as just discouraged and worried about next semester. Blargh.
Beginnings
But on to happier things. It really does seem like only yesterday Joss raced into his Kadima (pre-K) classroom, dressed in his new overalls. He wore them almost daily for those first few weeks. He raved about the cushions in the classroom named the Dream Lab. Joss was so proud to be a "big Kadima friend," despite the fact that he'd absolutely loved his previous class and teachers.
Throughout the year, he learned how to write all the letters of the alphabet. He became very familiar with "The Greatest Showman" soundtrack and learned what a banjolele is. Their class studied "real life superheroes" extensively, learning about Martin Luther King Jr., Rosa Parks, Malala, etc. They talked about these heroes and the injustice they faced, and what they did in response to it.
Superheroes and the Power to Choose
This idea of "real life superheroes" became the theme of their graduation. Each child received a shirt to wear at graduation asking, "What is your superpower?" They also received a book, "What Should Danny Do?" all about the power to choose.
If you haven't heard of it, it's a great book where you get to make choices for Danny throughout the story. The choices you make changes the ending of the story. For example, if Danny chooses to yell at his brother, you may skip ahead to page 64 and read that he doesn't get to go to the park. A kind of "choose your own adventure" story, only with more real-life application. The message is that your greatest superpower is your ability to choose. You can make good or bad choices, and each choice will have consequences.
For the ceremony, the teachers had thought so carefully about each child and a superpower they exhibit. Joss was deemed "Joss the Whimsical." Here's what his teacher had to say:
"Joss, since the first day we met, it was clear that you have the biggest and most beautiful imagination. Embrace the world that you see and feel and share it with everyone you can. Your creativity and vision need to be seen by others so they can experience the world through your eyes. Continue to share the vibrant joy and laughter with your teachers and friends that you have shared with us every day."
I'm sure you can imagine how much it means to hear your child talked about in such a beautiful way! He's been so loved at B'nai, and I am grateful for everyone there who has given him so much.
Graduation
Joss's graduation ceremony took place via Zoom. The Zoom meeting was then streamed to Facebook so that family members could join in from afar. As the director pointed out, if it had been an in-person ceremony, extended family from outside Tulsa may not have been able to participate.
Following the ceremony, families picnicked with their graduate. I'd gotten up early (6 a.m.!) to run to Reasor's and pick out some of Joss's favorite foods. Later that afternoon, many of the B'nai teachers and staff members did a drive-by parade past the graduates' houses. This was so special! Joss waved at all of them, complimenting them on their cars, decorations, new hair color, etc. I was very proud 🙂
I am so grateful to be Joss's mom. He does have the most amazing imagination and is always up for an adventure, be it an outing to Oxley Nature Center, Target, or simply trying out a new face paint look. He's always trying to get me to build him complex machines. His biggest on-going dream is to build a "house tree" in the community garden at B'nai so he can live there in the future. He's now planning to build two so that our neighbors that just moved can move in next door with their dog.
Looking Toward The Future
We've had some rough moments since spending more time together, but I'm grateful for the time nevertheless. And I am incredibly grateful for his time at B'nai. One of the things I've missed the most since quarantine began is simply dropping him off and picking him up. I miss seeing the familiar faces and the beautiful artwork in the hall. It's always a joy to greet Joss at the end of the day on the playground. First, looking for him – not always easy on a large playground!, then getting a big hug, catching up with some of the teachers, then heading off to our next adventure.
I don't know what next year will hold. First, we are still on the wait list for our top TPS school choices. Then of course – no one knows what next year will bring as far as schooling! We are in good company. TPS just launched a survey about the 2020-2021 school year so parents can give input regarding their thoughts on in-person vs. distance learning in light of COVID-19.
I don't have any answers. But I can always remain grateful for the solid foundation and love Joss has received thus far. Congratulations, Joss the Whimsical! No matter what happens, I know you can use your voice to speak up for others and to share your big imagination and dreams.
---