Choosing a School for Your Child
There are so many types of schools to choose from these days. The neighborhood school is one option, but what about the rest? What do you look for in a school and what questions should you ask? This article will get you started.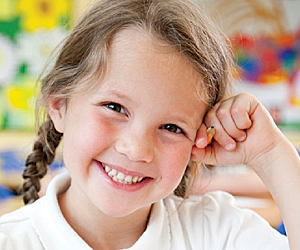 From private to public, charter to magnet, language immersion to online, there are a myriad of school options today.  How do you select which school best fits your child's educational needs? A bit of online research, talking with fellow parents and visiting a school is a great start. And, it is best to start your research early to ensure that you explore all your options and meet enrollment deadlines.
1. Define your perfect school.
What are the most important aspects you want in a school? It could be small class size, emphasis on a particular academic area, a religious worldview, a neighborhood school or after school care.
2.  Talk to parents.
Find out why their school works for their child and family. Just because a school environment is great for your friend's child doesn't mean it will be a great fit for your child.
3. Visit your school district's website to discover all of the schools in your area, including magnet schools or special programs.
You can also find enrollment information on the site. Visit the websites of area private schools. You will learn the school's teaching philosophy, cost, admission standards, visitation and testing dates. Go to the Education Directory in this publication and, for more information, visit the directory at www.tulsakids.com.
4. Narrow down your choices and begin scheduling visits to schools for both you and your child.
Many schools have "shadow" days in which your child    will spend time at the school with a student. Your visit will most likely entail a guided tour, a classroom observation and a question and answer session.
Once you have narrowed down your list of schools, you can apply these questions to each school:
Does your child's temperament and learning style match the school's teaching philosophy and academic environment?
How large are the classes and what is the teacher-to-student ratio?
What is the social environment of the school and are there counselors to help support the social and emotional needs of the students.
What is the discipline philosophy? Does it match your own?
Review the curriculum, homework policy and grading/evaluation system.
Are extracurricular activities such as sports, theater, art and music offered?
Is there high parent involvement at the school?
Is the school a "wired school" – do they allow students to use laptops and other new technology in the classroom?
Click here for a list of school terms such as "magnet," "Montessori," "charter," etc.,