Celebrate 20 years of Books To Treasure with illustrator Ben Clanton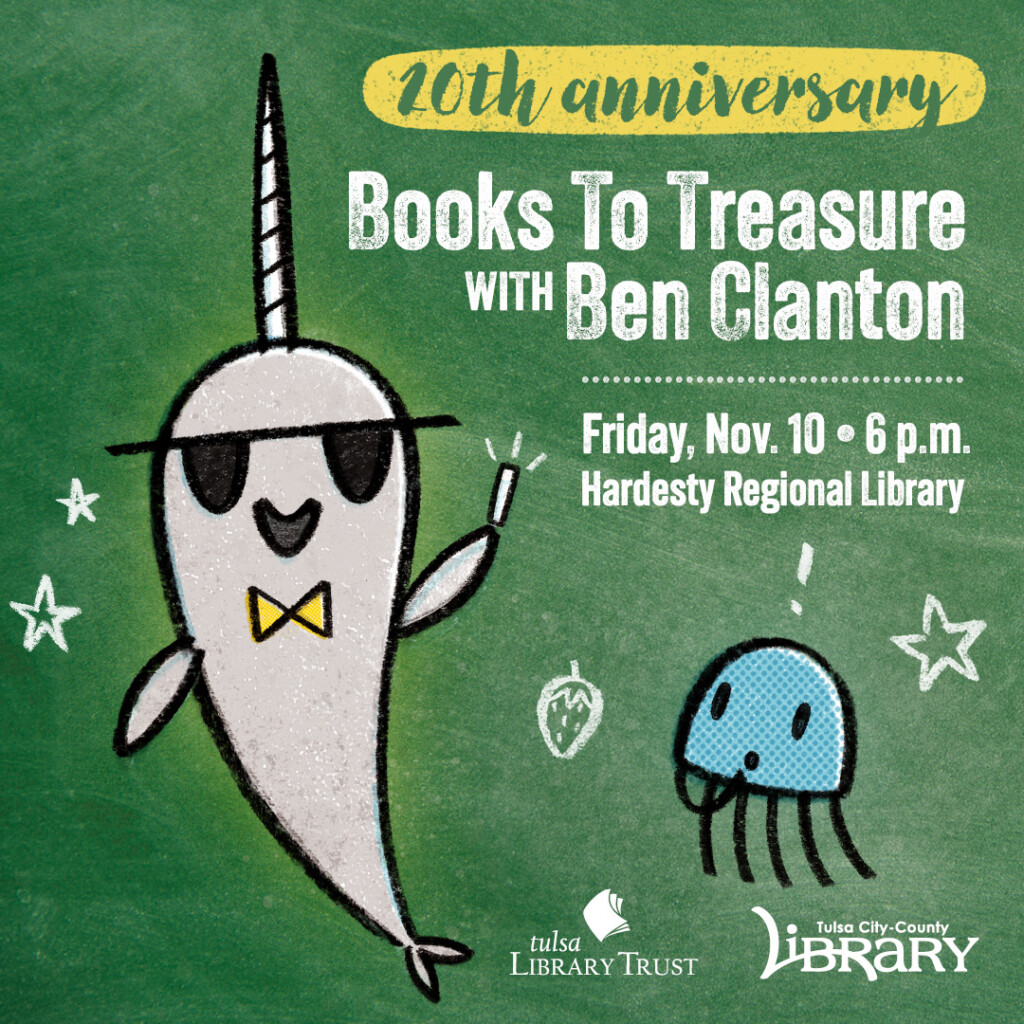 Tulsa City-County Library (TCCL) treasures books, but treasures children even more. TCCL's annual Books To Treasure program, now celebrating its 20th anniversary, makes the power of art and literature accessible to children of all ages with a live event highlighting a beloved children's book illustrator and a select piece of their work.
This year's program features bestselling author and illustrator Ben Clanton, who will give a free presentation and book signing in Connor's Cove at Hardesty Regional Library, 8316 E. 93rd St., on Friday, Nov. 10 at 6 p.m.
Sponsored by the Tulsa Library Trust through a grant from the Anne & Henry Zarrow Foundation since 2003, the free Books To Treasure program has grown into a Tulsa tradition for all second grade students in Tulsa County.
"What makes Books To Treasure really special for me is the opportunity for Tulsa area children to meet an amazing illustrator and see what it takes to create the books everyone wants to read," said Laura Raphael, children's services coordinator at TCCL. "Year after year, teachers and parents tell us that kids are inspired by Books To Treasure to write and draw their own books."
Through the program, each second grader receives a free copy of the featured illustrator's book, plus the chance to get a custom library card with an illustration from the book. This year's featured book is "Narwhal's School of Awesomeness," written and illustrated by Clanton.
Clanton is best known for his children's graphic novels, the New York Times bestselling Narwhal and Jelly books and the Tater Tales series. He also writes and illustrates picture books, such as "Boo Who?," "It Came in the Mail," "Something Extraordinary," "Rex Wrecks It," "Mo's Mustache," "Vote For Me!" and "The Table Sets Itself." Find all of these titles in the library's catalog at www.tulsalibrary.org/books-music-movies.
Previous recipients of the Book To Treasure award include: Katherine Roy (2022), Selina Alko (2021), Zachariah OHora (2020), Christian Robinson (2019), Shadra Strickland (2018), Hannah E. Harrison (2017), Rafael Lopez (2016), Derek Anderson (2015); Philip C. Stead (2014), Peter Brown (2013), Mo Willems (2012), Grace Lin (2011), Steve Jenkins (2010), Brad Sneed (2009), Jim Arnosky (2008), Floyd Cooper (2007), Lisa Campbell Ernst (2006), Janet Stevens (2005), Arthur Howard (2004) and Marla Frazee (2003).
Visit www.tulsalibrary.org/bookstotreasure or call 918-549-7323 for more information about Books To Treasure.