Back to School Health: What you need to know about Immunizations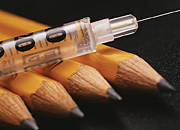 "Back-to-School and Immunizations" are two concepts that may cause a parent's stress level to rise.
"Back-to-School" means summer is almost over and rigorous schedules are ahead. "Immunizations" means decisions must be made and cries will probably be heard. I can't do much for the cries that often come with the shots, but maybe I can help make your decision easier with a little information on the current immunization schedule.
If you have an infant, then back-to-school may not be your main concern right now. Certainly, all of the doctor's visits and the many immunizations your child receives in the first year of life can make scheduling tricky. The current immunization schedule includes vaccines for Hepatitis B, Rotavirus, DTaP (Diphtheria, Tetanus & acellular Pertussis), Haemophilus influenzae type b (Hib), Pneumococcal, Influenza and Inactivated Poliovirus. At age one year, immunizations for Measles, Mumps, and Rubella, Varicella (chicken pox), and Hepatitis A are given. The dreaded kindergarten shots include boosters for many vaccines given in infancy. Documentation of these vaccines is required for admission to licensed child care centers and kindergartens in the state of Oklahoma.
Once your child enters school, there is a bit of a lull in the vaccine schedule until adolescence. Your child may see the doctor less often and the threats of communicable diseases may be forgotten. During this interim, an annual flu shot or nasal vaccine is recommended. There are several immunizations that are recommended at 11-12 years of age. A Tdap booster (Tetanus, Diphtheria & acellular Pertussis) will be a newly required immunization for Oklahoma school children starting in the 2011-12 school year.
Currently, it is just recommended for this age group. Human Papillomavirus (HPV) and Meningococcal (MCV) vaccines are also recommended although not required by the state of Oklahoma at this time.
If you are sending a child off to college this year or in the near future, documentation of Hepatitis B and MMR immunization is required for students attending classes on campus. The Meningococcal vaccine is required for students living in dorms at many colleges and universities including OSU and OU.
Parents, it is not only your children who need to be immunized. There are a few vaccines that are recommended for YOU as well. As with your children, an annual flu shot or nasal vaccine is recommended. And, a onetime dose of Tdap is recommended for adults with a Td booster every 10 years thereafter. Adolescent and adult immunizations reinforce a new concept of "Infant Cocooning" that you may not yet be aware of. There are certain infectious illnesses that newborns and infants may be exposed to but they are not yet old enough to be immunized for, particularly Influenza and Pertussis.
By immunizing parents, grandparents and caregivers, this protective "cocoon" minimizes infants' exposure to these life-threatening diseases or prevents them altogether. In 2008, 100 cases of Pertussis or "whooping cough" were reported in Oklahoma. That's a 72 percent increase since 2007! Approximately one-half of these cases were in children less than one year of age.
Any concerns or questions about vaccines or vaccine preventable diseases should be discussed with your health care provider. I encourage parents to go to reputable informational websites for vaccine information such as www.cdc.gov, www.tulsa-health.org and www.tulsaimmunize.org.
Dr. Kline is a graduate of the University of Oklahoma College of Medicine. She is currently a Medical Director with the Tulsa Health Department and Medical Advisor to the Tulsa Area Immunization Coalition.