Anastasia the Musical: Playing at the Tulsa PAC through July 24!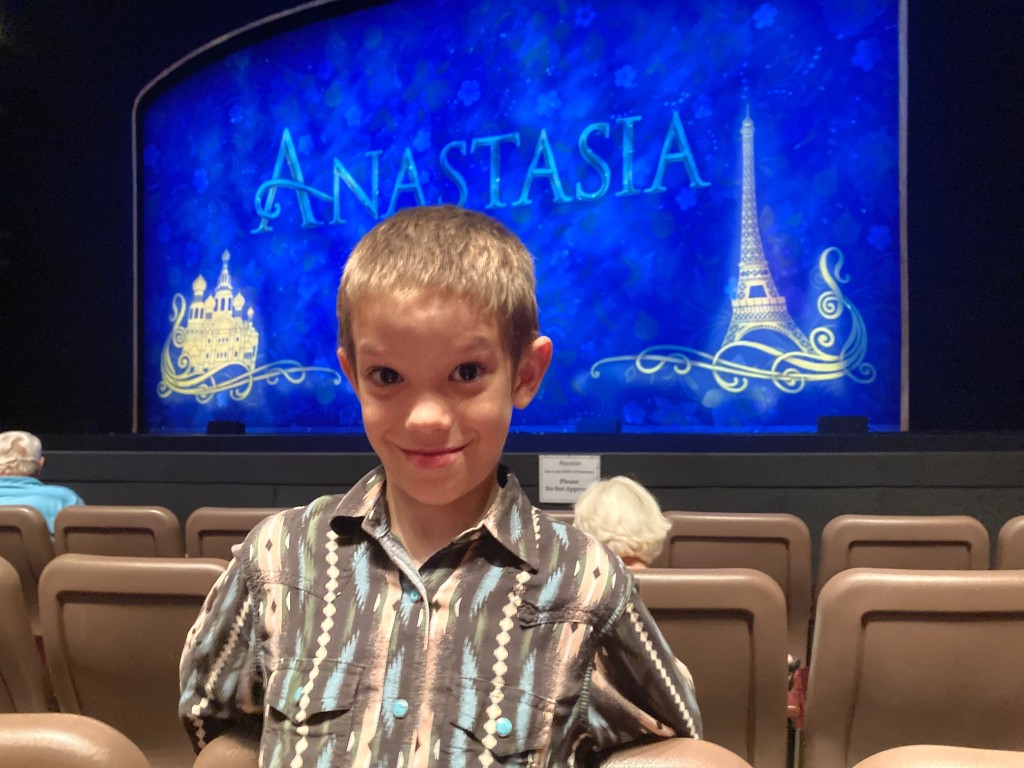 Last night, I had the privilege of taking Joss to his second Broadway musical: Anastasia! Thanks so much to Celebrity Attractions for the media tickets. So grateful that he has the opportunity to have these experiences! Read about it below – and do be aware that there are spoilers.
Anastasia the Musical
I tried to get Joss to watch the animated "Anastasia" movie ahead of time. It seemed like it would be helpful to give him an idea of what to expect before sitting through the 2.5-3-hour production. But he wanted it to be a surprise, so I just gave him a general summary. I told him there probably wouldn't be an adorable talking bat in the stage version. To my surprise, there wasn't a decrepit Rasputin either!
Instead, the main "villain" is a conflicted revolutionary whose father helped kill Anastasia's family during the revolution. The father later committed suicide, I believe, and the son is torn between his attraction for Anya and his loyalty to his political party. And of course, his desire to be "his father's son." So although I was sad by the lack of Bartok, this storyline definitely made more sense, in terms of historicity and relatability I think.
Quick Plot Summary
The basic plot is that a young woman with amnesia – Anya – meets up with two con artists, Dmitry and Vlad. Anya is hoping to get to Paris, and Dmitry and Vlad are hoping to escape Russia, ten years after the revolution of 1917. Dmitry and Vlad work to convince Anya that she is the sole survivor of the former tsar's family, Princess Anastasia. Their goal is to convince the dowager Empress – now living in Paris – that Anya is the real deal.
If you've seen the animated movie, several of the songs carry over. But there are a lot of new songs as well.
Age recommendation
If you're taking young kids, there are scenes of revolution towards the beginning, with loud explosions, fire images, etc. The recommended age is 8+. Thankfully, you don't see exactly what happens to Anastasia's family. Toward the end, however, there's a scene that shows them huddled together as soldiers point guns at them. Joss covered his face at this point, but the scene goes dark before shots are fired. I was definitely more apprehensive about taking Joss to "Anastasia" than to "Charlie and the Chocolate Factory," but he did pretty well overall.
If you are taking a child to "Anastasia," here are some helpful tips you may want to consider leading up to the performance: tulsakids.com/tips-for-taking-kids-to-the-theater. They include day-of recommendations – go to the bathroom before the show. As well as ways to prepare in advance, like listening to music from the show, etc. And of course, arrive early – not only because you can take advantage of the photo backdrops!
I gave Joss the option to go home at Intermission, but he said he wanted to watch the second half. After about 15 minutes, however, he said he was ready to go home. He made it through the second half but kept trying to make himself comfortable in his seat so he could snooze a bit.
Set design
I always love seeing the scenery and set design. And "Anastasia"'s was really cool! They made extensive use of screens, in a way that was very dynamic. The best part was when the main trio arrives in Paris, and as Anastasia walks toward the city, the scenery shifts. It looks like you are really walking up over a hill and seeing the Eiffel Tower for the first time. There's also a fun scene on a train. The screens show a portion of the train as it travels through beautiful countryside. I don't think I'd want all my shows to rely too heavily on screens, but in this case, it really helped give a sense of where everything was taking place.
This montage doesn't include the current cast, but will give you a good idea of the overall look of the musical, and some highlights!
Casting
The cast was incredible, of course! Anya/Anastasia was a perfect mix between optimist and survivor. She has learned how to defend herself very capably, but is still a young woman who just wants to find her family. The couple that got the biggest laughs were Vlad and Countess Lily. Vlad is a commoner who spent a long time posing as nobility. He and Princess Lily, now the Dowager Empress's sole Lady in Waiting, had an affair back in the day and reunite in Paris. I'm sure much of their flirtation went over Joss's head – plus, he was half falling asleep – but it was very funny.
"Anastasia" Showtimes and Tickets
"Anastasia" will be playing in Tulsa through July 24, 2022.
July 20, 7:30 p.m.
July 21, 7:30 p.m.
July 22, 8 p.m.
July 23, 2 and 8 p.m.
July 24, 1 and 6:30 p.m.
Purchase tickets at tulsapac.com/events/2022/anastasia.
---