AAA Route 66 Road Fest in Tulsa receives rave reviews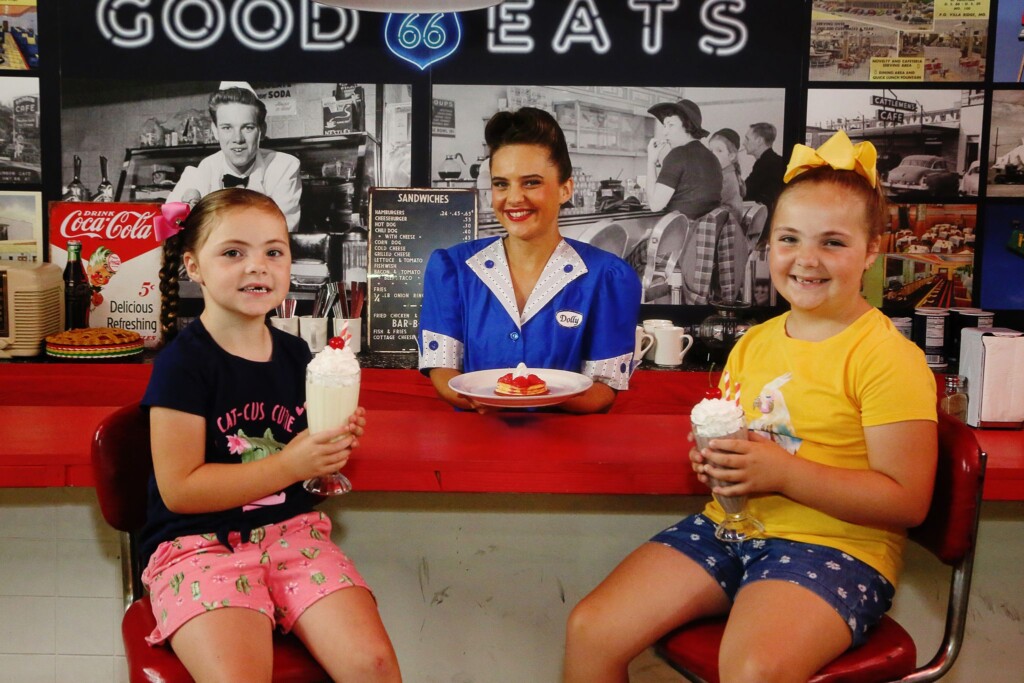 What a ride! The AAA Route 66 Road Fest last month was a huge success. Despite a terrible storm hitting Tulsa the week before, more than 5600 people around the country toured the event on June 23rd – 25th at the SageNet Center at Expo Square in Tulsa. They checked out more than 200 classic cars, shopped at more than 100 vendor booths, toured the Vintage RV Park, enjoyed family fun from interactive art to Hot Wheels races to miniature golf, and explored the incomparable, immersive exhibit called The Journey through the 100-year history of Route 66.
---
"It was an unforgettable weekend! The AAA Route 66 Road Fest was more exciting than any road trip. My family and I especially loved The Journey. It felt like we stepped back in time as we heard music and news, interacted with actors, and checked out classic cars and other memorabilia from past decades. We can't wait to see what's in store next year!" -Matt Pinnell, Oklahoma Lt. Governor
A survey about the event finds 93% of attendees called the AAA Route 66 Road Fest amazing, incredible and fun! Their top three favorite activities were The Journey, the classic car show, and the Vintage RV show.
People were also big fans our speakers including author Candacy Taylor, Edward Threatt, Senior (whose grandfather ran the only Black-owned gas station along Route 66), Stephanie Stuckey from the famous "Stuckey's," historian Bob Blackburn and journalist Mike Wallis who is the voice of Sheriff in the movie Cars.
"There were plenty of things to look at and explore. Overall, a wonderful and enjoyable experience," said one visitor. In the survey, 60% of folks say they'll definitely be back next year! Want to give your input? Take the survey.
---
"Every person there helped make it a hit. Many of you put aside your troubles with power outages and damaged property to explore the Road Fest. We thank you for that. Together, we celebrated Route 66. And there's more to come. The countdown is on until 2026, the highway's 100th anniversary. We hope you'll celebrate the national treasure with us again leading up to its centennial birthday. -Jared Peterson, Executive Vice President – AAA Oklahoma
AAA Oklahoma is already mapping out the Road Fest for next year, which will once again be held in Tulsa. The goal is to build on the event each year leading up to the worldwide celebration of the Route 66 Centennial in 2026. Please follow us on social media and our website for the latest on Route 66 and information about the Road Fest in 2024.
---
Congratulations to the winners of the car show!
The competition was fierce with 200 vehicle entries. Please see website for all winners.
Best of Show Award – Tom Murray, Choctaw OK, and his 1957 Oldsmobile
Chevy, Tri-Five Class – Billy Graham, Jack Broussard, David Ray
Mustang, Stock (1964-2023) – Roger Bymun, Bill Brewer, Melvin Little
Thunderbird, (1955-2005) – Natalie Groeger, Homer Lee, Rick Underwood
Truck classes -Robert Strattan, Benny Blair, Phillip Childers, Andy Younger
AAA Oklahoma thanks the incredible pit crew of sponsors including The Hard Rock Hotel & Casino, CSAA Insurance Group, a AAA Insurer, Best Western, Mother Road Market, Bread Financial, Glacier Chocolate, The Campbell Hotel, Visit Tulsa, and Travel Oklahoma.